Carlos and Aelinor are one of the couples formed in Netflix's Down for Love. At the moment, neither of them appears to be active on social media, keeping the evolution of their relationship under wraps. However, given their apparent fondness and mutual passion, it's possible that the couple are still together.
Netflix has a plethora of dating series, ranging from Love Is Blind to The Ultimatum. But it seems like its most recent release, Down for Love, will provide something different. The series, which debuted on TVNZ in New Zealand, follows a group of individuals with Down syndrome as they embark on a search for romance while navigating all of the ups and downs that come with it.
Down for Love, which was made with the help of the New Zealand Down Syndrome Association, attempts to present an authentic portrayal of what it's like to look for love as a disabled person, following in the footsteps of past series such as Netflix's own Love on the Spectrum.
Similarly, the series' premise introduces viewers to numerous heartwarming couples, such as Carlos Antonio Biggemann and Aelinor, whose journey together is one that you can't help but sigh over.
From grand romantic gestures to tiny yet meaningful actions, Carlos and Aelinor's love story quickly became a fan favorite, with everyone wondering if the two are still together. So, we're here to investigate and share what we've learned.
Previously, we touched on Brayden Pettigrew and Libby Hunsdale.
Know Everything About Carlos and Aelinor's Journey on Netflix's Down for Love!
Carlos Antonio Biggemann, a great photographer, was looking for a woman with whom he might easily fall in love. As a result, he was pleasantly pleased when he met Aelinor (dyspraxia), whose interest in medical history and culture set her apart from everyone else.
Given the latter's passion for history, their meeting at Larnach Castle in Dunedin, New Zealand, was unquestionably a good thing. In reality, Carlos took advantage of this by touring Aelinor about the palace and even photographing her.
Carlos and Aelinor started dating on Netflix's Down for Love. 
Image Source: TMC Assam
Throughout Carlos's date with Aelinor, he frequently exclaimed about how lovely she was, while the lady in question appeared to have fallen for her partner's amorous side as well.
He wanted to be fully prepared for their next date, so he sought advice from relationship expert Dave Hicks, who suggested the photographer embrace his romantic side and woo Aelinor with a poem and other important gestures.
As a result, when Carlos traveled to Auckland to visit Aelinor, he presented her with a lovely bouquet of her favorite colors, green and purple. They studied how to produce authentic Italian food and subsequently ate what they had created.
He performed a poem he had written for Aelinor while eating, noting how she had inspired him to compose poetry, which she couldn't help but find sweet. Later that day, the pair watched the sunset at the beach, where Carlos read another lovely poem.
However, despite their love, the fact that Carlos and Aelinor lived on opposite sides of the country caused some complications. To make amends, Carlos was more than willing to use his photography skills and send his partner some visually appealing images himself. He also prepared alfajores with his mother, following his family's traditional recipe.
When they next met, Aelinor decided to throw a feast in the form of a medical conference, which was also attended by her friend Rafiqah and Carlos' sister Tatiana. Later, when the two were alone, Carlos gave Aelinor the alfajores he had baked and they talked about getting married at Larnach Castle.
Are Carlos and Aelinor Still Together?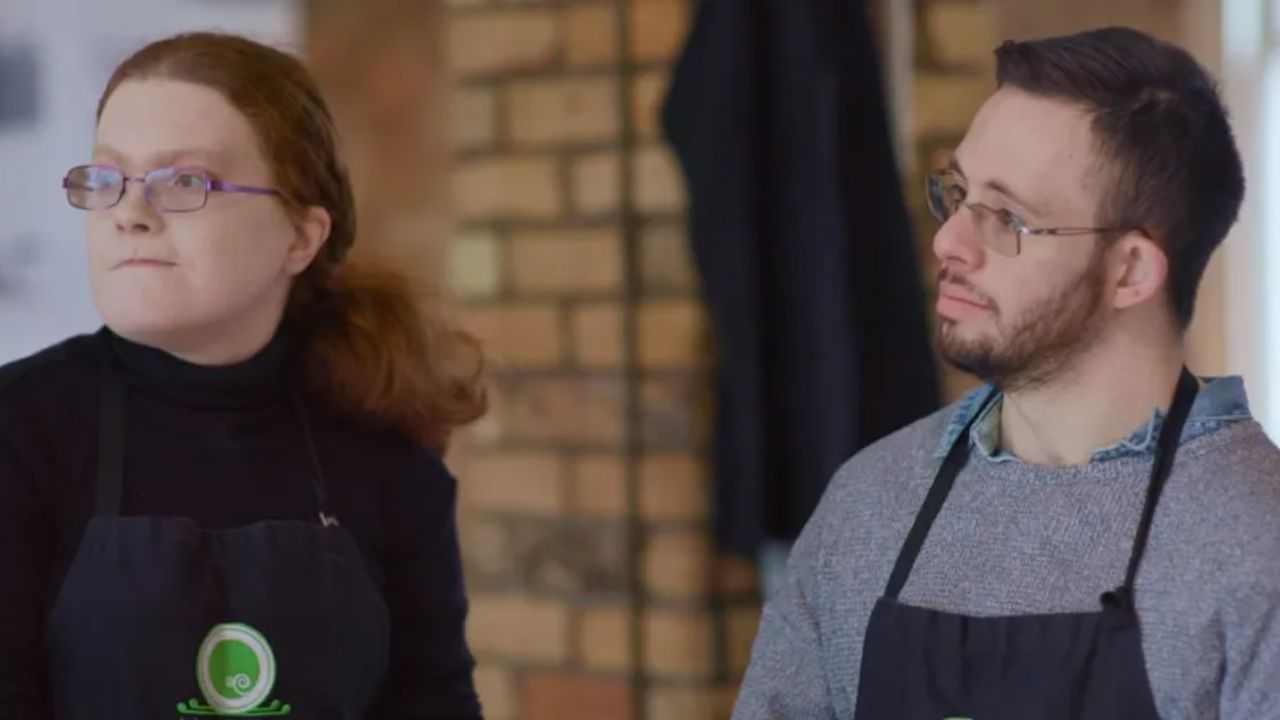 Carlos and Aelinor have yet not revealed anything about their current relationship status. 
Image Source: The Cinemaholic
As of this writing, neither Carlos Antonio Biggemann nor Aelinor from Netflix's Down for Love appear to be active on social media and have not published much details about the status of their relationship. The former is still active as a photographer and is achieving more and more success in the industry. However, his Instagram account is not public, implying that the reality TV star chooses to keep the specifics of his personal life secret.
However, given their apparent care and desire for one another, we believe Carlos and Aelinor are still together. The two were clearly honest about their affection for one another and seemed to appreciate the fact that they were both artistic.
Their different families appeared pleased with the joy this connection brought into their lives. In any case, we wish Carlos and Aelinor the best in their life and wish them a bright future. Hope, they'll return for season 2 of the Netflix show which is set to be released in 2024.