Aelinor from Down for Love is a very shy person. As a result, not much is known about her, including her age. But we do know that, she has a disability called Developmental Dyspraxia and isn't active on Instagram.
Netflix's Down for Love explores the lives of numerous people who strive to plan the route forever in the hopes of experiencing the power of love. The series follows the lives of persons with Down Syndrome who are looking for a romantic companion in various locations in New Zealand.
Aside from the themes, the singles' relatives and friends help them navigate the ups and downs of love. However, not all relationships succeed since some couples are mismatched. Nonetheless, the show depicts a bunch of singles' joyful discovery of love.
And Aelinor is one of them. So, if you're curious to know about her and wonder what she's up to these days, look no further because we've got all the answers right here!
Previously, we touched on Josh Bradley, Brayden Pettigrew, and Libby Hunsdale.
Aelinor From Down for Love Currently Resides in Auckland, New Zealand!
Aelinora is one of the Down for Love candidates hoping to meet the man of her dreams. She has fiery red hair and is kind of an introverted person whose interest in medical history and culture set her apart from everyone else.
But as we can see, she is shyer than Carlos Bigemann, a guy whom she dated in the Netflix show. As a result, she hasn't talked as much about herself.
Aelinor from Down for Love has a disability known as Developmental Dyspraxia.
Image Source: Netflix
Only little is known about Aelinors personal because she has yet not provided any information about her background and past life including her age. But we do know that she currently resides in Auckland, New Zealand, about 900 miles away from the Netflix program set.
Furthermore, all of the Netflix reality television program participants have some form of the syndrome. When it comes to Aelinor's disability, she has Developmental Dyspraxia, also known as Developmental Coordination Disorder (DCD). It is a neurological condition that impairs coordination and motor skills.
It makes it more difficult to plan and carry out actions, making writing and other common chores difficult. It has nothing to do with intelligence and is instead a difficulty with motor coordination. However, the show hasn't gone into detail regarding her handicap, such as how she got it or when she told her family about it.
Journey of Aelinor in Netflix's Down for Love!
Carlos Antonio Bigemann was looking for a woman with whom he could rapidly fall in love. As a result, he was overjoyed to meet Aelinor (who has developmental dyspraxia), who stood out from the throng due to her passion for medical history and culture.
They went on a date to Larnach Castle in Dunedin, New Zealand, which was a fantastic choice considering the latter's passion for historical periods. In fact, Carlos took advantage of the situation by showing Aelinor the castle and even photographing her.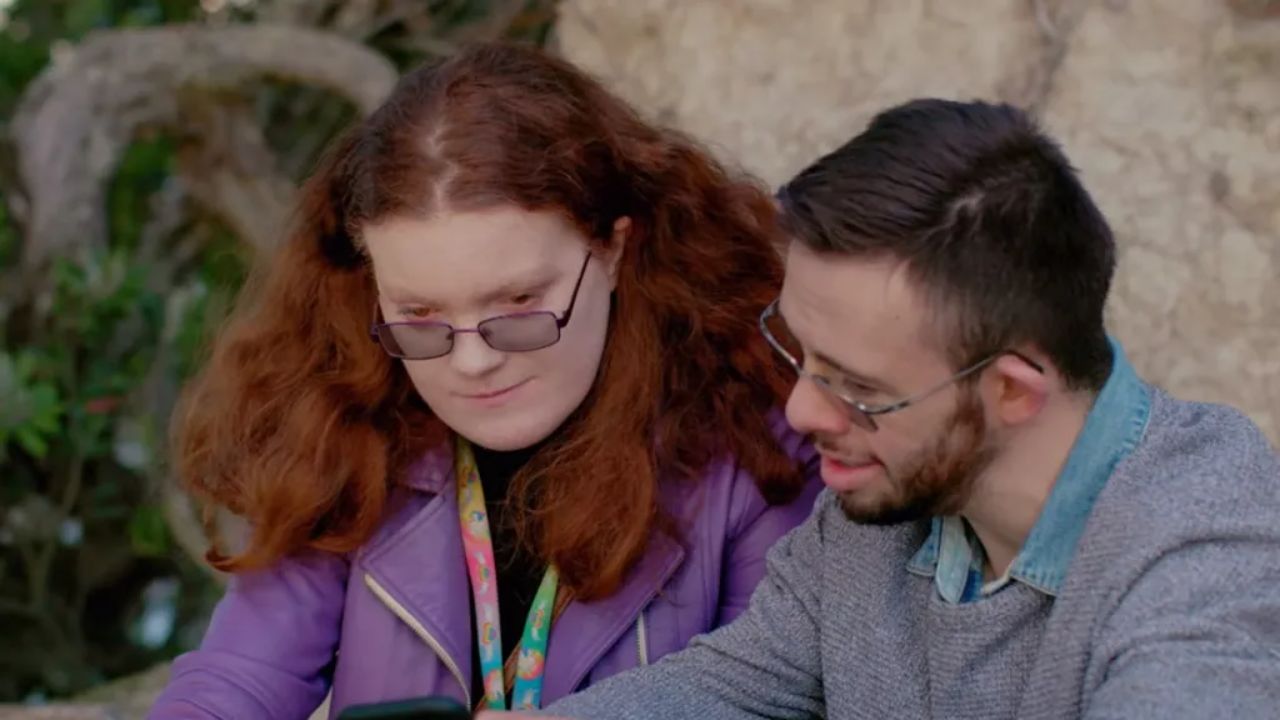 Aelinor dated Carlos Bigemann in the Netflix show.
Image Source: The Cinemaholic
Carlos regularly complimented Aelinor on her attractiveness throughout their meeting, and the woman in question appeared to have fallen for her partner's romantic side.
Carlos decided to seek help from relationship expert Dave Hicks in order to be adequately prepared for their forthcoming date. Dave suggested that the photographer embrace his romantic side by writing a poem and making other considerate actions to attract Aelinor.
As a result, when Carlos traveled to Auckland to meet Aelinor, he presented her with a beautiful bouquet of her favorite colors, green and purple.
The two learned to cook and then ate the food they had cooked. When Carlos recited a poem he had written for her and remarked that she had inspired him to write poetry, Aelinor couldn't help but grin. Carlos recited another great piece of poetry to the couple later that day as they watched the sunset at the beach.
Despite their love for one another, the fact that Carlos and Aelinor lived on opposite ends of the country caused some complications. However, Carlos was more than willing to put his photographic skills to work and send his wife some artistically appealing photographs himself to rectify the problem. He also enlisted his mother's help in making alfajores from his family's traditional recipe.
For their next get-together, Aelinor planned a medical-themed feast, and Tatiana, Carlos' sister, and her friend Rafiqah joined her. When they were alone, Carlos gave Aelinor the homemade alfajores and they discussed getting married at Larnach Castle.