Cameron and Muriel are the newly formed couple in Virgin River Season 5. While viewers have been concerned about their age difference, the show has not addressed anything about their ages. However, we believe they have age difference of around 15 years.
Virgin River on Netflix wouldn't be the same without its many lovely couples. The series' core characters are Mel (Alexandra Breckenridge) and Jack (Martin Henderson), but Hope (Annette O'Toole) and Doc (Tim Matheson) give it a solid foundation. These and other couples contribute to the friendly atmosphere.
Additionally, the show frequently adds love triangles, fresh romances, and eagerly anticipated couplings to keep the narrative intriguing and hot. After all, it is all about love. In Season 5 of the series, numerous intriguing new couples are introduced. While some of these couples started their relationships in previous seasons, others are only starting to bloom and sprout this year.
One of the couples the viewers are most excited about is Cameron and Muriel. The couple has started a romance in Season 5 and viewers can't help but know more about them, including their age difference. Well, we've got you covered.
Previously, we touched on Zibby Allen, Kandyse McClure and Rose.
Cameron and Muriel Develop a Romance on Season 5 of Virgin River!
Cameron and Muriel really surprised the viewers in Season 5 of Virgin River. They start dating in the season finale after flirting with each other the entire time. Their friendship grows as Muriel starts working part-time at the clinic where Doc and Cameron are employed.
She grows on him as a friend and confidante. The heat between them rises to an uncomfortable level when she briefly moves in with him. Their chemistry is evident when Muriel and Cameron are on screen. They are also one of the most responsible new Virgin River couples since they don't let their growing attraction interfere with their work.
Cameron and Muriel are the new favorite couple of Virgin River.
Image Source: Netflix
Similar to this, they don't just toss anything that feels right because it's work; instead, they take responsibility and inform Doc. Muriel and Cameron want to be honest with Doc about their feelings and decide to let him know. Doc approves their relationship but advises them to simply act professionally while they are at work since he respects them both too much to tell them what to do.
On the other hand, it is very visible that they appear to have a huge age difference. However, the show has yet not addressed their ages. Based on the real actors' ages, we can assume they have an age difference of 15 years.
Muriel and Cameron are the kind of couple that is entertaining to see in addition to having a mature relationship. Their enthusiasm spreads whenever they are together. This pairing genuinely creates the sense that the two people are a perfect match.
No doubt, they are one of the most wholesome Virgin River couples and they are still in the early stages of their relationship. Thus, there will be many more swoon-worthy moments from them.
Reddit Users React on Cameron and Muriel's Age Difference!
Since Muriel and Cameron's relationship has been causing a stir on the Internet, Reddit users couldn't hold back from giving their opinions, especially on their age difference. One person wrote,
They are just completely awkward and weird. The age difference is way too big
Another wrote,
In real life, she is 60 and he's 45. So 15 years. It's a lot, but I guess not as bad as it could be. 🤷🏼‍♀️ I do like their chemistry together on the show though. Excited to see what happens with their characters!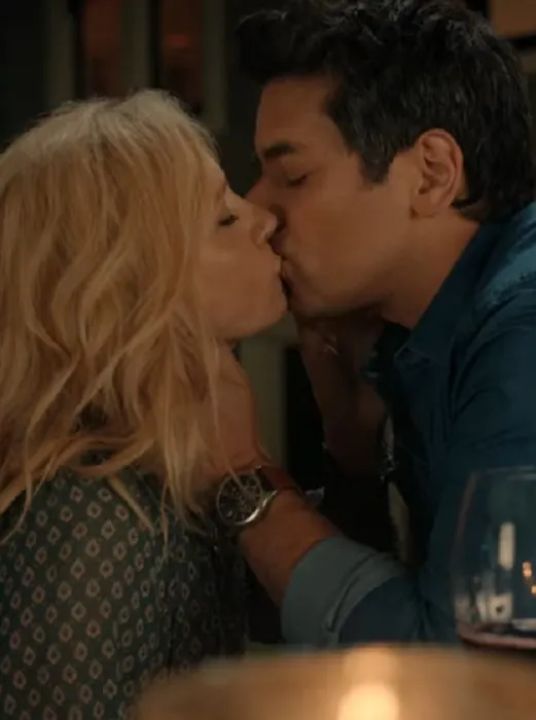 Reddit users have been criticizing Cameron and Muriel's new romance.
Image Source: Netflix
Similarly, a third person wrote,
Frankly, I am not a fan of these two. I'm sure she's old enough to be his mum lool but never the less. Let them be. I will be skipping through their scenes but if it's meant to be it's meant to be.