Bre Tiesi, one of the new cast members of Netflix's Selling Sunset, was born in 1991 (birthday May 4). The 32-year-old was into modeling before she became a real estate agent. While her ethnic background is yet to be revealed, we do know that she was previously married to her ex-husband, Johnny Manziel. Not to forget, she has a baby with Nick Cannon. Additionally, her net worth is estimated to be around $2 million.
With the determination of its cast members at every turn, Netflix's Selling Sunset is the definition of reality television and only grows bigger and more cattier with each new season. After all, it centers on The Oppenheim Group's (or The OGroup's) ambitious real estate agents as they live their daily lives in front of the cameras for our pure entertainment.
With the release of Season 6 of the show, most of our favorite cast members are back to give a glimpse of their personal as well as professional life. However, a few new faces also can be seen. Most crucially, Nicole Young and Bre Tiesi appear to have joined the brokerage in place of Christine Quinn and Vanessa Villela, who both appear to have left.
Tiesi's face may look familiar because of her unexpected celebrity ties and frequent appearances in the media in recent years. Of course, many people want to learn more about her. Well, let's get started.
Previously, we touched on Amanza Smith, Adam Weitsman, and Neeraj Gunsagar.
Selling Sunset: Bre Tiesi Started Her Career as a Model & Later Turned Into a Real Estate Broker After a Divorce From Her Ex-husband!
Bre Tiesi (@bre_tiesi) from Selling Sunset, who was born on May 4, 1991, was raised in Calabasas, California. Even though she has never mentioned about her ethnic background, the 32-year-old star is of Italian descent.
She first came to public attention when she began modeling as a teenager at the suggestion of the mother of an ex-boyfriend. It's also important to point out that Selling Sunset is not Tiesi's first appearance on our screens. The former model participated in multiple episodes of Wild 'N Out, Love & Listings, and WAGS.
Bre Tiesi was born on May 4, 1991.
Image Source: Instagram
However, Bre claims that after reaching the lofty age of 31 and divorcing her ex-husband, Johnny Manziel, it was time to change careers. She first began selling real estate at Keller Williams Beverly Hills before joining the Oppenheim Group. In a 2022 interview with People, she explained,
I wanted to transition out of modeling and start setting myself up for a long-term career...I started taking it more seriously and tapping into my network, and that's when I started making some high-figure sales. As amazing as modeling was as an industry for me, I was just kind of over it… So, I'm like, it's time to be a big girl!
After working at Keller Williams Beverly Hills, she reportedly only joined The Oppenheim Group in 2022 after realizing the former would be far more profitable in the long term. Then there's the fact that Bre made over $20 million in sales in her first year of business, mostly as a result of her "top clientele." In the show, she said,
For me, I don't really come to work unless we're talking $15 million plus… I'm not just some girl in LA that's looking cute and posting on Instagram, so… I'm going to do everything I can to be the best mom, but if I don't work, I would go crazy. I just love what I do. I'm all about my own money and my own name.
Talking about her relationship status, Bre claims to be in an open relationship with Nick Cannon. The couple also has a child together, one of Nick's 12 children. When asked about is she is in a polyamorous relationship in Selling Sunset, she said
I don't know about that. I just know we had a baby, we're really happy. So I'm happy in my relationship now, but he films for three weeks. But when he's home, you see him every morning, every night, he's taking us everywhere!....I know that for me, I'm going to do what works for me. I don't care how anyone feels about it.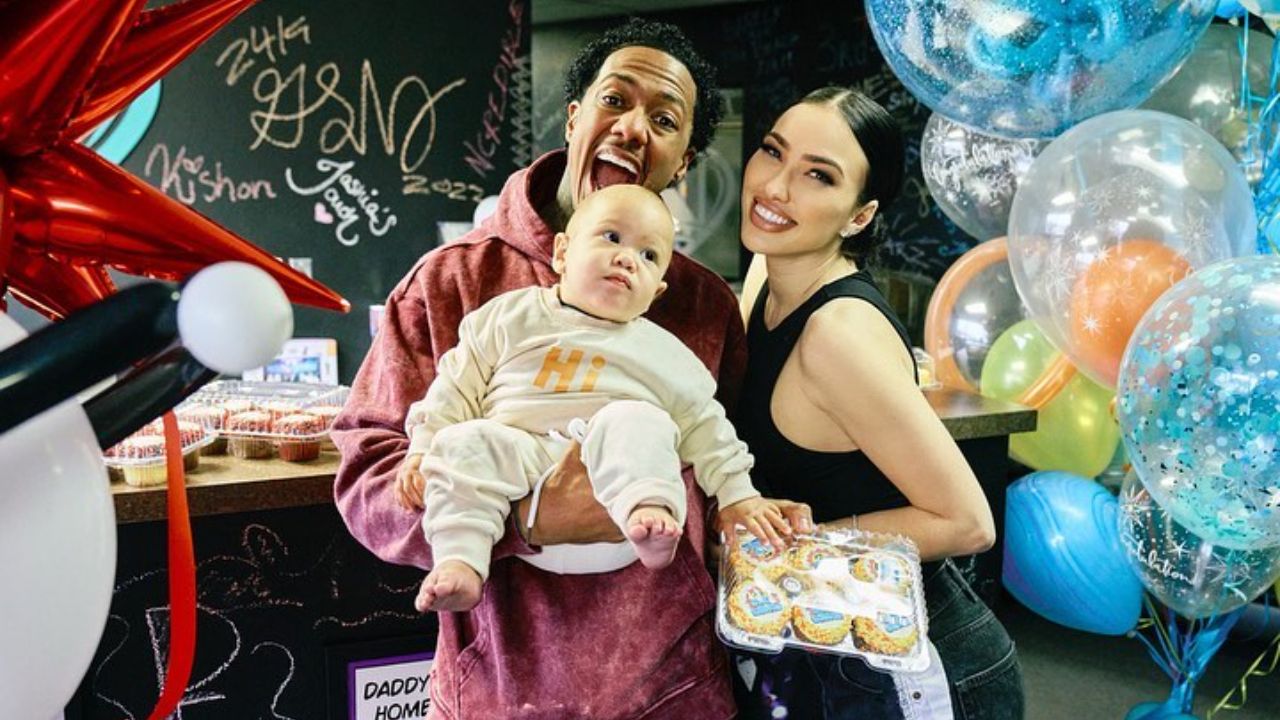 Bre Tiesi and Nick Cannon have a baby together.
Image Source: Instagram
Also, Bre Tiesi has frequently had to defend her unusual relationship with Cannon. She posted a message on Instagram to trolls in December 2022 writing, "I love my child, I love Nick, and I will love and embrace every sibling and even mommy involved." Additionally, The Cinemaholic reports that she has an estimated net worth of $2 million.
Before leaving, find out about Nicole Young's husband.