Aussie Chau from Netflix's The Ultimatum: Queer Love was born and raised in an Asian-American household. While we're unaware of the 42-year-old's job, you can find Aussie on Instagram at (@aussie_has_fomo).
In comparison to previous decades, media portrayal of the LGBTQ community has expanded dramatically during the last decade. Today, major media firms such as Netflix, Amazon, and HBO have made it easier for writers and producers to include LGBTQ characters and stories in their films and television shows. This has increased the visibility and forums for LGBTQ people to express themselves and raise awareness.
One notable example is Netflix's new reality show The Ultimatum: Queer Love. The show follows a group of ten women as they handle difficult make-or-break events in their relationships in the hopes of getting married or determining when it's time to call it quits. The show is a fantastic example of how media depiction has altered dramatically in the last decade or so.
Aussie Chau is one of the show's ten queer females. Since many viewers have caught the attention of Aussie, here's everything you need to know about Aussie.
Previously, we touched on Mildred & Tiff, Yoly & Mal, Tiff Der, and Rae Cheung-Sutton.
Aussie Chau, 42, Does Not Want to Get Married, While Aussie's Partner, Sam Mark, Wants To: The Ultimatum 'Queer Love' Update!
Aussie Chau from The Ultimatum: Queer Love is a 42-year-old humble, confident, and charismatic lady. Aussie is also a proud member of the LGBTQ community who goes by the pronoun Aussie. Aussie has risen to prominence since May 2023 as one of ten contestants on the blockbuster Netflix reality show. While Aussie's job is yet to be revealed, you can find Aussie on Instagram at (@aussie_has_fomo).
Likely, the Asian-American reality television star, who stands 5'9" tall, is also a caring, open-minded individual who has worked hard to transcend cultural rules and expectations and follow the heart. Aussie's experiences as a member of the LGBTQ community impacted Aussie's viewpoint and motivated Aussie to campaign for more acceptance and inclusivity in the LGBTQ community.
Aussie Chau from The Ultimatum uses the pronoun 'Aussie'.
Image Source: Reality Titbit
Aussie Chau was born and raised in the United States in an Asian-American family. The Ultimatum Queer Love cast's parents emphasized the significance of morals, strong family ties, and customs throughout childhood and upbringing. As a result, Aussie fully knows the significance of family. Furthermore, Aussie's siblings are an important part of Aussie's life since they have always been encouraging and supportive of the decision Aussie takes.
Despite being 42 years old, Aussie Chau has a young visage that resists aging. Aussie's youthful appearance is complemented by strong energy and love for life. Additionally, Aussie is another person who despises the spotlight and knows the significance of keeping personal matters quiet. Even though Aussie made a reality TV debut on one of the world's most popular platforms, Chau has managed to maintain a mystery character, which has rapidly brought a lot of attention to Aussie and Aussie's partner Sam Mark.
Talking about the Aussie and Sam's journey in the Netflix show, they have been dating for almost two years after meeting during the pandemic as part of an online social group. But while Sam was ready to settle down, Aussie wants to live together for several more years before officially tying the knot. Later, Sam issued the ultimatum in their relationship.
Are Aussie Chau and Sam Mark Still Together?
According to what we can tell, Aussie Chau and Sam Mark did their hardest to make the experiment work in the hopes of eventually promising each other forever, but it doesn't appear to have worked out this way. Indeed, the changes they both experienced in their early trial marriages with their new spouses caused them to move apart rather than closer, implying that their compatibility declined. We say this since it does not appear that they are together in any manner, shape, or form, at least according to their active social media platforms.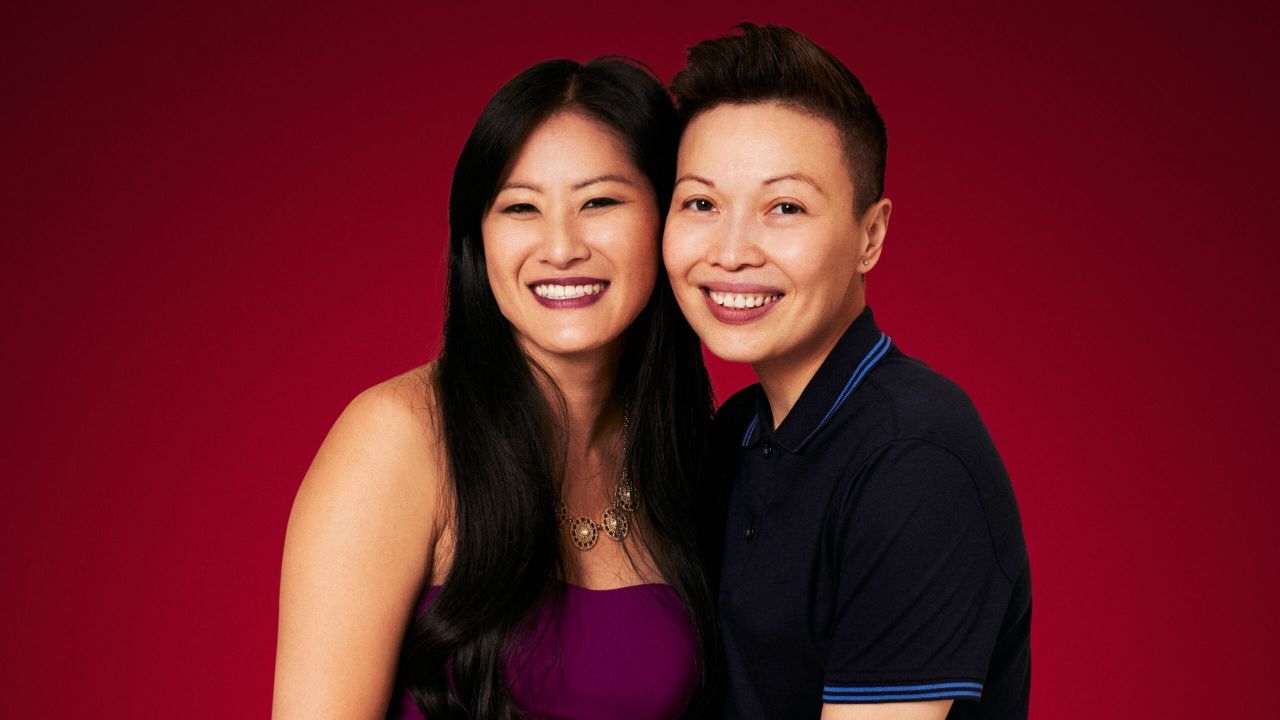 Aussie Chau and Sam Mark do not seem to be together anymore.
Image Source: Netflix Life
Sam and Aussie do not follow each other on Instagram, and there is no evidence that they have kept in touch in any other way. They appeared to be romantically engaged at Netflix's recent Pride event, but the lack of rings on both of their hands, their non-existent online connection, and their lack of commonalities in the past few months all indicate they aren't. In reality, it's probable that Sam is focusing solely on her vocation as a Certified Tarot Healer, Mental Health Advocate, and Conscious Altruism Movement enthusiast these days, whereas Aussie is concerned with both their personal and professional health.
Before leaving, find out if Lexi and Rae are still together.