Recently, we've found that there were many couples, at least 5, who got engaged but were not shown in Love Is Blind season 5. Well, let's have a look at them and the possible reason why they were not featured.
Although Love Is Blind Season 5 on Netflix is almost over, the drama hasn't. In reality, it might have just started. Love Is Blind, like other reality television programs, doesn't end when the cameras roll.
On the show, couples may or may not get married, but because the show is filmed in advance, viewers are always playing catch-up to learn which couples are still together, which ones are no longer together, and whether any new couples have formed since they last watched.
Usually, more engaged couples exit the pods throughout each season of Love Is Blind than what is shown. However, it is uncommon for them to move the process past the pods without including that journey in the episodes. In the reality show, singles go on blind dates in groups. They go on a cast trip, get engaged, and spend weeks living together as they prepare for their wedding. At the altar, they are seen in the finale saying, "I do" or "I don't."
Previously, we touched on Stacy Snyder and Izzy.
Have a Look at the Couples Who Were Not Shown in Love Is Blind Season 5!
Season 5 of Love Is Blind differs from earlier iterations by focusing on just three couples (before iterations have included as many as five). However, people have discovered many couples who were part of the experiment. Let's have a look at the couples who were not shown in the latest season:
1) Tran Dang and Thomas Smith
When the official cast list for Love Is Blind season Five was released earlier this year, Tran Dang and Thomas Smith were not included. However, a recently discovered lawsuit indicated that Dang and Smith took part in Season Five filming.
Dang accused Smith, Kinetic Content, and Delirium TV, the producers of the show, of sexual assault and filed a lawsuit against them. She also claims that producers imprisoned her and were careless during filming in the continuing lawsuit, which was first filed in August 2022. However, Smith and the production firms deny the allegations.
2) Renee Poche and Carter Wall
In an interview with PopSugar, Renee Poche, a 32-year-old veterinarian, confirmed that she got engaged to construction worker Carter Wall, 30. After noticing that Poche was wearing an engagement ring, "Love Is Blind" fans assumed they were married. They did reach "all the way to the altar" but were never married.
Poche stated that the couple's time in Mexico went "really well." Then they went back to Houston and things got difficult. At the altar, she ultimately declined. She stated to the source that she was "shocked" to discover that their narrative would not be included in the season.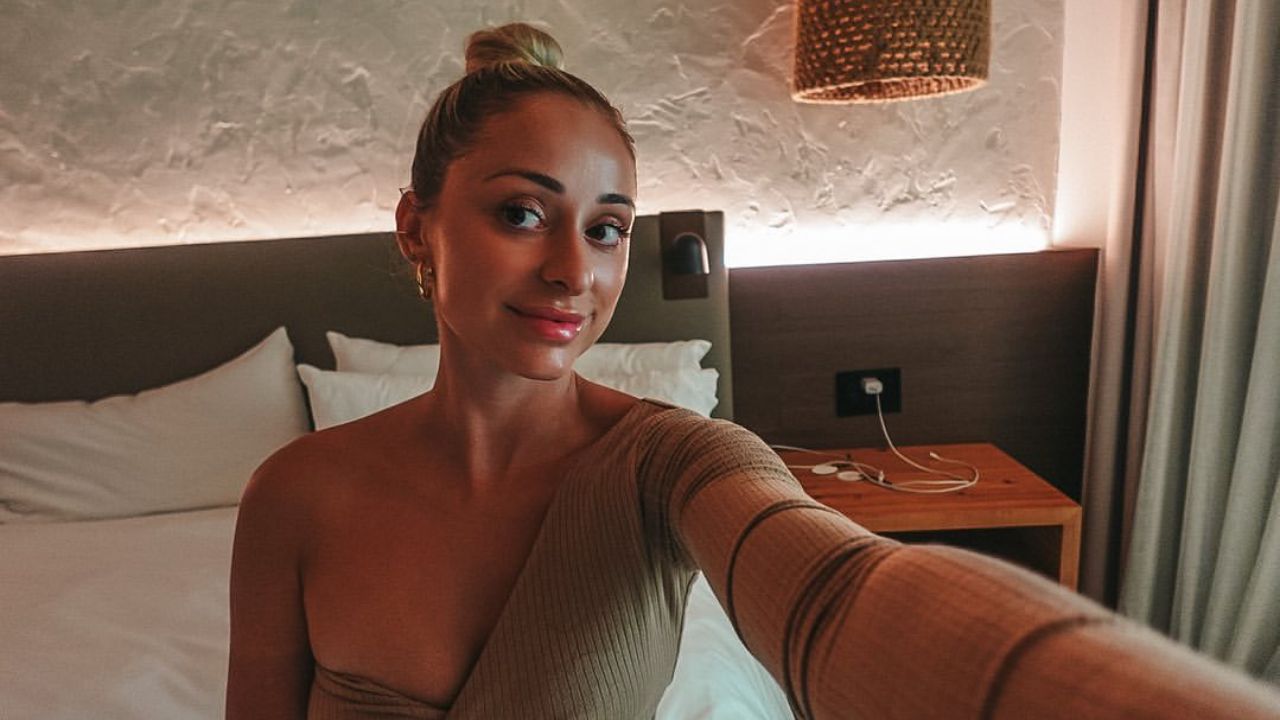 Poche is reportedly married to another man.
Image Source: Instagram
However, Poche did get married to another person, whose identity has yet to be revealed. According to her, after she got back from filming, she and her partner went on several dates before getting married in March.
3) Paige Tillman and Josh Simmons
Josh and Paige were one of the couples who got engaged in Love Is Blind Season 5.
Image Source: Netflix
Josh Simmons, a sales representative, and stylist Paige Tillman, both 32, got engaged. On October 3, the ex-couple shared a combined message on Instagram to share their story. The clip featured a montage of their relationship along with a caption that described their story.
They "fell deeply in love," according to Tillman, but finally decided to call it quits because they "wanted different things out of life." She wrote,
We made the hardest decision to end our engagement, we have nothing but love and respect for each other and always will. We are so grateful LIB brought us together and would do it all over again if we could.
4) Estefania & Jared
A TikTok video suggests that Estefania, a teacher/dancer, got engaged to Jared, a firefighter. Their names are even included in the cast on Netflix's official website. However, their story was not shown as well. Meanwhile, the same TikTok video tells that they were not on the Mexico trip even though they got engaged. As of now, we're unaware if they parted ways or are still together.
5) Enoch & Erica
Enoch and Erica, who got engaged in the pods, obviously didn't last. But according to a TikTok video, a previously fairly trustworthy unidentified source claimed Erica ghosted Enoch after the pods and that Enoch is presently dating another Season 5 contestant. Apart from that, nothing has been revealed yet.
Before leaving, find out about Stacy's makeup.