Gabe Dannenbring from Netflix's Surviving Paradise is a science teacher who is very popular for sharing his teaching ability on TikTok and Instagram. However, some Reddit users think he is the real villain. Know why.
A compelling new series is set to take the Netflix world by storm in the always-changing realm of reality television, where there are no boundaries to entertainment value. Take an exciting journey that begins in paradise and quickly moves into challenging levels and competitive action with the new gripping reality series, Surviving Paradise.
This is due to the fact that the narrative revolves around a unique group of strangers who have to outsmart each other in order to survive while trying to make their way from misery into luxury and, eventually, win a $100,000 cash reward.
Gabe Dannenbring, who joined the Netflix show mid-season and kicked out one of the show's most contentious players (Tabitha Sloane), has gained a lot of popularity. As expected, a lot of viewers want to know more about him. Well, we've got you covered.
Previously, we touched on Lellies Santiago and Taylor & Shea.
Meet Gabe Dannenbring From Netflix's Surviving Paradise: The Science Teacher Is Very Popular on TikTok as He Has Over 1.6 Million Followers on the Platform!
Gabe Dannenbring is a local Sioux Falls teacher as well as a content creator. Since July 2020, the Surviving Paradise cast has worked as a science teacher at Ben Reifel Middle School in the Sioux Falls School District.
Gabe makes some very amusing content for the internet using his experiences from tutoring, which is commendable given his passion for the field. His exceptional entertaining ability is the reason he currently has over 1.6 million TikTok followers (@g_unit24) and over 279K Instagram followers (@gabedannenbring).
On TikTok, he provides instructional guidance, entertaining anecdotes, and classroom mischief. With more than 52 million likes on his videos, he has established himself as a well-known figure on the platform.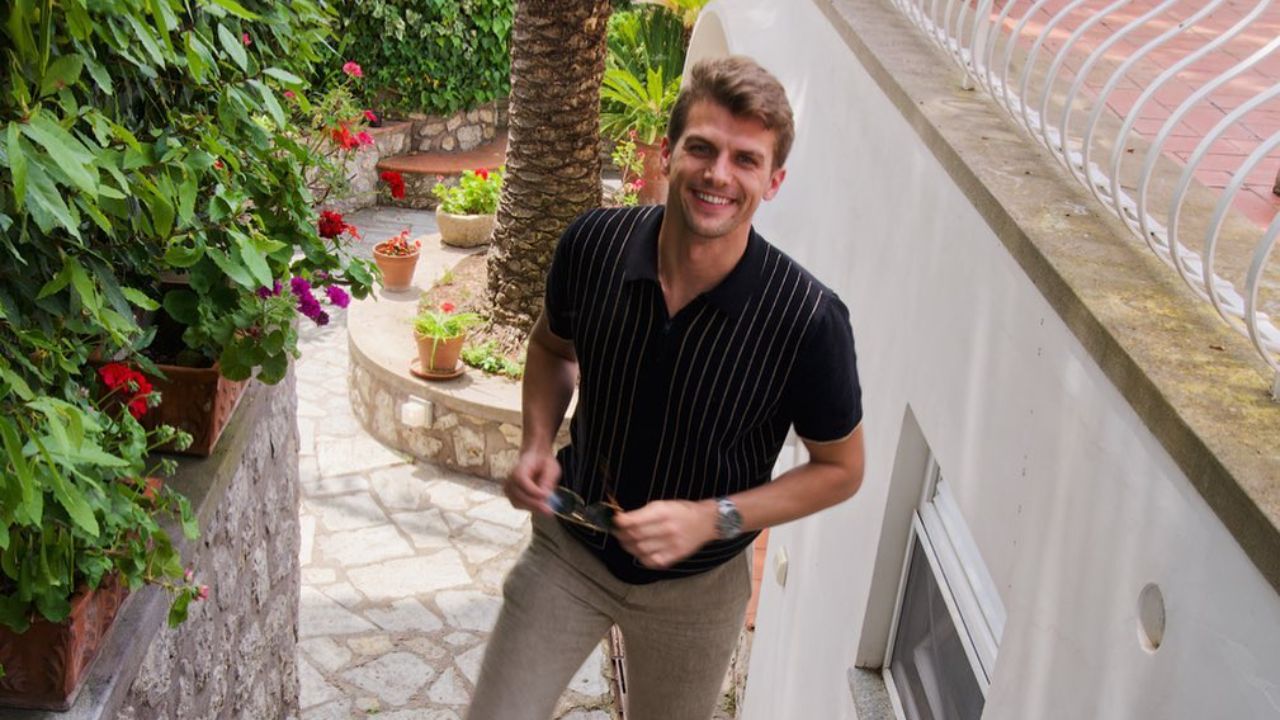 With his teaching ability in an entertaining way, Gabe has amassed 1.6 million followers on TikTok.
Image Source: Instagram
The majority of Gabe's teachings are devoted to the humorous and even ludicrous things his students say and do. He remembers times when others called him "cringey" for trying to be relevant with pop culture references, made crude remarks to his face, or criticized his clothing choices.
He also makes fun of different types of teachers who work in schools, such as those who have really loud keyboards or eat lunch while teaching. He shares amusing stories and also talks about his own teaching failings. During a health lecture, he remembers falling asleep alongside his students while viewing a film about delivery, or the embarrassing moment he tore his pants at school.
He was also able to secure a spot on the Bored Teachers: We Can't Make This Stuff Up! Comedy Tour on October 22, 2023, alongside members of the Bored Teachers group. Interestingly, Shane Hieronimus, the principal of Gabe's current school, appears to be very supportive of the light that the Science Teacher has been bringing to the field of education.
Some Reddit Users Believe Gabe Dannenbring Is the True Villain of the Netflix Show!
Gabe has been labeled as the villain of the Netflix show by many Reddit users.
Image Source: Instagram
While most viewers have been labeling Tabitha Sloane as the villain of Surviving Paradise, some users on Reddit believe Gabe Dannenbring is the real villain of the show. Taking into a Reddit discussion, one user wrote,
I see comments calling out Tabitha's behaviour, and yet - none about the True Villain of this show - Gabe!!! Dude was The. WORST. It felt like I was watching a cheesy bad guy on Melrose Place or some CW show, where the rest of the cast are too slow to see his true colours! I was annoyed with him, and annoyed with the way people behaved in response to his behaviour.
In the same post, another user replied,
OP, like you I came to the threads pissed as hell. Everything you mentioned is spot on. Guy is a doing a bang up job of being a d*uchebag. The final straw for me was listening to him use "Native American" students at his school to prop up his narrative for what he needed the money for. I can't tell you how problematic that is. Y'all see that right?? Just really not a good look.
Similarly, another replied,
Adding in the "Native American" part actually made me angry. It's enough that you are a conniving, lying, backstabber… but to bring in one of the most vulnerable populations in the US, people who were literally genocided and now actually NEED a lot of help, into your deceitful, selfish ploy for sympathy is just gross and cold… 😒😡 I hope his students call him out on it in class. Because I would dislike my teacher for this.