Richter Belmont's father is Juste Belmont in Netflix's Castlevania: Nocturne. He is the son of Simon Belmont.
Castlevania: Nocturne is a Netflix original adult animated dark fantasy action series created and written by Clive Bradley and produced by Kevin Kolde. It is a stand-alone sequel to the Castlevania animated series, based on Konami's video game series of the same name, and adapted from Castlevania: Rondo of Blood and its sequel Symphony of the Night from 1993.
Since the show aired on September 28, 2023, with eight episodes in its inaugural season, it has received a positive critical reception. On the other hand, viewers have also been fascinated by the show's lead character, Richter Belmont. As a result, they're curious to find out more about his background and wonder who is his father. Well. here's what we know.
Previously, we touched on Annette and Olrox.
Castlevania Nocturne: Juste Belmont Is the Father of Richter Belmont!
In Netflix's Castlevania: Nocturne, Richter Belmont's father is Juste Belmont, the primary protagonist of his family. He is also a member of the Belmont Clan and Simon Belmont's son. Even among his family, he is regarded as powerful due to his tremendous magical aptitude inherited from the Belnades Clan.
Richter Belmont's father is Juste Belmont. 
Image Source: Youtube
Talking about Juste Belmont's personality, he is arguably the most reclusive and introverted Belmont, as he has no known connections to anyone other than his two childhood buddies Maxim and Lydie. He exhibits deep affection for his pals and wishes to shield them from harm.
Richter Belmont's father also has a lot of faith and trust in Maxim, even after he's been possessed by Dracula's spirit, and it's that faith that helps Maxim conquer the evil thing within him. He is also revealed to appreciate decorating, as evidenced by his decision to furnish a room in the castle with furniture found on his journey. Throughout his voyage, he demonstrates a strong sense of justice and boldness, which is fitting for both his name and his character.
Belmont Family Tree Explained in Castlevania Nocturne!
We're sure you're wondering about the Belmont family tree after watching Netflix's Castlevania: Nocturne, which is why we're here to assist you in learning about the full ancestry.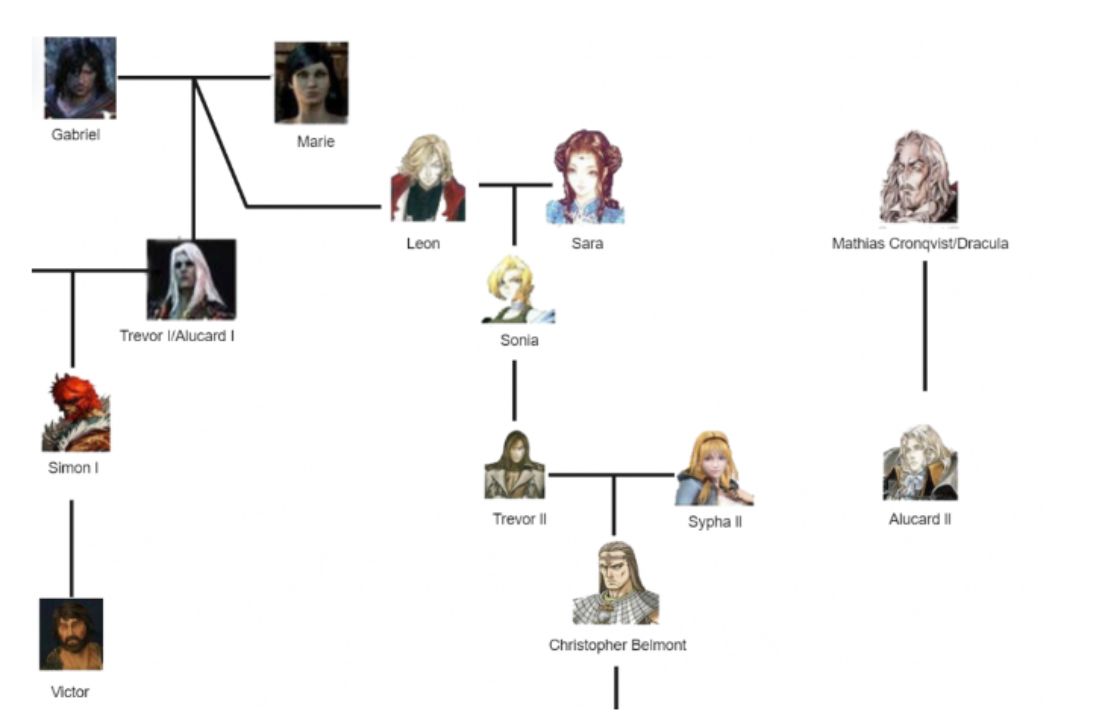 Belmont family tree.
Image Source: The DNA Tests
Leon Belmont – 11th Century (1072)
In the late 11th century, Leon Belmont was the first Belmont to be given the title of Vampire hunter. He became the impetus for his family's foray into vampire hunting. He became a knight at the age of 16 after losing both parents at a young age.
One of his close friends informed him one day that his fiance, Sara Trantoul, had been kidnapped by a vampire. While on his way to save his love, he encountered an older adult who gave him a magical whip to combat the evil. Since then, his ancestors have used the whip to smack every vampire.
Trevor C. Belmont – 15th Century (1456)
Trevor Belmont had both important and secondary roles after gaining the support of various people, including Sypha and Dracula's son, Alucard. People first frightened him and his family, but once he established a positive reputation for the family, everyone began to meet them with respect.
Christopher Belmont – 16th Century (1576)
After being killed by Trevor, Dracula resurrects himself 100 years later, and Christopher Belmont must intervene to prevent him from wreaking havoc on the human world. He wielded the same whip that his ancestor had used to defeat the lethal beast. But, before he could overcome Dracula, he noticed his son becoming corrupted by his adversary. So he had to go through a lot before he could win.
Soleil Belmont – 16th Century (1576)
Soleil Belmont was influenced by Dracula after being beaten by his father, Christopher Belmont, for 15 years. Instead of assisting his father, he turned against him since he was more affected by Dracula.
Simon Belmont – 17th Century (1669)
Simon Belmont is the most well-known character in the series. As he grew up hearing the stories of his valiant forefathers, he felt motivated to train harder in order to uphold his family's reputation.
When Dracula reappeared 100 years after his defeat, Simon chose to battle him alone, so he entered the enemy's stronghold. When compared to the other clan members, he possessed the best grasp of the Belmont whip and his powers.
Juste Belmont – 18th Century (1730)
Juste Belmont is Simon's grandson, and he possesses every skill required of a vampire slayer. He was fiercely protective of his family and friends, and he was always the first to take the hit to protect them. Because of his efforts in defeating evil, the Belmont Clan was welcomed back into society with open arms.
Richter Belmont – 18th Century (1773)
Richter Belmont observed his mother's death at an early age. He spent his entire life in France with his adopted family. he is one of his clan's toughest and most bloodthirsty vampire hunters.
Julius Belmont – 20th Century (1980)
Julius Belmont is the last living descendent of the Belmonts and is regarded as one of the most important members of the family because he was the one who eventually brought Dracula down in 1999.
Before leaving, find out if Alucard is alive.