Taryn Manning recently revealed that her recent boyfriend was a married man and she started dating him after he told her that he was going to leave his wife. However, she didn't reveal his name. Follow to know about their affair in detail.
Taryn Manning is an actress, singer-songwriter, and fashion designer from the United States who is well-recognized for her appearances in a number of movies and television shows. Among her memorable performances include her portrayal of Pennsatucky in the Netflix series, Orange Is the New Black, as well as parts in movies like 8 Mile and Hustle & Flow.
Additionally, she has explored a career in music, putting out her own music and working with other musicians. She has also dabbled in fashion design and engaged in a number of creative projects.
Taryn Manning is currently making headlines as she recently apologized for sharing her s*x life with a married man. On the other hand, many people have been interested to know if she has a boyfriend, is married, or is single. Well, let's get started.
Previously, we touched on the relationship status of Wander Franco and Lindsey Shriver.
Details on Taryn Manning's Dating Life With Her Recent Boyfriend!
Taryn Manning (@tarynmanning) admitted that she was having an affair with a married man. In a recent Instagram post, she also revealed that her former boyfriend told her he would leave his wife. Since things didn't go as expected, we can assume the 44-year-old is single now.
Taryn Manning's latest boyfriend was a married man.
Image Source: Instagram
Previously, she and her former partner, Anne Cline, were all set to get married previously. In 2021, Anne Cline proposed to the couple by getting down on one knee. At that time, Anne Cline asked the Orange Is the New Black actress to marry her as she was performing at a bar and grill in Panama City, Florida. Taryn gladly accepted the proposal.
After a few months, they split up. A source close to the actress claims that Manning was the one to initiate their split. The insider added that the actress only agreed to the proposal because Cline forced her to and she didn't want to decline it in front of a packed bar and photographers.
The 8 Mile actress apparently moved on and started dating a production worker she met on set after their breakup. Taryn Manning recently made headlines after sharing a video, which has since been taken down, in which she admitted to having an affair with a married guy. In the video, the actress, who appears furious, is shown sitting in a car and recording while revealing explicit information about their relationship.
More About Taryn Manning's Affair With a Married Man!
Taryn Manning, who insisted she was deeply in love with the married guy, claimed she was unable to stand his wife because she dubbed her a lunatic rather than confronting them over the supposed romantic involvement.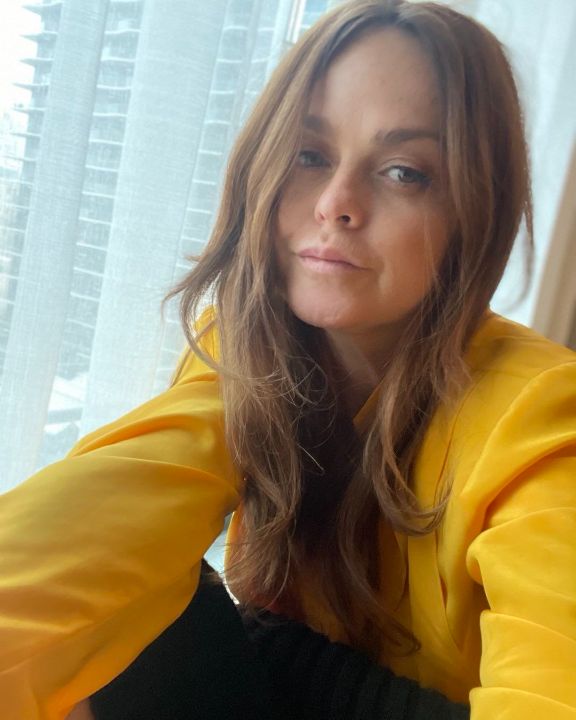 Taryn Manning was told by her married boyfriend that he was going to leave his wife.
Image Source: Instagram
The actress admitted that the reason the relationship started was because she was unmarried at the time and the married man approached her. Manning overshared about the relationship on social media after the affair became public. The person she was with apparently missed out on a boat and a lot of other things.
Before disclosing the specifics of her relationship with an unidentified married guy, a visibly distressed Manning pulled out her phone and halted her car. The actress, after collecting herself, exclaims, "The man that I've been messing with is a married man." She further added,
Every night, well, for about three nights in a row… I was licking his bu*thole. Yep, because he liked it, and I didn't mind doing it. Does that bother… is that weird, yeah. And that is what demons do.
Taryn Manning definitely had some words for the man's wife and some further information to convey regarding their connection. Manning deleted the video, but it had already been captured by social media. She then apologized on Instagram for the strange video and its removal. She wrote,
Over the past few days, I've had some time to reflect on the situation I've been dealing with. I was deeply hurt and handled things on a public platform when I should've dealt with them quietly with the support of my close friends and family...
After the video was posted, Manning acknowledges that she considered lying about the circumstances, but decided against it. She went on to say that she began dating a married man (former boyfriend) who informed her that he was divorcing his wife.
The actress expressed regret for disclosing her personal details in the video but is unapologetic about her love life. She stated that she has learned a valuable lesson from the experience and is looking for a healthy kind of love.