According to the police, Lindsey Shriver and her boyfriend, Terrance Adrien Bethel, hired a hitman to kill her estranged husband, Robert Shiver. However, the investigation is going on and nothing has been proven yet.
Former pageant queen and social media star Lindsey Shriver has suddenly found her name in the news owing to a terrifying suspected murder-for-hire plan. Lindsey, a Georgian, gained her initial fame when she was crowned Miss Houston County in 2005.
Soon after, she had a following of close to 1,600 and was a well-known face on Instagram, where she shared images of family trips, vacations, and life's milestones. But beneath the glossy and flawless postings is a turbulent relationship set against the tranquil Bahamas.
Lindsey Shriver was recently detained on suspicion of plotting the murder of Robert Shriver, her husband, and a former Auburn University football player. According to reports, she and her boyfriend made the move. As soon as the news spread, many people have been interested to know about her boyfriend. Well, we've got you covered.
Previously, we touched on the relationship status of Michelle Ryan and Micky Van de Ven.
Lindsey Shriver and Her Boyfriend, Terrance Adrien Bethel, Allegedly Planned for a Murder of Robert Shiver!
Lindsey Shriver reportedly plotted to kill her estranged husband, Robert Shriver, with her boyfriend, Terrance Adrien Bethel. She and her husband had a fight several days before her arrest, which was captured on police body camera tape.
Robert and Lindsey got into a fight at their Georgia home, where Lindsey claimed Robert pushed her while the family was packing to leave for the Bahamas. While the police were called, Robert rejected the claim. In the footage captured by the police, she says,
Living in the same house. Hell on earth as you can imagine. He just got super aggressive and that's when I called immediately 'cause he's been physical before and I am just not doing that.
Robert informed the police that he did not want his estranged wife to go with them on their private jet. He alleges that she was going to meet her boyfriend in the video.
Lindsey Shriver, however, was arrested in the Bahamas five days later for allegedly planning to murder her husband and texting her boyfriend, "kill him." Terrance Bethel, 28, says that the cops made up the entire story. He was accused and ordered to wear an ankle GPS monitor before being released on a $20,000 bail.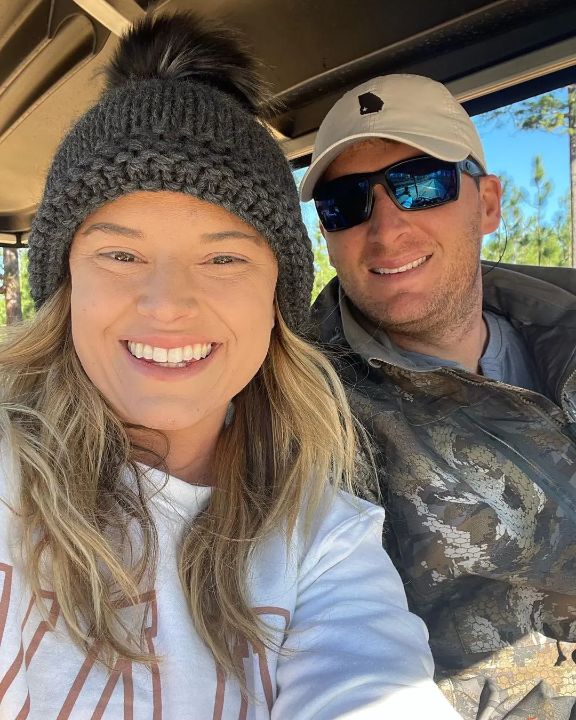 Lindsey Shriver's boyfriend, Terrance Adrien Bethel, claims they didn't kill Robert Shiver.
Image Source: Instagram
Even after possessing the devices for three weeks, Bethel said that the police have not discovered anything incriminating that indicates to a plot to kill Robert Shriver on their phones. In an interview with New York Post, he said,
Everybody says things out of frustration. None of us have anything to hide. People are taking everything at face value and defaming us.
Feran Newbold, the assassin who was supposed to assassinate Robert, likewise insisted on his innocence saying,
Once everything is revealed, you will understand why we aren't saying anything right now. There is more that is going to come out.
While both men have been released from jail, Lindsey Shriver is still detained at Nassau's dangerous Fox Hill Prison because her $100,000 bail has not yet been paid.
Bethel also claims that he was not the cause of the Shrivers' 13-year marriage breakdown, which appears to contradict Robert, who cited his wife's alleged adultery as the primary justification for his April divorce petition.
Details on Lindsey Shriver and Robert Shriver's Marriage!
Lindsey Shriver and her husband, Robert Shriver, originally met in an Auburn University exercise class in August 2007. Lindsey was a university cheerleader at the time, while the latter was a snapper for the Auburn football team. However, we're unsure when they started dating or exchanged vows.
Lindsey and her boyfriend, Terrance Bethel, first met in the Bahamas where the Shrivers have a house. After Robert discovered their relationship, the divorce process had already started because the couple had separated.
Lindsey Shriver and Robert were processing their divorce.
Image Source: FOX NEWS
As part of the divorce settlement, Robert allegedly requested full custody of their three sons, their vehicles, and a $2.5 million house in Georgia. Robert Shriver, a former Auburn snapper, played for the Tigers from 2006 to 2008 before being released by the Atlanta Falcons in 2009. His status gave the news item the exposure it needed to become hot news.
Meanwhile, Terrance admits that he and Lindsey had an affair, Previously, he told,
I love her. Everybody knows we are together. We are not hiding anything. She's a great mother. I have too much respect for her and her children to want to hurt their father.