Sahith Theegala is in a long-term relationship with his girlfriend, Juju R. Chan Julianna, a former collegiate swimmer. They began dating while they were students at Pepperdine University in 2017.
Sahith Reddy Theegala is a PGA Tour professional golfer from the United States. He was a three-time NCAA All-American at Pepperdine University. He has also won the Southwestern Invitational, the Alister MacKenzie Invitational, and the Australian Master of the Amateurs in his final year at Pepperdine.
His collegiate career was cut short by the COVID-19 epidemic, which caused the termination of the 2020 season early, despite his Pepperdine team being rated top in the country. Later, in 2020, he earned the Haskins Award, the Ben Hogan Award, and the Jack Nicklaus Award in the same year, becoming only the sixth person in history to do it.
Early this year, Sahith Theegala announced that he had been dating Juju R. Chan Julianna for a very long. Since the news people have been curious to learn more about her girlfriend and their journey. Well, here is everything you need to know.
Previously, we touched on the relationship status of Victoria Monét and McKinli Hatch.
Sahith Theegala and His Long-Term Girlfriend, Juju R. Chan Julianna, Have Been Dating Since 2017!
Sahith Theegala (@srtheegala)has been dating his long-term girlfriend, Juju R. Chan Julianna, ever since they attended Pepperdine University in 2017. Their mutual love of sports appeared to be a major factor in their initial attraction.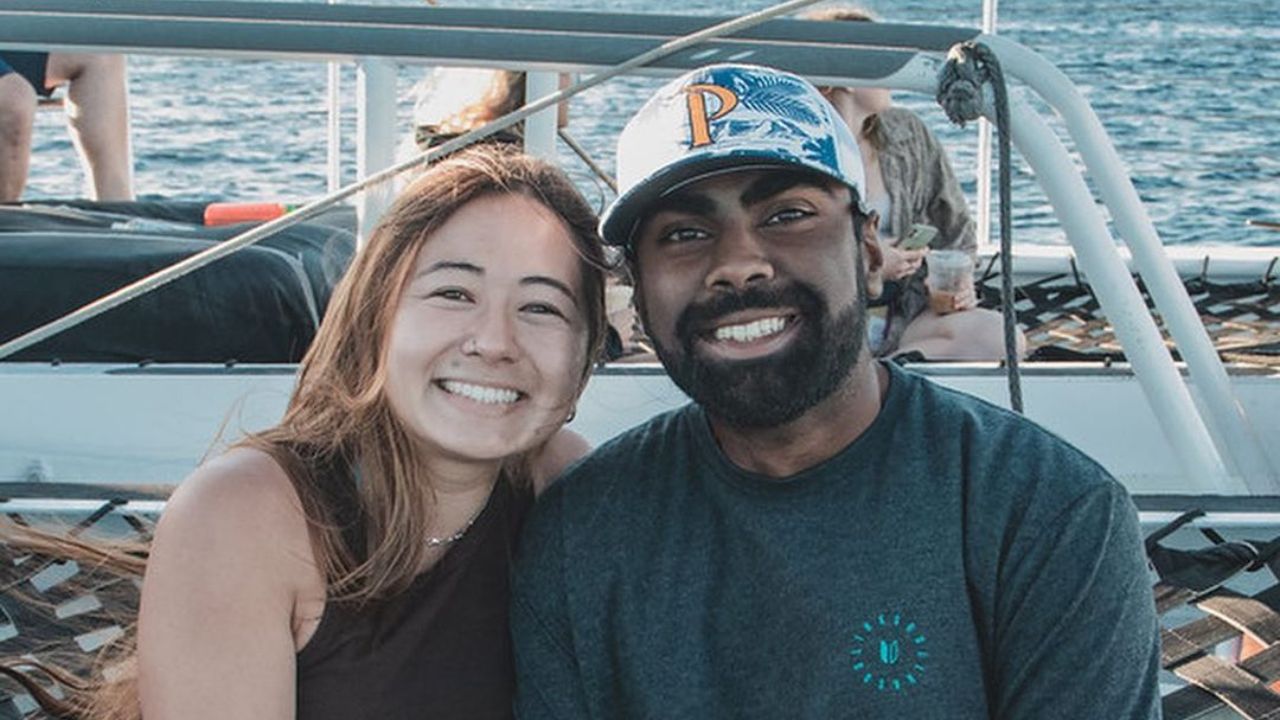 Sahith Theegala and his girlfriend, Juju, have been together since 2017. 
Image Source: Instagram
While Sahith Theegala was winning races left, right, and center in his final year at Pepperdine, most notably the Southwestern Invitational, his girlfriend Juju was breaking the uni swim and dive record in the 200 meters with her team. This was accomplished in 2019 at the Pacific Coast Swim and Dive Conference Championships.
Since graduating, Sahith Theegala's golf career has grown from strength to strength. When he turned professional the following year, in 2020, he won the Haskins Award, the Ben Hogan Award, and the Jack Nicklaus Award, making him only the fifth individual in history to win all three honors in the same year.
Theegala earned T9 at The Masters earlier this season and then won his first PGA Tour victory on September 17 at the Fortinet Championship. It's safe to assume that his family, particularly his father Muralidhar, relished every moment of the victory parade at Silverado Resort.
But they didn't make their relationship Instagram public until January 2023, when they uploaded a photo of themselves together at Kapalua in Hawaii at the Sentry Tournament of Champions when Theegala finished 33rd.
While Juju R. Chan Julianna (@jujurchan) is an exceptional swimmer, as previously stated, Juju graduated from the Waves in 2019 with a degree in Sports Administration. She also worked at the institution while studying, serving as a lifeguard, athletic communications intern, and pool manager.
Likely, Sahith Theegala's girlfriend, Juju, was also an assistant swimming coach during her senior year, and she studied NCAA rules and regulations to ensure team awareness and compliance.
Juju has appeared alongside Sahith in a number of PGA Tour events this season, as well as The Masters and The Open. She was seen clutching an umbrella for her beau at Royal Liverpool, making jokes to keep the mood light when the skies came up.
Sahith Theegala's Girlfriend Stands by Him During a Rainy British Open Range Session!
Nothing could come between Sahith Theegala and Juju R. Chan Julianna on July 18, 2023. Not even the heavy rain that fell throughout Theegala's full-range workout in preparation for The Open in Liverpool.
Later, his girlfriend shared a photo of his range session on Instagram, naming the Royal Liverpool Golf Club. While clutching an umbrella and grinning, she said, "Someone should really check my credentials," as Theegala looked out for the drive he just made.
Sahith Theegala and Juju R. Chan Julianna appear to be very happy with each other.
Image Source: Instagram
While the two made their relationship public in January 2023, other accounts claim they met in sunny Malibu at Pepperdine, where Theegala was a three-time All-American and Chan also impressed, breaking a new school record with her team in the 200-meter medley relay in 2019.
After going pro in 2020, Theegala was ranked No. 35 in the world. He has yet to win a PGA Tour championship, but he finished in the top 10 seven times during the 2022-23 season, including a ninth-place performance at The Masters and a fourth-place result at the Farmers Insurance Open.
Theegala has finished in the top 25 in 10 PGA Tour events and has earned a total of $4,941,293 in his career. The California-born golfer hasn't gotten much attention ahead of the famous tournament in Liverpool, which has a total purse of $16.5 million and a $3 million winner.