Victoria Monét has been in an open relationship with her boyfriend, John Gaines, since 2020. The couple reportedly met in 2020. However, they have yet to become fiancés as they have not been engaged.
Victoria Monét is a singer, songwriter, and record producer from the United States. Born in Georgia, USA, on May 1, 1989, she is well-known for her work in Pop and R&B music genres. She is well-known for her unique voice and compositional abilities.
She started her career as a songwriter, writing songs for a number of well-known performers, including Chris Brown, Ariana Grande, Fifth Harmony, and more. She received considerable appreciation for her songwriting work on Ariana Grande's albums Thank U, Next, and Positions.
With her rising popularity, many people have been interested in Victoria Monét's personal life, including who her boyfriend is. Well, we've got you covered.
Previously, we touched on the relationship status of McKinli Hatch and Hugh Jackman.
Victoria Monét and Her Boyfriend, John Gaines, Are Parents to a Baby Girl!
Victoria Monét (@victoriamonet) is in an open relationship with her boyfriend, John Gaines (@gainsbygaines). Despite having well-known careers, the couple frequently keep the specifics of their romance private. They reportedly met while filming the music video for Monét's 2020 song, Moment, which was included on her EP, Jaguar.
Victoria Monét and her boyfriend, John Gaines.
Image Source: Instagram
Her boyfriend is well-known for his work as a trainer and fitness model. He is the owner of the fitness business Gains By Gaines Fitness, which provides clients with tailored plans to "burn fat, build muscle, and feel the best you've ever felt!"
Gaines' program has a monthly subscription fee that starts at $39.99 and includes, among other things, a customized exercise routine, a meal plan, a shopping list, and fitness videos. His career as a multi-sport athlete led him to find his enthusiasm for fitness at a young age, and after the competition ended, he concentrated on the next phase of his life as a trainer. He can be found on Instagram at (@) where he has over 206k followers.
Victoria Monét and her boyfriend also have a baby girl named Hazel Monét Gaines, who was born in 2021. They frequently spend time together as a family while they are not working.
Even though they have a beautiful family, the couple has yet to get married. Matter of fact, they have not gotten engaged as well. However, there's a high chance they will soon be fiancés considering they already have a child together and are very happy with each other.
Were Victoria Monét and Kehlani Really in a Relationship?
Yes, Victoria Monét has finally confirmed a long-speculated past romance with Kehlani. Monét said that her song Touch Me is about her and Kehlani's previous relationship in an episode of Emily Ratajkowski's High Low podcast that aired on August 8.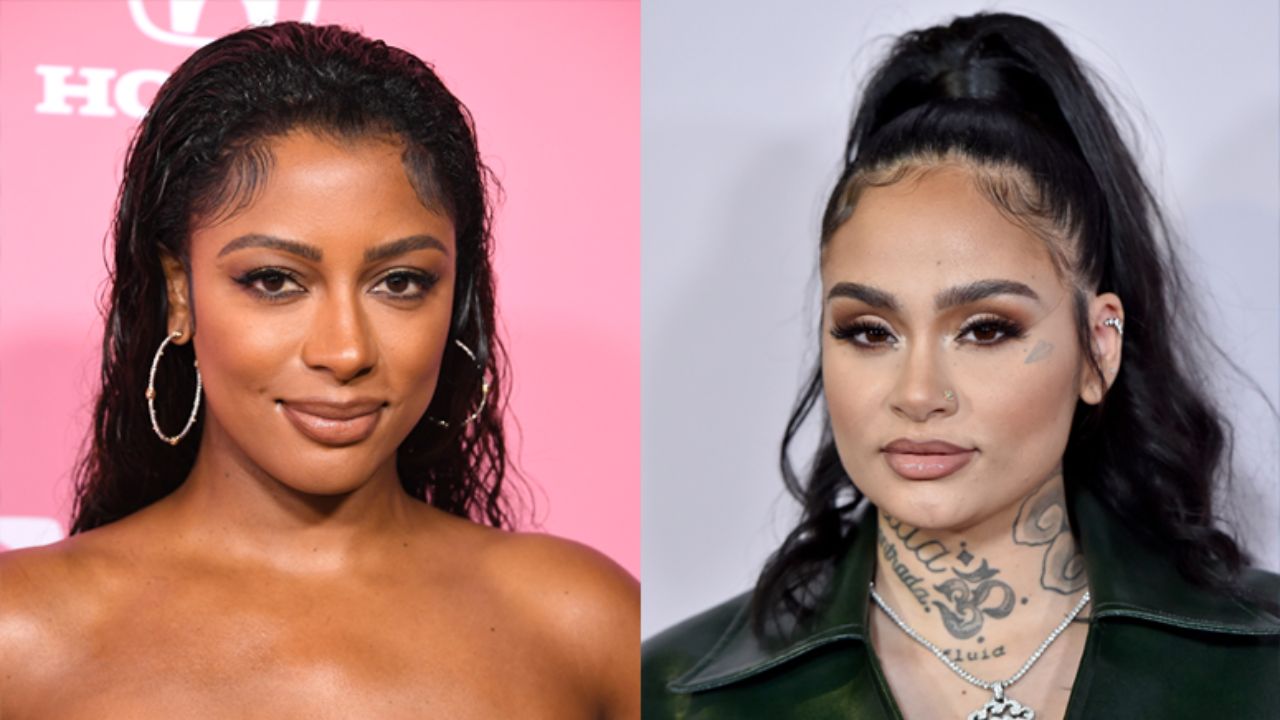 Victoria Monét recently confirmed that she previously dated Kehlani.
Image Source: Audacy
The lyrics of the song "Touch Me, Feel Me" make it very evident that Monét and Kehlani's relationship wasn't exactly platonic. They appear to still be "friends" despite their past relationships. She explained,
While pregnant, I did a 'Touch Me' remix with Kehlani, and the song is about her.
Despite the fact that their remix was released in 2020, Monét said that she and Kehlani were still friends when Ratajkowski questioned whether or not they ended their relationship on good terms. She added,
I kind of am like that with all of my past relationships. I really don't like the idea of like, now someone's dead to me, unless they did [me wrong].… I just got over it...I feel like that takes even more energy to like, try to avoid people and trying to hate them.
Victoria Monét also mentioned how John Gaines, her current boyfriend and the child's father, was "very supportive" and "open" when it came to her getting back together with her ex.