After his divorce from his ex-wife, Ryan Bingham finally confirmed that he is in a new relationship with his girlfriend, Hassie Harrison, his on-screen partner in Yellowstone. 
From singing to acting, Ryan Bingham (full name: George Ryan Bingham) has gained a lot of success in both fields. In addition to singer and an actor, he is a songwriter and guitarist as well.
He was very young when he started playing guitar and writing songs. His music is mostly influenced by his upbringing and experiences on the rodeo circuit. He released his debut album titled Mescalito in 2007 which received critical acclaim and helped establish him as a rising star in the Americana music scene. Later, his popularity skyrocketed with the release of his 2009 album, Roadhouse Sun, which featured the hit single The Weary Kind. And he has a guest role in the hit Western series, Yellowstone.
Last week, Ryan Bingham posted a picture of kissing his girlfriend on his Instagram. As a result, many fans have been curious to know about the girl in the picture. Well, we've got you covered.
Find out the relationship status of Jonathan Toews and Brendan Penny.
Ryan Bingham's Girlfriend: The 42-Year-Old Recently Confirmed His Relationship With His Yellowstone Co-star, Hassie Harrison!
On April 13, 2023, Ryan Bingham (@ryanbinghamofficial) posted a picture of kissing his girlfriend with the caption, " More than a spark," on Instagram. A lot of you might be shocked but the girl is none other than Hassie Harrison, his on-screen partner in Yellowstone. Yes, they are now in a relationship in real life as well. Harrison's "I love you, cowboy" comment on Bingham's post further confirmed their relationship.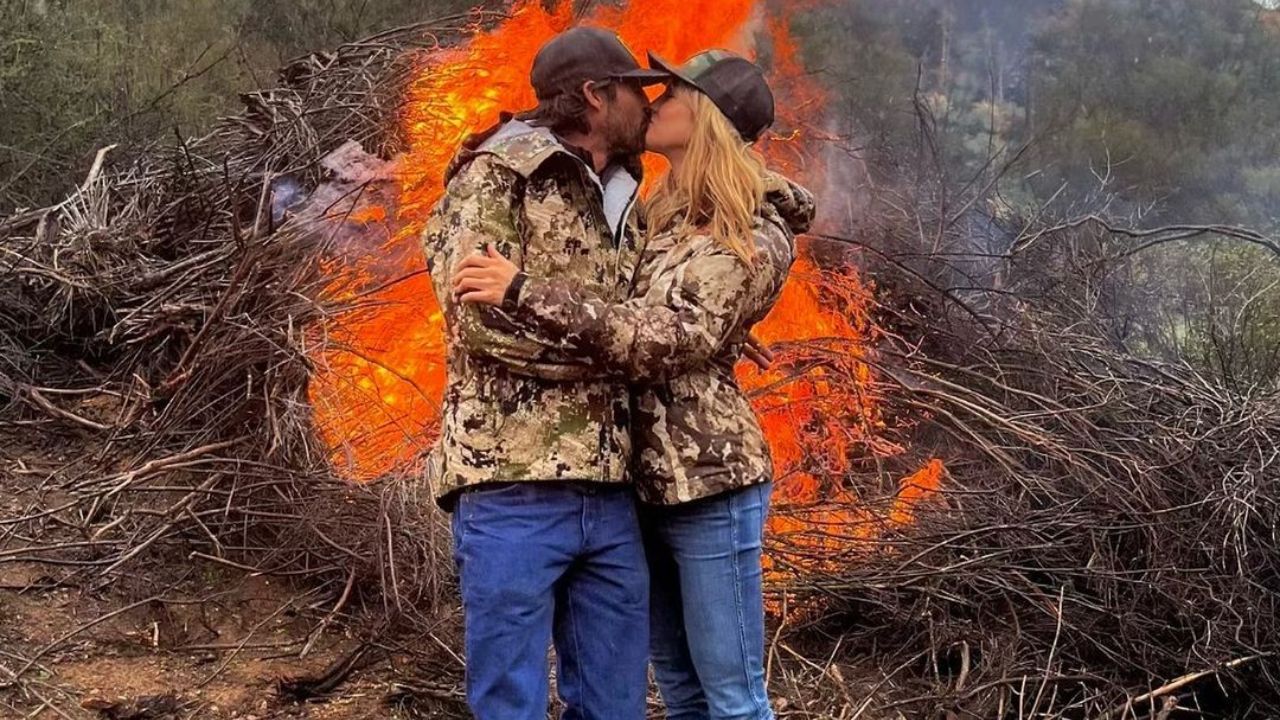 Ryan Bingham and his girlfriend, Hassie Harrison.
Image Source: Instagram
Ryan Bingham portrays Walker, a recurrent character in the first three seasons of the Western series, who is a former prisoner turned musician and ranch worker. In season four, he started to appear regularly on the show. Harrison (@hassieharrison), who plays the role of Laramie, a fellow ranch hand and barrel racer, joined the program in season three. At the conclusion of season three, Walker and Laramie start dating, and their relationship deepens throughout season four. In Season 5, Rip Wheeler (Cole Hauser) kicks out Laramie and her friend Mia from the ranch's bunkhouse, raising doubt about Walker and Laramie's relationship.
Bingham, 42, and Harrison, 33, may have been dating for a while before they first crossed paths on the 'Yellowstone' set in 2020, but it's unclear exactly when that happened.
Prior to their divorce in June 2021, Bingham and his ex-wife, film producer Anna Axster, were married for 12 years. The former couple, who occasionally collaborated on Bingham's music videos, has 3 children together. Meanwhile, his girlfriend, Harrison, dated Austin Nichols, a former One Tree Hill & The Iron Orchard co-star, until their split in 2020.
Ryan Bingham and his ex-wife, Anna Axster.
Image Source: Extra TV
Given that both Hassie and Ryan's characters are dating in Yellowstone, their relationship may have been an example of life imitating art. However, their romance happens amid the uncertainties about Yellowstone's future and Kevin Costner's departure from the program.
Season 5's last six episodes are scheduled to debut this summer, but shooting delays may cause the schedule to be pushed back. The second installment of Yellowstone was supposed to begin production in March 2023, according to sources who spoke to The Hollywood Reporter in February 2023, but the schedule was moved because of the controversy surrounding Costner's departure.
Yellowstone Is Ending After Season 5 With or Without Kevin Costner!
With or without Kevin Costner, the fifth season of Yellowstone marks the show's finale. The American neo-Western drama series, according to the most recent rumors, won't be renewed for another season due to tensions between Costner and Taylor Sheridan, the show's creator.
The program that "reinvigorated" Costner's career, Yellowstone, will conclude after the second part of Season 5, sources told The Washington Post. The show's patriarch John Dutton was portrayed by Costner, 68. He was honored with a Golden Globe for his part in the series. The source told,
It's the same as with any show runner and big star — there's respect, but there's friction
Another Hollywood insider, who has worked with Sheridan confirmed that there is some ego at work, saying that, "Taylor is the star of his show. He's the most important person on all of his shows."