As of 2023, Jonathan Toews is in a relationship with his girlfriend, Lindsey Vecchione. While the couple has been dating since 2014, they have yet to get engaged.
Jonathan Toews, a longtime captain of the Chicago Blackhawks, played his final game with the team on Thursday night after it was made public earlier in the day that they would be splitting ways this summer. Despite the Flyers traveling to Chicago and stealing an overtime victory in Toews' finale, the three-time Cup champion went out on a high note.
Known as "Captain Serious," the Blackhawks drafted Toews as the third overall choice in the 2006 NHL Entry Draft. He joined the squad in 2007–08, and as the NHL Rookie of the Year, he was nominated for the Calder Memorial Trophy. He was made team captain the following season, making him at the time the second-youngest captain in NHL history (behind Sidney Crosby). He has since been the captain of the team.
Having played his final game for the Blackhawks, Jonathan Toews has been in the spotlight as people are concerned about his next team. On the other hand, many people are also curious to know about his relationship status. Well, here's everything you need to know about his girlfriend.
Check out the relationship status of Brendan Penny and Josh Giddey.
Jonathan Toews' Girlfriend in 2023: The Chicago Blackhawks Star Has Been in a Relationship With With His Partner, Lindsey Vecchione, Since 2014!
As of 2023, Jonathan Toews (@jonathantoews) is in a relationship with his long-time girlfriend, Lindsey Vecchione (@lindseyvecchione). The couple made their relationship public in 2014 and has very very public about their dating life. The couple has walked the red carpet together on many occasions. Similarly, Lindsey has also attended Toews' many matches, cheering him on.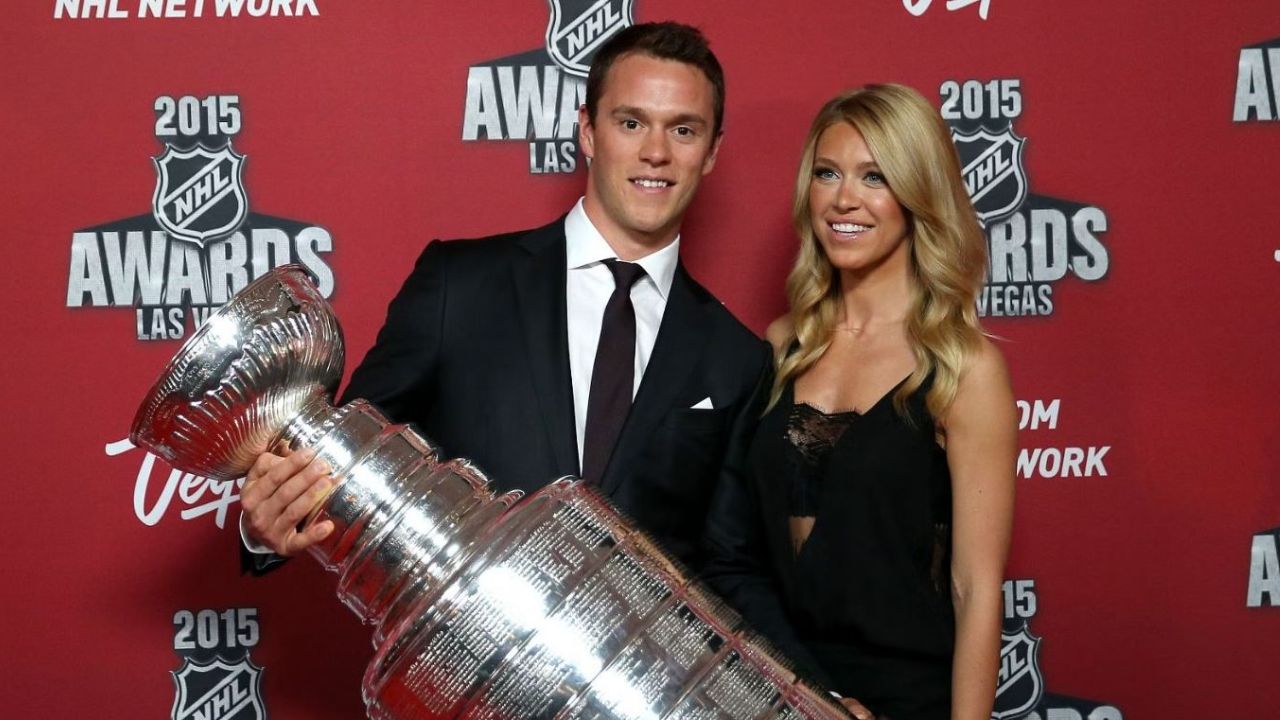 Jonathan Toews and his girlfriend, Lindsey Vecchione.
Source: Sportskeeda
Jonathan's girlfriend, Lindsey, was born in Chicago, Illinois, on August 9, 1987. She is a successful model and hair stylist. Additionally, she founded and owns Chicago's Art of Alchemy Salon, which is situated in the Bucktown district of the city. Likely, she has worked with a variety of companies, including Playboy, and has been featured on the covers of various magazines.
On the other hand, there was a rumor on the Internet that the Blackhawks captain may have secretly married Lindsey. However, it's untrue. They have not yet exchanged vows. In fact, they have yet to get engaged as well.
It's strange the couple has been together for almost a decade now but does not even hint anything about taking their relationship into another step. Jonathan has even not posted any pictures of Lindsey on his Instagram. As a result, many sources also claim that they are having problems in their relationship. However, we believe they are still together.
Jonathan Toews kissing Lindsey Vecchione after the game.
Source: andrewnellesphoto
It's unknown if Lindsey dated anybody except Toews, however, the captain had his fair share of relationships. While he has been linked to numerous stunning ladies, Gabrielle Velasques has received the most attention. She is a model, just like Lindsey, and they allegedly dated around 2011 or 2012.
Thus, we believe Jonathan Toews and his girlfriend have been struggling with their relationship lately. Let's hope they don't split and get married sooner. We'll certainly inform you guys as soon as we get any updates about their relationship.
Is Jonathan Toews' Retirement Nearing?
On Thursday, Jonathan Toews played his final game as a Chicago Blackhawks against the Flyers. At the end of the current campaign, Toews' eight-year, $84 million deal that he signed in 2015 will expire, making him an unrestricted free agent. He'll probably either retire or sign with another team.
Toews hinted that he would retire in the days before his return from vacation, saying that his health should come before anything else. He said,
I feel like I've said it already, that I've gotten to the point where my health is more important. When you're young and you're playing for a Stanley Cup and everyone's playing through something, that means something and it's worthwhile. But I'm at that point where it feels like more damage is being done than is a good thing.
We can expect him to make the decision this off-season. After his final game for the Blackhawks, he said,
The thought of playing for another team right now is so far in the back of my mind right now, especially after that moment. I always thought I'd retire a Blackhawk and part of me still believes in that, so we'll see.