As of 2023, Maluma is in a relationship with his girlfriend (GF), Susana Gomez. Yes, he is not single. However, they have yet to get married.
Juan Luis Londono Arias, better known as Maluma, is a Colombian singer-songwriter and rapper. He started getting involved in music in his teenage days, and by the age of sixteen, he had already recorded songs. He gained fame in 2015 after he released his album, Pretty Boy, Dirty Boy which leads him to gain a huge opportunity.
Recently, Maluma has been in the spotlight after his favorite yellow boots were approved by Paris Hilton. Everyone must have known about the new trend of gigantic, colorful boots. The singer and Victoria Beckham, a fashion designer, are modeling the recent collaboration between Crocs and MSCHF. With the approval of Hilton, the singer seems to look very happy.
On the other hand, many people have recently been curious about his personal life, especially his relationship status. In this article, we will be talking about his girlfriend as of 2023 and his dating history. Well, let's get started.
Previously, we touched on the relationship status of Olivia Dunne and Joey King.
2023: Maluma Is Still in a Relationship With His Girlfriend, Susana Gomez!
As of 2023, Maluma (@maluma) is enjoying his life with his girlfriend (GF), Susana Gomez. The couple is believed to have been dating since 2021. He went official through his Instagram in December 2021. Recently, the couple has been facing many negative comments after the singer posted a video on July 10, 2023, with her girlfriend dancing on her back.
Maluma and his girlfriend, Susana Gomez.
Image source: Instagram
On July 10, 2023, when Maluma posted a video of him dancing with a girl, many people questioned his girlfriend. Some claimed that he might be cheating on his girlfriend, while others said that the girl in the video might is indeed Susana Gomez. After the video was all over the Internet, people started hating the singer for treating the girl as a s*x object. The video was captioned as;
If he turns his back on me, I'll hit his face... 
Although in the video the girl with Maluma was not seen, her figure was slightly similar to his girlfriend, Susana. However, there's is no strong evidence to confirm the identity of the girl.
Timeline of Maluma and Susana Gomez's Relationship: When Are They Getting Married?
Maluma and Susana Gomez were rumored to have been dating since late 2020. They were first spotted together in August 2020 in Miami, where both of them were walking around with the singer's dog. When the rumors started flooding all over the internet, the couple decided to get official, and in 2021, on the occasion of Christmas, Maluma posted a blurry photo of himself passionately kissing a woman, assumed to be Gomez.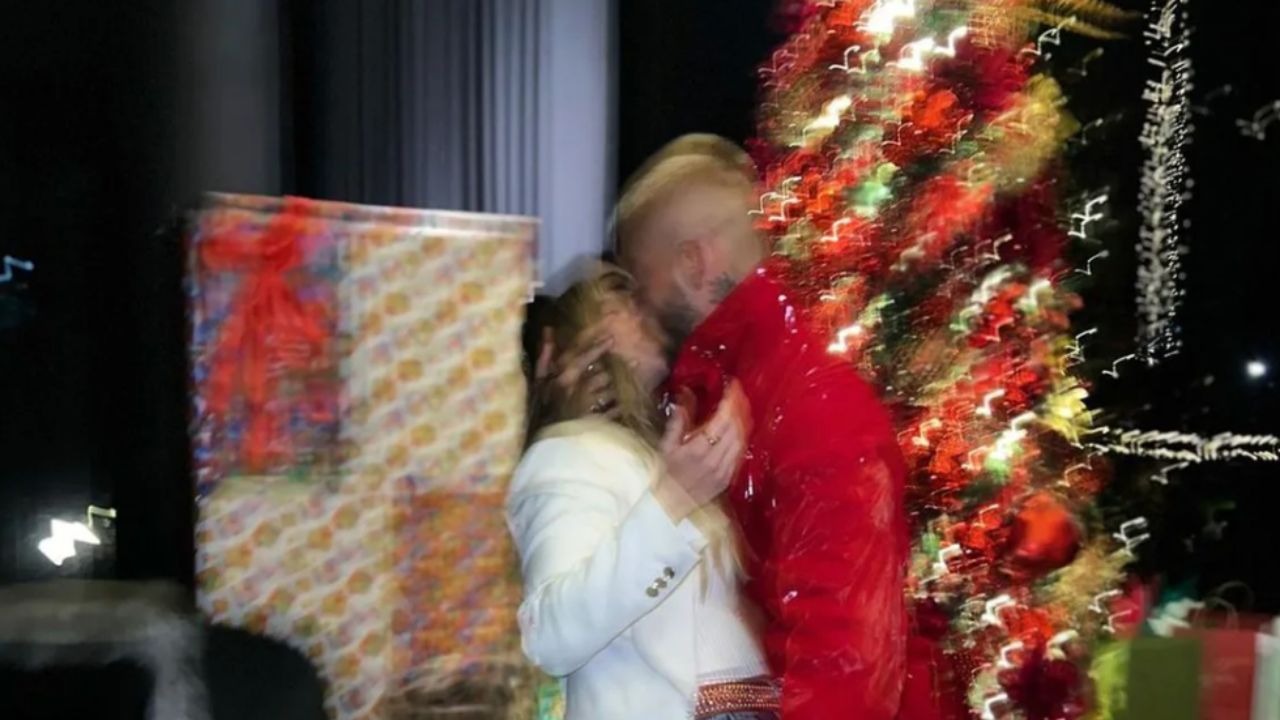 Maluma went official with Susana Gomez on December 2021.
Image source: Instagram
The couple has not given any information regarding their first meeting, but both of them are from the same hometown, Colombia. Maluma, who has not spoken publicly about her girlfriend yet, has been open about longing for a love like this in his 2020 album, Amor De Mi Vida. He also talked about the song after it was released and said;
That song I wrote because I want that in my life, That's a song that I could say, Yeah, I want to get old and have a family. … That's one of my biggest dreams — getting old with someone next to me and giving my life to someone
After listening to his statement, many people started wondering if the singer was giving a hint about his new life or not. Some claim that the couple is going to be married, while others think that he is very much in love. However, until 2023, there is no news regarding his marriage or engagement.
More About Maluma's Girlfriend, Susana Gomez!
Susana Gomez is guessed to have spent her childhood in Colombia. She started her career as an architect and interior designer in Colombia. Since February 2023, she has seemed to be busy with a new thing as she launched Sileo Timeless Jewelry. She started the jewelry business with her sister, Juliana Gomez.
Susana is speculated to be very close with Maluma's family too, as she was seen spending her holiday many times with his family, including the 2022 December family trip where the family and Gomez wore matching cowboy hats. Not only that, Maluma's mother often posts pictures with Susana, and she is believed to be the biggest supporter of the jewelry designer.