Yes, Joey King and her boyfriend (BF), Steven Piet, are still together in 2023. In fact, they're engaged already. Additionally, they have an age difference of 7 years. 
Joey King (full name: Joey Lynn King) is an American actress who initially gained popularity for the portrayal of Ramona Quimby in Ramona and Beezus (2010). Later, her popularity skyrocketed after playing a lead role in The Kissing Booth (2018) and its two sequels.
Her ability and performances have earned her a devoted fan base and critical acclaim throughout the years. Her other notable projects include Battle: Los Angeles (2011), Crazy, Stupid, Love (2011), The Dark Knight Rises (2012), The Conjuring (2013), White House Down (2013), Independence Day: Resurgence (2016), Going in Style (2017), Bullet Train (2022) and The Princess (2022).
Joey King and her The Kissing Booth co-star, Jacob Elordi, started dating while filming the first movie in 2017. However, the couple broke up before even filming its 2 sequels. Nevertheless, it didn't take long before Joey found her soulmate. Well, here's everything you need to know about her boyfriend in 2023.
Previously, we touched on the relationship status of Maddie Ziegler and Robert Irwin.
2023: Joey King Is All Set to Marry Her Boyfriend-Turned-Fiancé, Steven Piet!
Joey King (@joeyking) and her boyfriend (BF), Steven Piet (@stevenpiet), are no longer just a boyfriend and girlfriend in 2023. The couple has been engaged already. On March 2, 2022, the Kissing Booth actress took her Instagram to announce their engagement writing,
I never knew happiness could be so powerful that it can take the air from your lungs, overwhelming every part of you that you can't help but feel your eyes well from the undeniable joy. I never knew that a persons presence and heart could feel like a real home. I never knew love could be so unquestionably beautiful. I never knew until you. The date was 2/2/22 when you asked me to marry you and made me the luckiest lady alive...
Joey King and her boyfriend-turned-fiancé, Steven Piet.
Image Source: Instagram
In case you're unaware, Steven is a director and a producer. He and Joey met on the set of The Act (2019), in which Joey played the lead role and Steven was a co-executive producer. The couple has now been together for more than 4 years. Celebrating their 4th anniversary, Joey previously posted a sequence of pictures on her Instagram with the caption (translated),
✨Happy Anniversary my love✨...Under the surface the crocodiles, barracuda, whales...Oh in the trees the vultures are ruffling...But right now they leave us alone
While Joey King is 24 years old, her boyfriend-turned-fiancé is  31 years old. However, the age difference of 7 years doesn't seem to have affected their relationship. The couple frequently shares pictures of each other and loves to travel together. Of course, they also attend most of the events together.
King recently uploaded a video from her bachelorette party on social media, in which she and the others dressed up as several 'Famous Steves.' Additionally, she also shared pictures of wearing bridal adornment in her hair a week ago. While this is just speculation, we won't be surprised if Joey and Steven soon announce their wedding.
Joey King and Jacob Elordi's Split: What Was the Reason?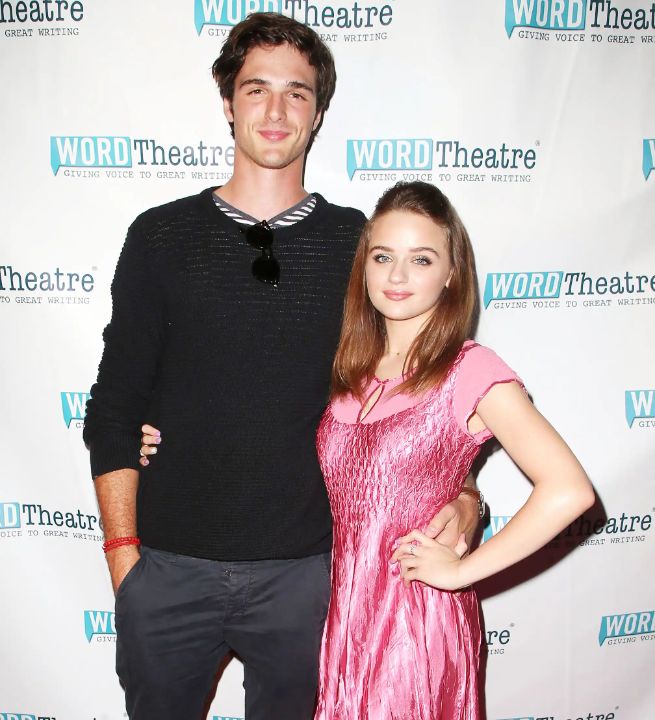 Joey King and Jacob Elordi started while filming the first part of The Kissing Booth.
Image Source: Shutterstock
Fans speculated in November 2018 that Joey King and Jacob Elordi (@jacobelordi) had split up. The rumors began when Elordi revealed on his Instagram Stories at the time that he would be taking a break from social media.
Jacob then deactivated his Instagram account completely. Following that, King turned to Twitter with a cryptic message that appeared to be a dig at her co-star. "Thank God I have my dog, tho," she wrote on Twitter at the time. That's when the comments started pouring in. Fans flooded King's Instagram comments section with questions on whether or not she and Elordi were still together.
However, by August 2021, at the time The Kissing Booth 3 was released, it appeared like Elordi and King were back on good terms. To celebrate the final chapter of the franchise, Elordi shared a series of images with his co-stars, including King, on his Instagram Story.
Both Joey King and Jacob Elordi have moved on from their romance. While King is all set to get married to Steven Piet, Elordi is reportedly dating Olivia Jade Giannulli.