While Forbes has not confirmed the data, some sources claim that Kim Fields has an estimated net worth of $ 6-8 million in 2023. 
The Upshaws, a comedy-drama on Netflix, is finally back for a fourth season with more laughter and drama for the viewers. The story picks off where the previous season's conclusion left off, with Regina taking a sabbatical from her family.
She is residing at the home of her sister, who has assumed her duties and is raising her children. Over time, Lucretia and Regina's relatives get impatient and demand that she come back.
Kim Fields, who plays the lead role of Regina in the series, has been a popular name ever since she was cast in the series. Of course, a lot of people seek more information about her. Most recently, we've found that her fans have been curious to know what her net worth is in 2023. Well, we've got you covered.
Previously, we touched on Page Kennedy, Duck, and the Savannah Cast.
Kim Fields Has an Estimated Net Worth Of $ 6-8 Million!
Forbes has not evaluated Kim Fields' net worth yet. However, some sources suggest that she has an estimated net worth of $ 6-8 million. And we can definitely expect her fortune to rise sooner since she has been a pretty popular name in the entertainment industry for over 4 decades.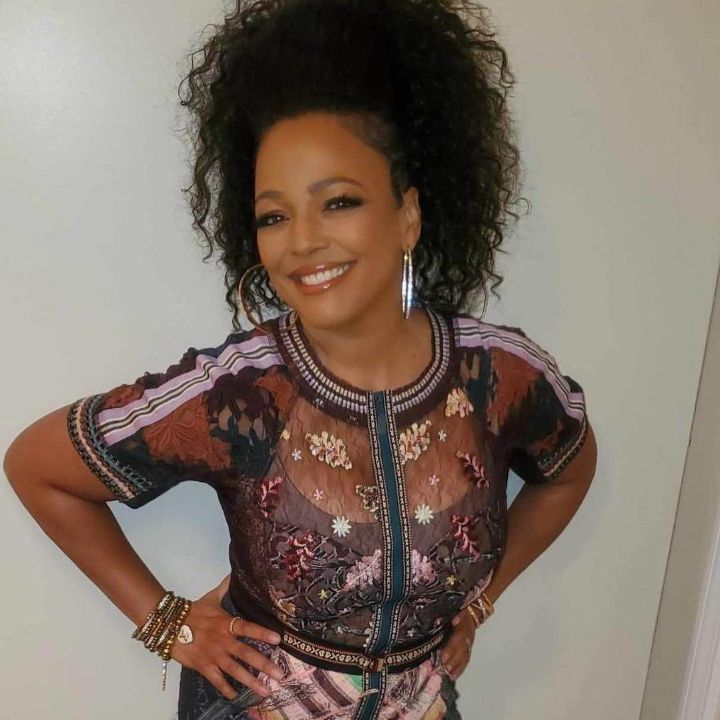 Kim Fields' net worth is estimated to be around $ 6-8 million.
Image Source: Instagram
Talking about her career, the Regina actress has had a varied career that includes acting, directing, and television. During the period of the popular sitcom, The Facts of Life, which aired from 1979 to 1988, she first won fans' hearts as Tootie Ramsey. As a young actress who stood out for her ability and youthful enthusiasm, her performance of Tootie has remained a pivotal moment in her career.
Kim Fields continued to leave her mark on television after her initial success by playing Regine Hunter in the sitcom "Living Single" from 1993 to 1998. She was able to portray a variety of characters in this role, showcasing her acting range.
However, she has made accomplishments outside of acting. She branched out into producing and directing, contributing her artistic sense to numerous television programs. She has directed episodes of well-known television programs including Kenan & Kel and Tyler Perry's House of Payne, demonstrating her talent both in front of and behind the camera.
Additionally, Kim (@kimfieldsofficial) entered the field of reality TV in addition to her job in scripted television. She appeared on Dancing with the Stars in 2016, showcasing her ability to take on novel tasks and engage audiences in fresh ways.
Kim Fields is also a motivational speaker and author who writes on resilience, family, and faith in addition to her work in the entertainment industry. Her personal experience and insights into the entertainment world have inspired others to follow their passions and forge successful careers.
Meet Kim Fields' Husband, Christopher Morgan!
Kim Fields is currently married to her husband, Christopher Morgan. The two tied the knot in 2007. They also have 2 sons together. Kim frequently spends days out with her husband and two sons but prefers to keep her marriage out of the spotlight and social media.
Kim Fields and her husband, Christopher Morgan.
Image Source: iRealHousewives
They have been residing as a family of four in Atlanta, Georgia, after getting married in a secret ceremony officiated by Pastor Donnie McClurkin. Christopher has some very amazing acts in his career, including his Broadway performance for the play Kiss Me, Kate and his dancing debut in Romance & Cigarettes.
In 2009, the actor, singer, and dancer also appeared in Ain't Misbehavin'. But he doesn't just show off his talents on stage and during shows; he even manages to hit a few high notes in church.
Kim spoke out in defense of their relationship and said that their marriage is rock-solid in 2016 when Kenya Moore brought up allegations about Chris being gay to the rest of the cast of RHOA.
However, Christopher is not the only person Kim Fields has tied the know with. Previously, she was married to film producer Johnathon Franklin Freeman from 1995 to 2001.