Kayana Traylor is in an open relationship with her girlfriend, Kierra Fletcher. While the couple does not share anything about their relationship on their Instagram, they openly share it on TikTok. Just like Kayana, Kierra is also a college basketball player who plays as a point guard for South Carolina Gamecocks. 
Fifth-year senior of Virginia Tech University, Kayana Traylor is one of the most favorite players to watch in the NCAA women's basketball. The 5' 9'' guard joined her current team in the 21-22 season as a transfer from Purdue University.
Even though the Virginia Tech Hokies suffered a tough loss in the Final Four of the tournament, some critics claim that Kayana had the best game of the season in the loss. Virginia Tech only scored 13 points in the finals quarter of the game whereas the LSU Tigers went on to score 29 and won the game (Final score: 79-72).
As one of the most skilled women players in college basketball, Kayana Traylor has gathered a huge fan base around the nation. Similarly, a lot of people have been curious to know more about her personal life as well. They want to know who her girlfriend is, who she openly flaunts on her TikTok. Well, we've got you covered.
Previously, we touched on the relationship status of BTB Savage and Jaycee Horn.
Kayana Traylor's Girlfriend: The 5' 9'' Guard for Virginia Tech Hokies Is in an Open Relationship With Kierra Fletcher, Another Elite College Basketball Player!
Kayana Traylor (@kayana_traylor) has been in an open relationship with her girlfriend, Kierra Fletcher. While both of them do not share any information about their relationship on their Instagram, the couple openly flaunts their dating life on TikTok. Matter of fact, Kayana's first TikTok featured her girlfriend's reaction to the "actual h*e edition" challenge in June 2021.
Kayana Traylor and her girlfriend, Kierra Fletcher.
Source: Sportslulu
Just like Kayana, her girlfriend, Kierra (@kierrafletcher3), is also a college basketball player who plays as a point guard for South Carolina Gamecocks. Leading her team to three state championships, Kayana Traylor's girlfriend played high school basketball at Warren Cousino High School. She was even named the Gatorade Michigan Player of the Year as well as the 2018 Michigan Miss Basketball.
As mentioned earlier, Kayana shares a lot about her relationship with Kierra on her TikTok. From sharing their journey as a lesbian couple to cuddling, they do not hesitate to showcase their bond.
Previously, Fletcher even stated that she would be focusing on her game if she was ever to face Kayana in the tournament. Unfortunately, both South Carolina and Virginia Tech were defeated in the Final Four of the NCAA Championship by Iowa and LSU respectively.
While we have no idea when the couple started dating, we're certain that they've been together for more than 2 years now. The couple is pretty liked by their fans and some people even regard them as the "cutest basketball duo" in the history of college basketball. And it seems we all have to agree with it.
Well, Kayana Traylor and her girlfriend, Kierra, do not appear to break their relationship any time sooner. We wish them all the best and we hope to see them getting married someday.
NCAA women's final: LSU vs IOWA!
After an unpredictable NCAA Tournament, just Iowa and LSU remain from the original 68-team field. There won't be a No. 1 seed in the national championship game for just the third time in the NCAA Women's Tournament's history.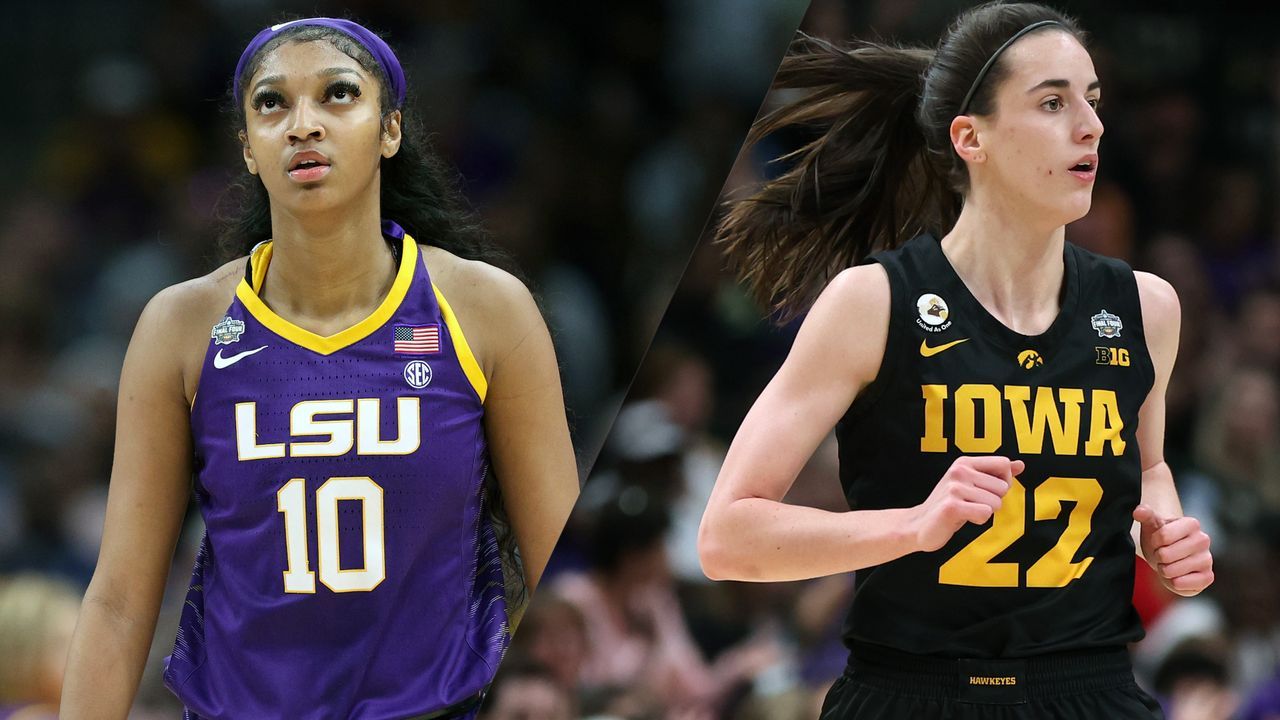 Caitlin Clark and Angel Reese to face off in the NCAA championship game.
Source: ESPN
Alexis Morris and Angel Reese carried LSU to a 79-72 victory against Virginia Tech in the first semifinal, punching their ticket to the national title. In the victory that sent the Tigers to their first national championship game in school history, Reese scored 24 points and grabbed 12 rebounds, while Morris finished with 27 points to lead all scorers.
In the second, Caitlin Clark had a historic performance, outscoring the unbeaten, reigning national champion South Carolina Gamecocks 77-73 with 41 points, including Iowa's last 11 points. Clark scored 41 points in the Final Four game, which is a record for any semifinal game at any level of competition (men's or women's), behind only Sheryl Swoopes' 47 points in the 1993 national championship.
On Sunday, April 2, the No. 2 seed Iowa and No. 3 seed LSU will play for the national title. Will LSU be able to stop Clark? We shall find it tomorrow.