Yes, Yasmin Finney, who plays the role of Elle Argent in Netflix's Heartstopper, is actually trans in real life as well.
Heartstopper season 2 finally arrived on Netflix in August 2023, after a fair delay following the breakthrough hit first season. The show, based on Alice Oseman's best-selling series of graphic novels of the same name, was an instant international success on Netflix, owing in part to its enthusiastic online fans and Oseman's best-selling collection of books.
While the series focuses on Charlie Spring and Nick Nelson's fascinating romance, it also delves into the lives of their friends, especially Elle Argent. Elle is moved from Truham Grammar to Higgs Girls School after coming out as transgender. Although the transition is difficult for her at first, she quickly adjusts to life at Higgs with the help of Tara and Darcy.
On the other hand, many viewers wonder if the Elle actress, Yasmin Finney, is actually trans in real life. Well, we've got you covered.
Previously, we touched on Isaac and Kit Connor.
Yes, the Elle Actress, Yasmin Finney, Is Actually Trans!
Yes, Yasmin Finney (@yazdemand) is actually trans in real life as well like her character, Elle Argent, in Netflix's Heartstopper. Previously, she opened up about all the challenges she faced while growing up since she was born as a male. She explained,
Yes, Yasmin Finney is a transwoman. Since Finney was assigned male at birth, the artist had a challenging childhood. I have always been feminine, whether I liked it or not. It's never been like, 'Oh my god, I'm trans now...I didn't come out as trans at that point, but obviously I was hanging around with the girls. It's always been a natural sort of aura," she added about her childhood.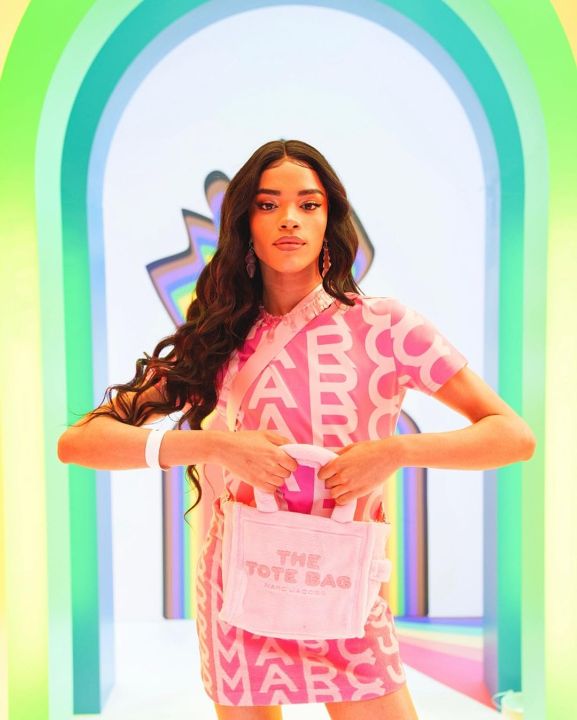 Yasmin Finney is actually trans like her character, Elle Argent.
Image Source: Instagram
Even though Yasmin connects to her character, Elle, a lot, she previously told that their upbringing was totally different. In a 2022 interview, she told,
I admire Elle so much. I was bullied for being queer at my first high school. At the time I didn't know I was trans, but for Elle to know that she is and to move schools because of that is bravery on another level.
Yasmin Finney, like many of the show's viewers, feels that what distinguishes Heartstopper from its contemporaries such as HBO's Euphoria and Gossip Girl is that its characters are performed by actual teens - a remarkable achievement in the realm of television and make-believe.
Her grandmother, who bought her a female ballet dancer's outfit known as a "tutu," was the only person who recognized Finney's actual sexuality during her childhood. Her relationship with her mother evolved over time, and she is now totally accepting and supportive of her daughter. The 19-year-old actress overcame her obstacles by using her self-expression. She added in the same interview,
When I was super-young in high school and getting bullied, I had this willpower to go home and forget about it all by documenting my experience and building this community of people that had similar experiences as me.
Finney ultimately discovered TikTok, where she shared her experiences as a Black trans person. The platform changed her life as she shared her struggles and people loved & supported her journey. Even though she claims she still receives a lot of hate online, it does not appear to affect her anymore. And of course, Finney sees Heartstopper as a show that tackles the trans experience in a unique way.
More About Yasmin Finney: Her Journey as a Trans Actress!
Yasmin Finney's confidence, like her colorful attitude on Heartstopper, has motivated her to take on various challenges. Even when she was a young lady and was bullied, she did not give up on her dreams. Instead, the actress documented her transgender experiences on TikTok and Twitter. Yasmin refused to give up even though she experienced internet abuse.
Despite all the online abuse, Yasmin Finney refused to give up on her dreams.
Image Source: Instagram
She continued to work in theatre and appeared in a number of shows, including Antigone, Port, DNA, and Tie. In 2020, Yasmin landed on a casting ad for Netflix's Heartstopper, and she landed the part after an audition. Yasmin was then cast as Kelsa in Billy Porter's Anything Possible.
However, because of COVID-19 travel limitations, Yasmin was unable to obtain a work visa to the United States and had to give up the role. Yasmin was cast as Rose in Doctor Who, opposite Sex Education alum Ncuti Gatwa, the following year. Aside from entertainment, the diva is well-known on TikTok, where she has more than 23 million likes. Yasmin has also been on various magazine covers and advertising campaigns.
Before leaving, find out details on Kit Connor vaping.