Dani Bergman from Netflix's Jewish Matchmaking is a Miami-based entrepreneur who works as CEO & Managing Director at 1084 Media, her own digital marketing company. While she intends to get married before she turns 30, we have yet to discover her current age.
Jewish Matchmaking on Netflix details the experiences of a group of singles from the United States and Israel who participate in a matchmaking initiative, portraying the sublime affairs of the heart and the search for evermore. Aleeza Ben Shalom, a well-known matchmaker, matches singles by focusing on their attractive attributes to suggest potential matches.
The Netflix reality TV series takes an original turn on love and marriage under Shalom's expert eye and within the bounds of the custom of a shidduch. The sparks that arise when clients negotiate the highs and lows of contemporary dating through a century-old matchmaking technique founded in Orthodox Jewish tradition become deeply interconnected with these people's cultural and religious identities.
One of the cast members of the show, Dani Bergman, has grabbed the attention of many viewers. As a result, many people, especially Reddit users, have been curious to know more about her, including her age. Well, we've got you covered.
Previously, we touched on Adi, Karin, and Cindy.
Dani Bergman Is a Miami-Based Entrepreneur Who Currently Serves as a CEO & Managing Director for Her Own Company, 1084 Media: Jewish Matchmaking Update!
Dani Bergman (@danimbergs) from Netflix's Jewish Matchmaking is a Miami-based entrepreneur who currently works as a CEO & Managing Director at 1084 Media. She founded the company, which provides different digital marketing services, in 2018. According to her LinkedIn profile, she also worked as Direct of Marketing for CruBox from 2019 to 2020. Talking about her education, she got her Bachelor's Degree in Psychology from UC Santa Barbara.
Dani Bergman from Jewish Matchmaking is the CEO & Managing Director of 1084 Media.
Image Source: Instagram
While we do know that she was raised by South African parents in California, we're unaware of her actual date of birth. As a result, her age is a mystery for now. When it comes to selecting the ideal partner, Dani is all ears, eyes, and eyebrows. Undoubtedly, she's interested in meeting a man who can match her "phenomenal" brow abilities, but ultimately, "finding someone that fits into my lifestyle and enjoys the same experiences" is what matters most.
Although she has a thriving social life in Miami, she could do better when it comes to dating, particularly if she wants to meet her goal of getting married before she turns 30.
Dani "strongly connects with" the fundamental principles and traditions of Judaism, and her faith is grounded in her love of family. She aspires to settle down with a man who is on her "same religious level," who keeps Shabbat and all of the significant Jewish holidays. She thinks that these customs contribute to creating a "strong foundation for family time and allow us to continue the story of the Jewish people."
Talking about her time on the show, she fell in love at first sight with Shaun because of his eyebrows after her connection with David didn't work out. She couldn't help but notice how perfectly they framed his piercing blue eyes and were the ideal shape. Aleeza recognized their connection right away and introduced them as the "male and female versions" of one another. But they shared more than just that. As they came to know one another better, they realized that their shared love of family history was a great passion.
Even Kevin Mann, who turned out to be Shaun's cousin, provided them with a point of connection. It appeared as though fate had connected them. But the biggest obstacle was the distance that separated them. While Dani's life and career are in Miami, Shaun resided in New York.
Things changes when Dani went back to Miami and started dating David again. However, nothing was the same as before. David declined her invitation to the birthday party and appeared distant. Dani couldn't help but think he wasn't really trying to be with her. She finally understood that she had to take matters into her own hands and make a difficult choice. She ended her relationship with David and chose to try her luck with Shaun. Dani was ready to take on the challenge of long-distance love because of his flawless eyebrows and shared love of family history.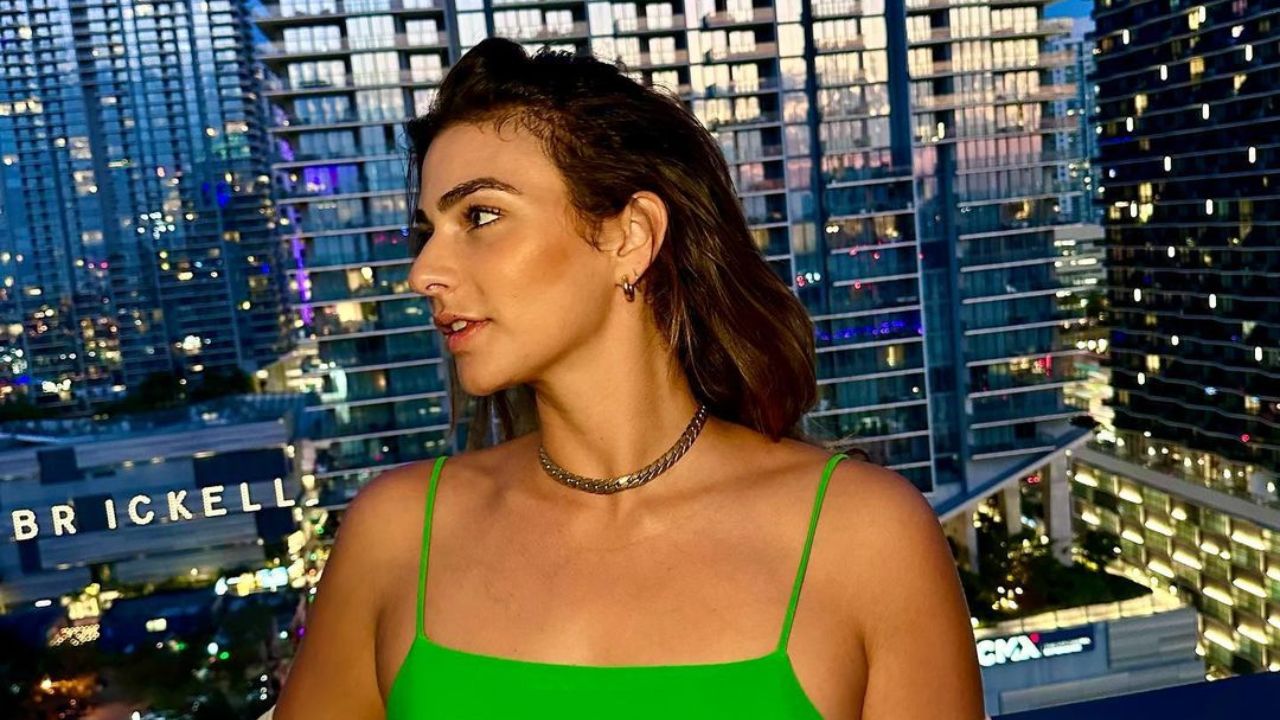 Dani Bergman is mostly proud of her eyebrows.
Image Source: Instagram
Many Jewish Matchmaking viewers are still confused about their current relationship status. It's unknown if they were able to make things work outside of the series despite the chemistry they displayed on the show. In addition, Shaun isn't active on social media, so his followers have no means to find out where he is or what's going on in his personal life. Dani, on the other hand, maintains a low profile on her relationship with Shaun despite being highly active on Instagram.
On the other hand, one Reddit user has labeled Dani as "the most self absorbed person" writing,
I want to like Dani but HOLY MOLY is she the most self absorbed person who's ever been on TV or what?! She's just so unlikable. Confidence is great but she comes across like a complete a*shole. Maybe that's why she's never had any luck?