Ben Shepherd does not have a boyfriend as he is not gay. He has been married to his wife (partner), Annie Perks, for over 19 years.
Ben Shephard is a British journalist and television presenter who currently works for ITV. He is well-known in the United Kingdom for presenting a number of television programs.
He is mostly known for co-hosting the morning show, Good Morning Britain, with Susanna Reid and Kate Garraway. He also has been hosting the quiz game, Tipping Point, since 2012. He has previously worked on other television programs and has a journalistic background.
Most recently, we've found that many people have been curious to know if Ben Shephard has a boyfriend. They wonder who Ben's partner is. However, the real question is, "Is he gay?" Well, let's find it out.
Previously, we touched on the relationship status of Aaradhna and Maluma.
Ben Shepherd Does Not Have a Boyfriend: He Is Not Gay!
Ben Shepherd (@benshephardofficial) does not have a boyfriend as he is not gay. The 48-year-old television presenter is and has always been straight. However, he does have a partner, a wife to be precise.
Since Ben Shepherd is not gay, he does not have a boyfriend.
Image Source: Instagram
He and his wife, Annie Perks, got married on March 25, 2004. Yes, the couple has been married for over 19 years. They also share 2 sons together. While Annie remains out of the spotlight, she has had a successful career in the media.
With her own site, The House Editor, Ben Shepherd's wife has merged her passion for interior design with her ability for words. Before becoming a mother, she worked as a fashion and interior writer for publications such as House & Garden, Glamour, Elle Deco, Elle, and Red. On her website, she writes,
For the last 15 years I've been raising our boys, knocking down and remodelling houses, building gardens out of mud-pits and running interiors projects. I've studied hard and taken excellent courses, so I've learned both the theory of design and I've also learned the hard way, by creating from the ground up, wellies on and spade in hand...After a few mistakes and a few more successes, my friends started to ask for help with their own interiors and gardens.
They met at the University of Birmingham, where Annie studied philosophy and was the president of the Philosophy & Epistemology Society. They started dating in 1995 and married after nearly a decade of dating.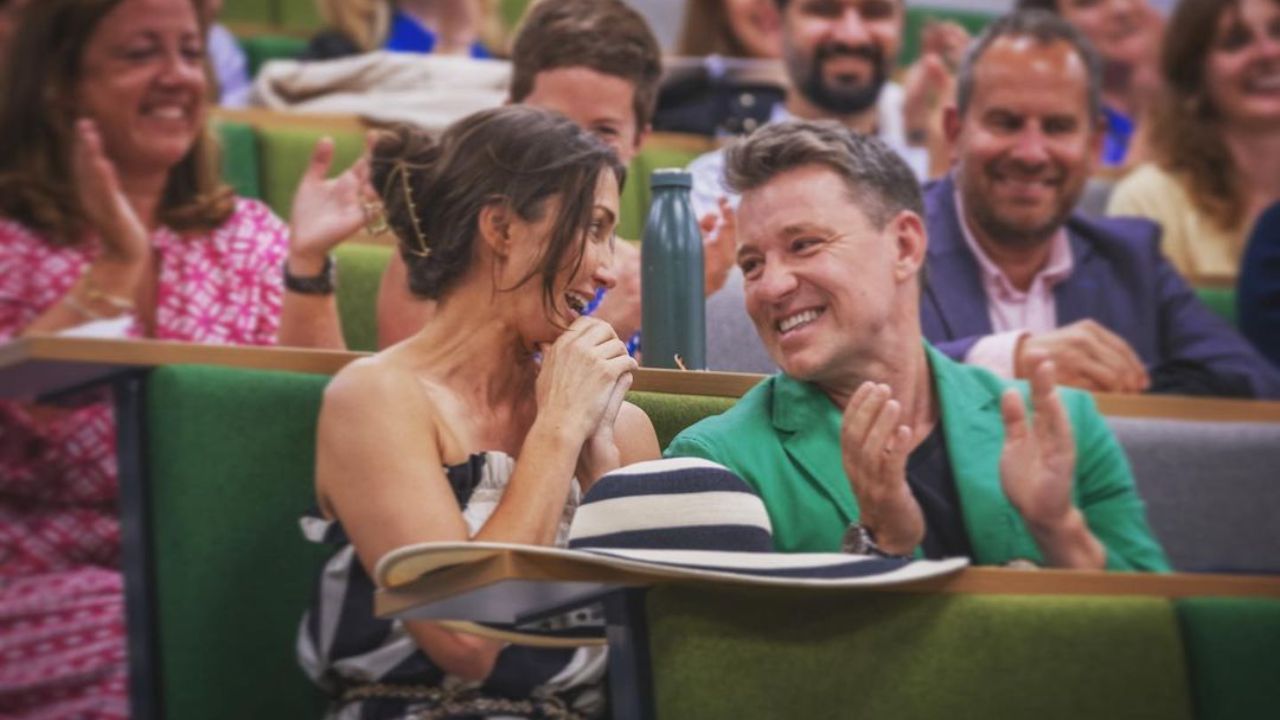 Ben Shepherd and his wife, Annie Perks.
Image Source: Instagram
The couple, who have been married for 28 years, have two teenage sons, Jack and Sam. They keep their family life mostly private, but Ben does post photos of hikes they enjoy doing together on a regular basis.
While we have no idea where the rumor about Ben Shepherd being gay started, we confirm that he has forever been straight. And of course, he has never had a boyfriend.
Early Life of Ben Shepherd!
Ben Shepherd was born in Epping, Essex, England on December 11, 1974. He went to Chigwell School, a prominent independent school in London. Shephard went on to work in media and radio after finishing his schooling. At the University of Birmingham, he studied dance and theater, demonstrating an early interest in the entertainment sector.
Shephard got expertise in journalism and sports reporting during his early career. He worked for Sky Sports, where he covered a variety of athletic events, including football matches. His love of sports, as well as his dynamic on-screen personality, aided his development in the broadcasting profession.
Shephard refined his abilities throughout his childhood and subsequently shifted into hosting and presenting tasks on television. His ability to connect with viewers, together with his numerous abilities, led him to important roles as a television presenter and host on programs such as Good Morning Britain and Tipping Point.