Anna Nicole Smith reportedly had an estimated net worth of $1 million at the time of her death in 2007. Even though her husband J. Howard Marshall II verbally promised her to give half of his property, she never got any money after his death.
The story of Anna Nicole Smith is one that will live on forever. The late Hollywood icon once represented the pinnacle of popular culture. She started her career as a playboy model before switching to acting after getting married to oil tycoon and billionaire J. Howard Marshall.
A new Netflix documentary titled Anna Nicole Smith: You Don't Know Me chronicles her interesting life, romantic endeavors, and terrible death. Five months after the birth of her daughter, Dannielynn Birkhead, and the passing of her firstborn son, Daniel Wayne Smith, in 2007, Smith tragically overdosed and died.
Smith had little trouble landing work early in her career, from her spreads in Playboy to her starring roles in films like the Coen Brothers' The Hudsucker Proxy, but sadly she was forced to declare bankruptcy in 1996. On the other hand, many people are interested to know what her net worth was at the time of her death. Well, we've got you covered.
Anna Nicole Smith Had an Estimated Net Worth of &1 Million at the Time of Her Death!
According to sources, Anna Nicole Smith had an estimated net worth of $1 million at the time of her death in 2007. It's important to note that she did not get any money after her husband's death. She earned all of the wealth herself.
Anna Nicole Smith's net worth was around $1 million at the time of her death.
Image Source: Netflix
In October 1991, Smith had a chance encounter with 96-year-old businessman J. Howard Marshall II in a Houston nightclub. Three years later, they tied the knot. Smith was accused of marrying Marshall for his wealth. Talking about the accusation, Smith then told,
To tell you the truth, the first time, it felt a little embarrassing. But from there, I didn't care what nobody thought.
Marshall showered her with presents totaling almost $6 million, claims ABC News. On August 4, 1995, a little over a year after they got married, Marshall passed away from pneumonia.
Marshall left Smith out of his will despite his estimated value being $1.6 billion at the time of his death. The result was an extended legal battle over Marshall's estate between Smith and Marshall's son E. Pierce Marshall. Smith claimed that Marshall promised her verbally that she would receive half of his wealth after his passing. Howard, the other son of Marshall, joined forces with Smith to sue Pierce. In the end, Smith never received any money after Marshall's death.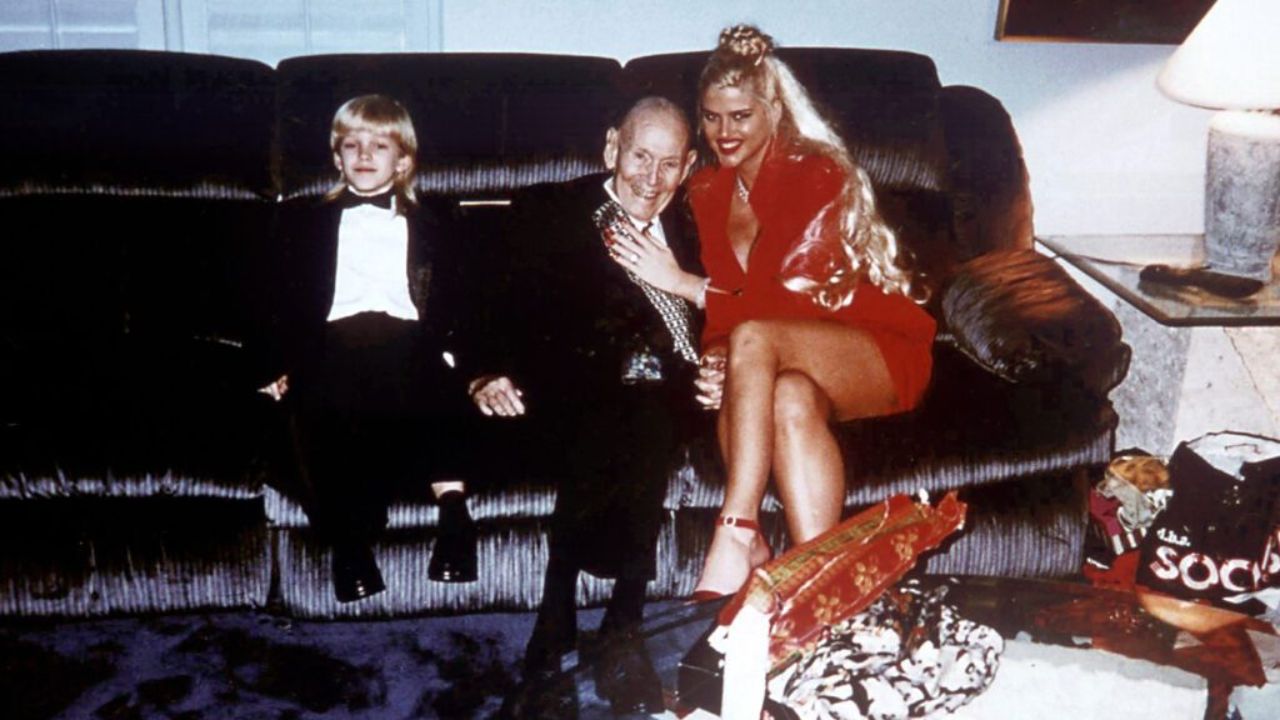 Anna Nicole Smith didn't get any money after J. Howard Marshall's death.
Image Source: THE TAB
On the other hand, a federal court in California granted Smith an $850,000 default judgment for sexual harassment, and she then filed for bankruptcy. Smith eventually won $474 million in the court action, but after conflicting decisions, the amount was reduced to $88 million. In 2005, the case ultimately reached the Supreme Court, which decided in Smith's favor.
Elaine Marshall, the late E. Pierce Marshall's widow, chose to prosecute the case on his behalf after he passed away in 2006. The case went on for Smith's daughter Dannielynn even after Anna Nicole Smith passed away from an accidental overdose a few months later. Smith's estate did not get anything from Marshall's estate after two cases were heard by the US Supreme Court.
Before she passed away, Anna Nicole Smith and her ex-boyfriend Larry Birkin were involved in a legal dispute over custody of their daughter Dannielynn. Smith and Howard K Stern, her partner at that time, reportedly remained in the Bahamas to avoid having her daughter Dannielynn's paternity tested there. Smith's claim that she bought a $900,000 mansion gave her legal permanent residency. And Anna claimed that Howard was the child's father. However, it was discovered that Larry was Dannielynn's father two months after she passed away.
Following her passing, Anna Nicole Smith's will also generated controversy. On July 30, 2001, she made a will and passed on everything to her son Daniel, who passed just three days after Dannielynn was born in October 2006. Howard K. Stern was chosen as the will's executor. Howard spoke of the mother-son relationship during the court hearing to determine where her body will be buried. He told,
Anna and Daniel were inseparable. Daniel was without question the most important person in Anna's life. From the time I met her, everything was for Daniel...I would say that physically, she died last week, but in a lot of ways, emotionally she died when Daniel died.
Before leaving, find out about Anna's plastic surgery.