As of 2023, Alex Cooper is reportedly in a relationship with her boyfriend, Matt Kaplan. The couple has been together since 2020 after they initially met in a Zoom video call. However, the couple has yet to get married. Prior to Matt, the host of "Call Her Daddy" was dating Noah Syndergaard, a baseball player.
Alexandra Cooper, often known as Alex Cooper, has been a popular name in recent years because of her podcast called, Call Her Daddy. She frequently talks about unusual stories and offers dating and relationship advice in her podcast.
Furthermore, she also discusses her s*x life as well as her previous romances. Since her popularity has skyrocketed in recent times, many people want to know if she has a boyfriend in 2023. Well, here's everything you need to know about her relationship status.
Find out the relationship status of Brooke Schofield and Bam Margera.
Alex Cooper's Boyfriend in 2023: The "Call Her Daddy" Host Is Reportedly in a Relationship With Matt Kaplan!
As of 2023, Alex Cooper (@alexandracooper) does have a boyfriend. She announced in 2020 that she was in a relationship with a man she met in a Zoom meeting for work purposes. The podcaster chose to use a pseudonym rather to give the man's name. She calls her boyfriend "Mr. Sexy Zoom Man".
However, Alex has repeatedly shared facts about herself and their relationship, despite being secretive about her man's identity. She has offered followers hints regarding her lover's identity through the information she has shared. Cooper disclosed that her unnamed boyfriend is a movie director who owns a stunning dog named Henry, whom she constantly shows off on her Instagram page.
After proper research, fans believe she is dating Matt Kaplan, who was previously married to Claire Holt. The two initially got in touch in a Zoom video call. After their Zoom business meeting, Alex and Matt met for supper. However, they turned their business meal into a weeklong, intimate relationship.
Alex Cooper and her rumored boyfriend, Matt Kaplan.
Source: AmoMama
Alex admits to her fans that the personal date she had with him at the time was fantastic since he did "oral" like a god and understood how to satisfy a lady. After that, their relationship blossomed, and they even traveled to London together. With these few details about their relationship being revealed, many people are curious as to whether Alex Cooper and Matt Kaplan are married. Well, they're not.
Talking about her boyfriend, Matt Kaplan, also known as Matthew Kaplan, was born on April 14, 1984, in California, the United States. He played quarterback for the Lions in NCAA football while attending Columbia University and earning a Bachelor of Arts degree.
After graduating, he was reportedly hired as an intern by CBS President Les Moonves, who then elevated him to the position of director of digital development. Kaplan currently owns and operates the prestigious entertainment company, Ace Entertainment. The company produces feature films, television shows, and online content for young audiences. His credit includes The Perfect Date, To All the Boys I've Loved Before, The Statistical Probability of Love at First Sight, and Hello, Goodbye, and Everything In Between.
Previously, Cooper was in a relationship with Noah Syndergaard, a baseball player. The couple appeared together in public in 2017. However, they split by the winter of that year.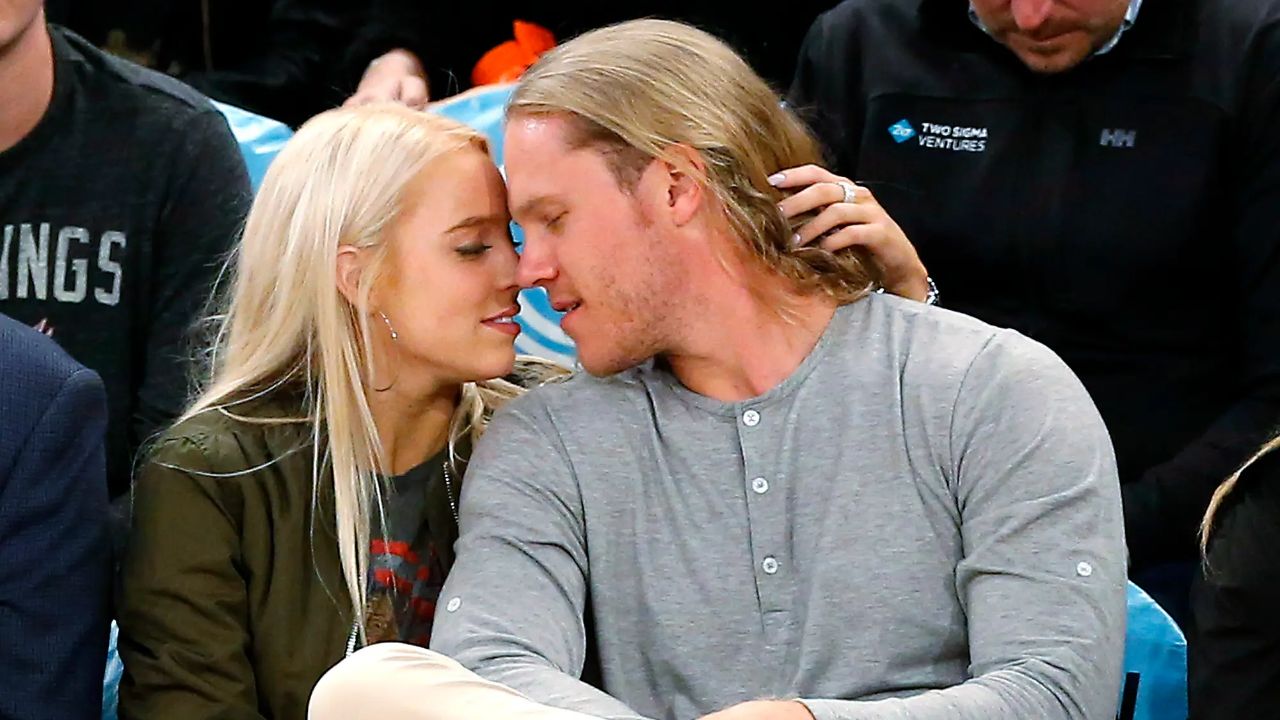 Alex Cooper and her ex-boyfriend, Noah Syndergaard.
Source: New York Post
Rise of Alex Cooper!
Alex Cooper and her roommate & co-host, Sofia Franklyn, started the podcast in 2018. Since then, the podcast has grown significantly thanks to the appearances of various A-list celebrities, including Miley Cyrus and Hailey Bieber.
However, it is undeniable that she is already worth a fortune. Cooper has maintained her success by signing a $60 million deal with Spotify. She made the decision to modify her lifestyle with all this cash and bought a $10.7 million home in Los Angeles.
According to Dirt, Cooper and her boyfriend, Matt Kaplan, will occupy the Los Angeles home jointly. How could you possibly not? The house is considerably larger for only two people because the property consists of two residences on two distinct parcels with two different addresses.
There is little doubt that the pair is a great example and motivation for each other, despite the fact that little is known about their private life. They are, in brief, what is known as a power couple. Everyone aspires to have a relationship like that of Matt and Alex.