As of 2023, Trinity Rodman is dating her boyfriend, Chris Kuzema, who plays collegiate basketball for the Loyola Maryland Greyhounds. The couple is open about their relationship on social media.
Trinity Rodman is an American soccer player who currently plays for Washington Spirit of the National Women's Soccer League (NWSL) and the United States women's national soccer team as a forward. She is also renowned as the daughter of former NBA basketball player Dennis Rodman and his ex-wife, Michelle Moyer.
Currently, she is making a name for herself at the Women's World Cup, where she is a member of the United States women's national soccer team, which is attempting to defend its global crown for the second time in a row.
On the other hand, a lot of people have been interested to know about her relationship status in 2023. People seek information about who Trinity Rodman's boyfriend is and what he does for a living. Well, we've got you covered.
Previously, we touched on the relationship status of Paulina Porizkova and Jordyn Huitema.
Trinity Rodman Is Dating Her Boyfriend, Chris Kuzema, in 2023!
As of 2023, Trinity Rodman (@trinity_rodman) is in a relationship with her boyfriend, Chris Kuzema, a Northern Virginia native who currently plays collegiate basketball for the Loyola Maryland Greyhounds.
Trinity Rodman is in a relationship with her boyfriend, Chris Kuzema, in 2023.
Image Source: Instagram
There is very little information available about their relationship. However, we do know that it hasn't been long since they started dating. The couple's first post together occurred on February 8th, when the USWMT player uploaded a selfie with Kuzemka with a heart emoji as the caption. Thus, we can assume they started dating in early 2023.
Recently, Trinity Rodman posted a compilation video of their dating life on the occasion of her boyfriend Chris' birthday. She wrote,
Happy birthday to the love of my life❤️ thank you for being the sunshine in my life. U help me improve, pushing me to be a better and more positive human every single day and I'm forever grateful for that push from u. I fall in love with you over and over and over again and it's my favorite thing❤️ I'm so happy that it is your golden birthday but also my very first World Cup gameday with u by my side LITERALLY. My actual angel I love you
Talking about her boyfriend's career so far, Chris Kuzema was named Player of the Year in high school. He attended Centreville High School in Virginia.  As mentioned earlier, he currently plays as a guard for Loyola Maryland Greyhounds. His first season in college was hampered by repeated injuries, and he only made 11 appearances. He had 13 points, five assists, and four rebounds in those games. His second season was more fruitful, as he scored 214 points in 33 games.
Chris Kuzemka (@chriskuzemka) comes from a family with a strong sports history. His father, Justin Kuzemka, was an NFL player for the six-time champion New England Patriots. He also played goalie in college football. This has trickled down to his other son, Daniel, who now plays as a goalie in Charleston Battery in the United States Soccer League. Nick Kuzemka, another brother of Chris', also plays American Football at the college level.
Since both Trinity Rodman and her boyfriend comes from a great sports background, there's no doubt they'll have a strong connection in the coming days. We wish the couple nothing but the best for their upcoming journey.
Trinity Rodman Does Not Have a Good Relationship With Her Father, Dennis Rodman!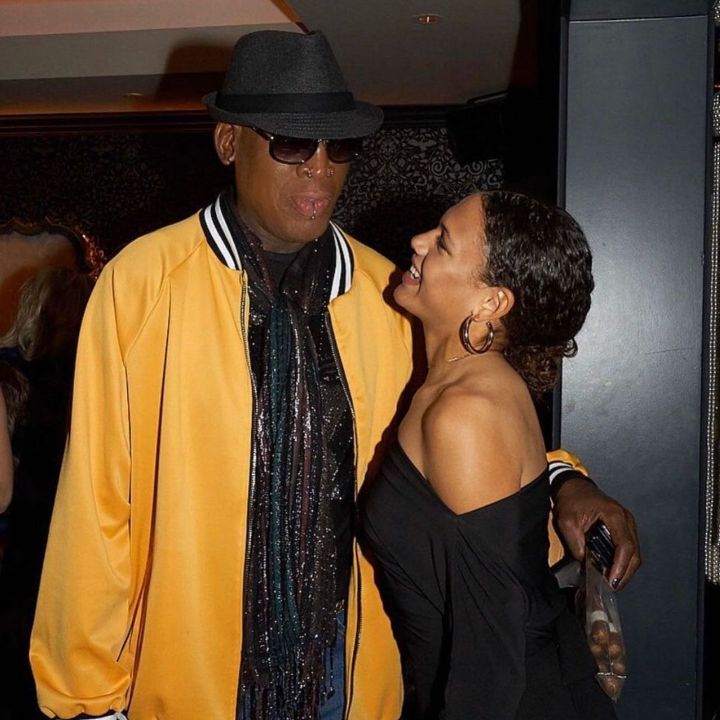 Trinity Rodman and her father, Dennis Rodman, aren't as close as we think.
Image Source: Instagram
Trinity Rodman has had an unstable relationship with her father, who was inducted into the Naismith Memorial Basketball Hall of Fame in 2011. She revealed it in an Instagram post in 2021 after Dennis Rodman shocked her by turning up to one of her games. She wrote,
My dad doesn't play a big role in my life at all and most people don't know that, we don't see eye to eye on many things. I go months if not years without his presence or communication. Being in spotlights has been hard for us, him and me. We don't have the best relationship, but at the end of the day he's human I'm human… he's my dad, and I'm his little girl that will never change. I will improve and look forward everyday as I hope he does.
While Dennis is not in her life, the soccer star has praised her mother, whom she considers a role model. In a 2021 interview with The Guardian, she told,
Having a dad like I do, no one asks about my mom because she's obviously not an NBA star. But I just want people to know that my mom's been my support system in everything in life.