Many fans have been wondering if Tim Tebow's wife, Demi-Leigh, is pregnant. While the couple has not made any announcement, fans believe they left a hint during their vacation to Greece.
Tim Tebow is a retired professional American football player, a television personality, and a former professional baseball player. He rose to fame mostly through his collegiate football career.
Tebow played collegiate football for the University of Florida in 2007, where he took home the Heisman Trophy, which is given to the top college football player. He was well-known for his outstanding athleticism, exemplary leadership qualities, and distinctive quarterbacking style. Tim played in the NFL for a number of teams, including the Denver Broncos and the New York Jets, but his time with the Broncos is what made him most well-known.
There has been a rumor on the Internet that Tim Tebow's wife, Demi-Leigh, is pregnant. Considering they have been married for over 3 years and do not have a child, many fans are curious to know if the rumor is true. Well, we've got you covered.
Previously, we touched on the stories of Paula Radcliffe and Ron DeSantis.
It's Unclear Whether or Not Tim Tebow's Wife, Demi-Leigh, Is Pregnant!
As of this writing, there is no confirmation on whether or not Tim Tebow's wife, Demi-Leigh (@demitebow), is pregnant. The couple has not responded to the rumors yet. However, we do know why people think they might be expecting a child.
Fans believe Tim Tebow's wife, Demi-Leigh, is pregnant. 
Image Source: Instagram
It all started 6 weeks ago when Demi-Leigh posted a series of pictures from their vacation to Greece. Fans could see the South African model in the photos posing under a lovely bougainvillea tree while wearing a gorgeous pink dress with the caption,
The most photogenic place I've been, which means I have so much to share. Starting with the little hints of pink, in the flowers & the sunsets. 🥹💗💕 Love it so much I had to match!
On the other hand, many admirers began to wonder if she was hinting at something significant despite the fact that the post appeared to be just another piece of vacation content. Fans wondered if Tim Tebow's wife was pregnant as she mentioned sunsets and pink flowers. One person wrote,
I thought you were gonna say you're expecting.
Similarly, another wrote,
Gorgeous!!! Is this a hint for a baby girl?
Despite the fact that fans have flooded the post's comment area with Demi-Leigh's possible pregnancy, there is no evidence that their claim is correct. Additionally, she does not appear to have a baby bump in her recent pictures. In conclusion, we will have to wait to confirm if she is really pregnant.
More About Tim Tebow's Wife, Demi-Leigh!
Tim Tebow and his wife, Demi-Leigh, first met through Night to Shine, a yearly international prom that Tim's nonprofit hosts for guests with special needs. Demi-Leigh became interested as a result of her sister, who was identified as having a rare disease that delayed neurological development.
Tim told ESPN that that he and Demi-Leigh were a couple, shortly after their first meeting. On Tim's birthday the following month, Demi-Leigh made their relationship Instagram official.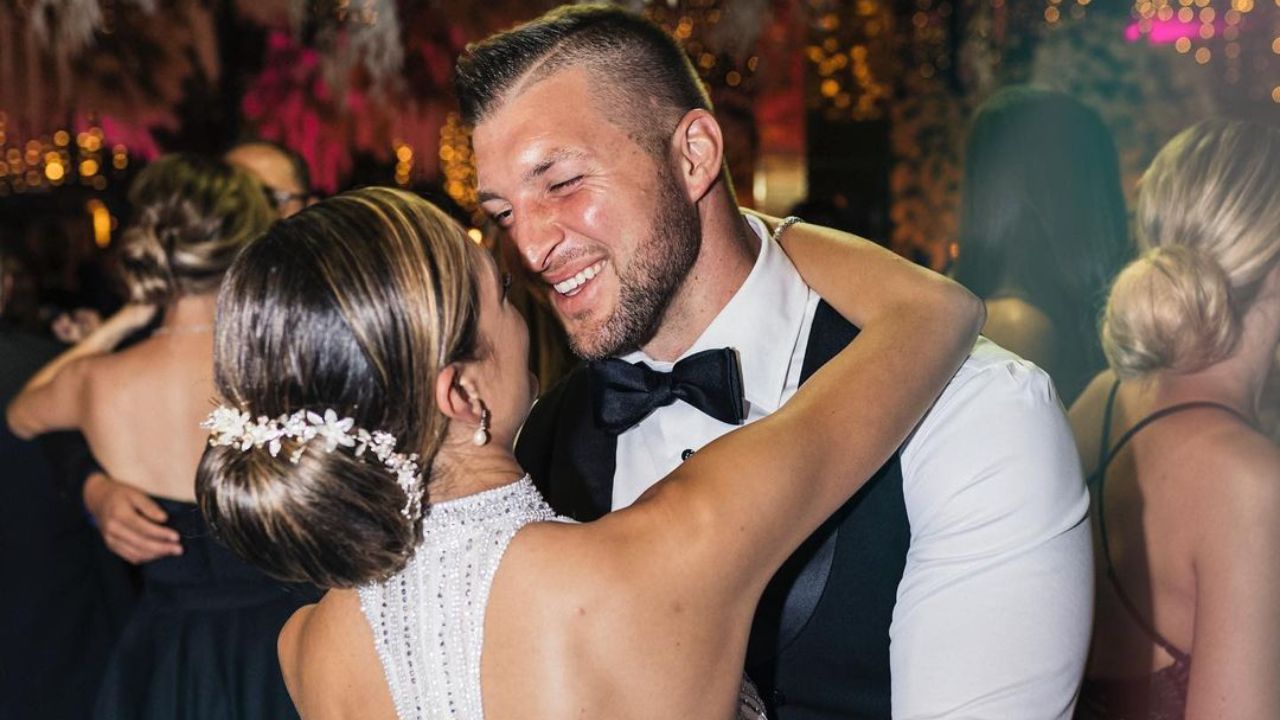 Tim Tebow and Demi-Leigh got married on January 20, 2020. 
Image Source: Instagram
At the start of 2019, Tim Tebow (@timtebow) proposed to Demi-Leigh on the family property in Florida. After exploring the property, the couple stopped at a tiny lake next to a specially constructed arch that was inscribed with their first date. Tim proposed to the former Miss Universe on one knee after talking about their relationship.
In a magnificent ceremony held at the La Paris Estate in Cape Town, South Africa, the couple got married on January 20, 2020. Demi-Leigh wore a specially made David's Bridal gown for the 30-minute ceremony that incorporated both South African and American customs. For their honeymoon, they flew off on a romantic retreat to the Soneva Jani resort in the Maldives.