A clip of Ron DeSantis grinding his teeth during an interview is going viral on the teeth. Apparently, the awkward situation occurred after he was questioned on a leaked memo from a friendly super PAC describing his debate strategies.
Ron DeSantis (full name: Ronald Dion DeSantis) is an American politician who is a member of the Republican Party and has been serving as the Governor of Florida since 2019. From 2013 to 2018, he served as the 6th congressional district's representative in Florida. He will also run for president of the United States in 2024.
While serving as governor of Florida, Ron DeSantis attracted considerable national attention for his opinions and solutions to a number of problems, notably the COVID-19 outbreak. There was controversy over how he handled the pandemic, specifically how he handled lockdowns, mask laws, and vaccination delivery.
Most recently, a video clip of him grinding his teeth has been going viral on the Internet. The situation occurred after a reporter asked him about the upcoming GOP primary debate. Well, let's discuss it in detail.
Previously, we touched on the stories of Johnny Cash and Meche.
Ron DeSantis Was Spotted Grinding His Teeth After a Reporter Asked Him About the Leaked Debate Strategies!
Ron DeSantis was questioned over a leaked memo from a supportive super PAC outlining his debate tactics. DeSantis was forced to repeatedly deny reading the document while nervously grinding his teeth.
Days away from the first GOP primary debate, front-runner and former President Donald Trump will not be there; anti-woke businessman Vivek Ramaswamy will have the chance to capitalize on his recent popularity surge; and former New Jersey Governor Chris Christie has made it his life's mission to criticize Mr. Trump as frequently as possible before the primary is over.
Ron DeSantis, who was once considered the only Republican with a chance against Mr. Trump, hasn't made much progress against the four-times-indicted former president since the contest began. Despite telling commentators that Americans would support him after hearing his policy goals during the first debate, he will instead enter the event with a metaphorical black eye.
The New York Times said that a letter from the DeSantis camp that was leaked claimed the candidate was being taught to defend Mr. Trump from Mr. Christie and to "sledgehammer" Mr. Ramaswamy.
A video captured the moment Mr. DeSantis was asked about the purported debate plan and his interaction with director Andrew Romero's statements that the other contenders would have their "knives out" for the Florida governor.
During the interview, Mr. DeSantis can be seen clenching and grinding his teeth while maintaining an unnatural smile for the camera. Of course, people took no time to criticize the Republican on social media about his awkward reaction. One person tweeted,
He spent his entire adult life to get to this moment. All of it undone in an instant when the host of Celebrity Apprentice called him 'Meatball Ron'. This is true horror. He has a mouth, yet he cannot scream. He must endure this shame in public.
Similarly, another wrote,
OMG!!! He's broken. Crushed. It's over. Wow. I almost feel sorry for him. Not quite, but almost.
Ron DeSantis Blames "Rich Men North of Richmond" in Washington for the Economic Situation of America!
The "rich men north of Richmond" in Washington, D.C., according to Florida Governor Ron DeSantis, are to blame for the economic "situation" that Americans are in.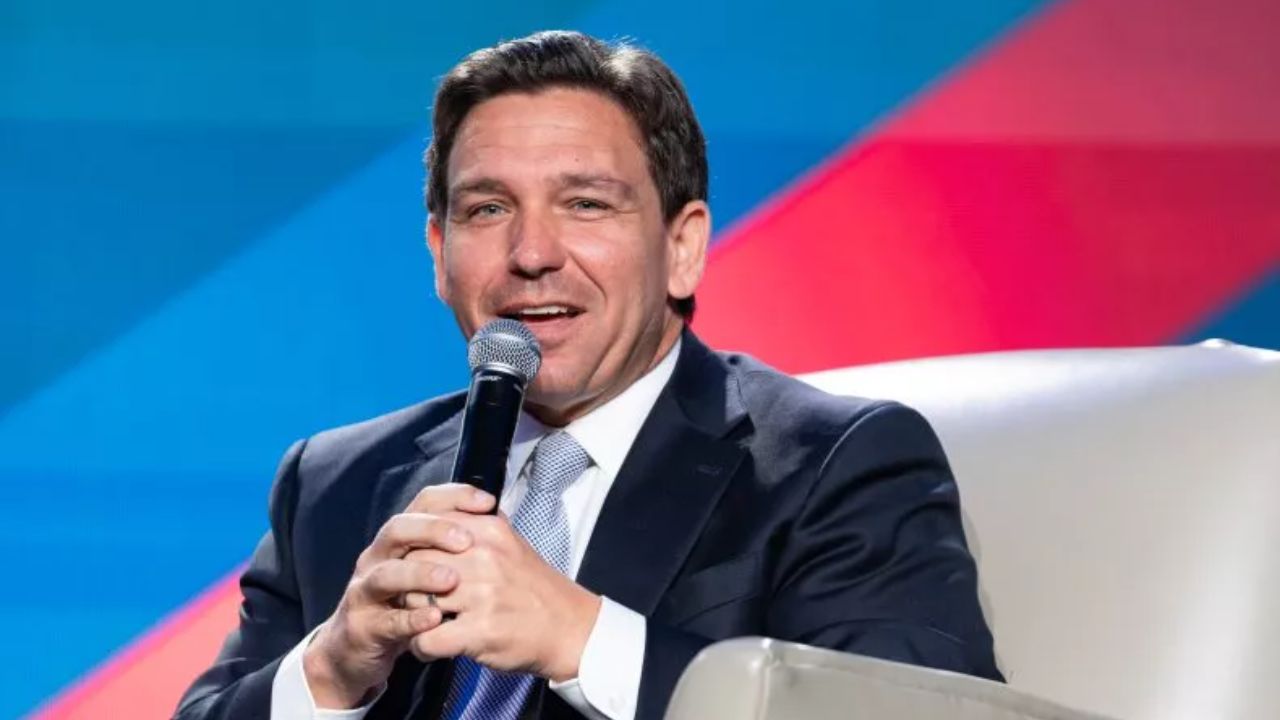 Ron DeSantis believes the fall of their economic situation is not inevitable.
Image Source: Getty Images
During the Republican presidential debate on Wednesday, DeSantis was questioned about the popular song Rich Men North of Richmond by Virginia musician Oliver Anthony. Our "country is in decline," but the fall "is not inevitable," according to the Republican presidential candidate. He further added,
It's a choice. We need to send Joe Biden back to his basement and reverse American decline. And it starts with understanding we must reverse Bidennomics so that middle-class families have a chance to succeed again...We cannot succeed as a country if you are working hard and you can't afford groceries, a car or a new home while Hunter Biden can make hundreds of thousands of dollars on lousy paintings. That is wrong.
Ron DeSantis also remarked that America needs to be dominant in the production of energy and he would not let the Americans down. He explained,
And finally, we need to lower your gas prices. We're going to open up all energy production. We will be energy-dominant again in this country. I showed it could be done in the state of Florida. I pledge to you as your president, we will get the job done and I will not let you down.