Theresa Frostad Eggesbø, who plays the role of Saxa in Netflix's Ragnarok, does not seem to have a boyfriend. However, her Instagram hints that she might be into girls.
Ragnarok on Netflix is a contemporary retelling of Norse mythology that centers on the conflict between the Gods and Giants. It tells the story of Magne, a young man who realizes he possesses Thor's abilities. He learns that there are bad forces in the world trying to destroy it as he digs deeper into the mythology and the reasons why he has the abilities.
His enemies are the Giants, who have made a name for themselves as the wealthy and influential Jutul family of Norway. The members of the Jutul family are Vidar, Ran, and their children Fjor and Saxa. Only Saxa doesn't necessarily regard Magne as a threat, while the others are terrified of him and his developing skills.
On the other hand, the Saxa actress, Theresa Frostad Eggesbø, has gained a lot of attention with her powerful performance in the Netflix show. Of course, a lot of people seek more information about her, including if she has a boyfriend. Well, let's find it out.
Previously, we touched on David Stakston and Jonas Strand Gravli.
Theresa Frostad Eggesbø Does Not Seem to Have a Boyfriend!
As of this writing, Theresa Frostad Eggesbø (@therrmerr) does not appear to have a boyfriend, not that we're aware of at least. While the Saxa actress frequently shares pictures of her, doing pretty everything, there is no single picture that hints about her possible romance.
Theresa Frostad Eggesbø does not have a boyfriend in 2023.
Image Source: Instagram
No doubt, Theresa is very good at maintaining her privacy. However, some sources claim that she was previously dating a guy named James Amos, while studying at Liverpool Institute of Performing Arts. The rumored couple shared each others' pictures on Instagram a few times in 2018. Interestingly, both of them have not deleted the pictures yet.
After 2018, Theresa Frostad Eggesbø has not posted anything about her possible boyfriend. Going through her Instagram, we've also discovered that she is a huge supporter of the LGBTQ+ community. She also appears to have an interest in girls. As a result, there's a chance she might be lesbian and have a girlfriend but is not ready to come out publicly.
Coming out can be frightening for many people, especially when you're a celebrity, because of the fear of rejection or misunderstanding. Keep in mind that you are worthy of love and acceptance for who you are. Ask for help from close friends, family, or LGBTQ+ organizations. Many people have taken this path before you and found courage and happiness in their authenticity; your journey is valid.
On the other hand, there's also a high chance that Theresa Frostad Eggesbø has a boyfriend but does not want to reveal it to the public. We will surely get back to you as soon as we get any updates.
More About Theresa Frostad Eggesbø: Early Life & Career!
Theresa Frostad Eggesbø was born on December 28, 1998, to Cecilie Frostad and Olav Eggesb in Oslo, Norway. She enrolled in The Liverpool Institute of Performing Arts in 2016 to have a thorough understanding of the performing arts, and she received a BA in 2019.
Director Julie Andem introduced Theresa to the professional entertainment world when she played Sonja in the Skam television series. In addition to being an actress, she is also a gifted singer-songwriter, pianist, and bass guitar player. She released her debut album with vocalist Resa Saffa Park.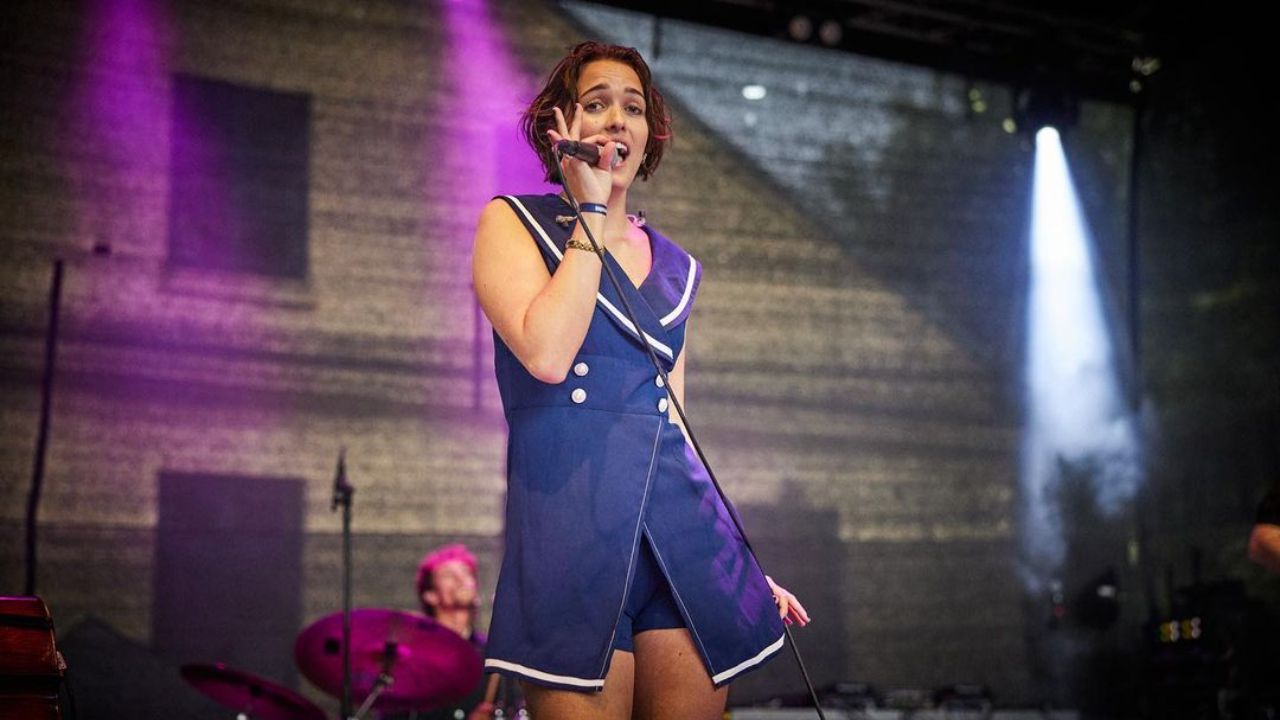 Theresa Frostad Eggesbø is also into music.
Image Source: Instagram
Theresa Frostad Eggesbø gained attention in 2017 when she appeared in the movie The Come with Axel Byum, Jörgen Langhelle, and Trond Espen Seim. She graced the screen from 2018 to 2020 with appearances in Lemon World and November. However, her breakthrough came after being cast as Saxa in Netflix's Ragnarok.