The 1971 Ford Bronco was the highlight of Episode 3 of Tex Mex Motors. The crew gets excited as they expect to make a profit of up to $50k from it and immediately start restoring it.
Tex Mex Motors is a reality television show on Netflix that follows a group of six professional technicians and mechanics on a quest to make a $250,000 profit by selling renovated cars across the Mexican border.
The main goal of the experts is to transform scrap metal into one-of-a-kind works of art that will attract interested customers prepared to part with a considerable number of money to support these restored works of art.
In the third episode of the show titled Bronco No Bueno, Scooter & Rabbit discover a man selling an old as well as unused classic Bronco. And we have found that many people have been curious to know the details about that car. Well, we've got you covered.
Previously, we touched on Borderline Customs and why Mike Coy left Gas Monkey.
Tex Mex Motors: The 1971 Ford Bronco Was a Major Highlight of the Third Episode of the Show!
In Episode 3 of Tex Mex Motors, Scooter and Rabbit buy a green-colored Bronco from Juarez, Mexico. To be precise, the car was a 1971 Ford Bronco. According to Rabbit, that car was introduced as a competitor for Jeep. And from what we found on Google, it appears Rabbit wasn't wrong at all.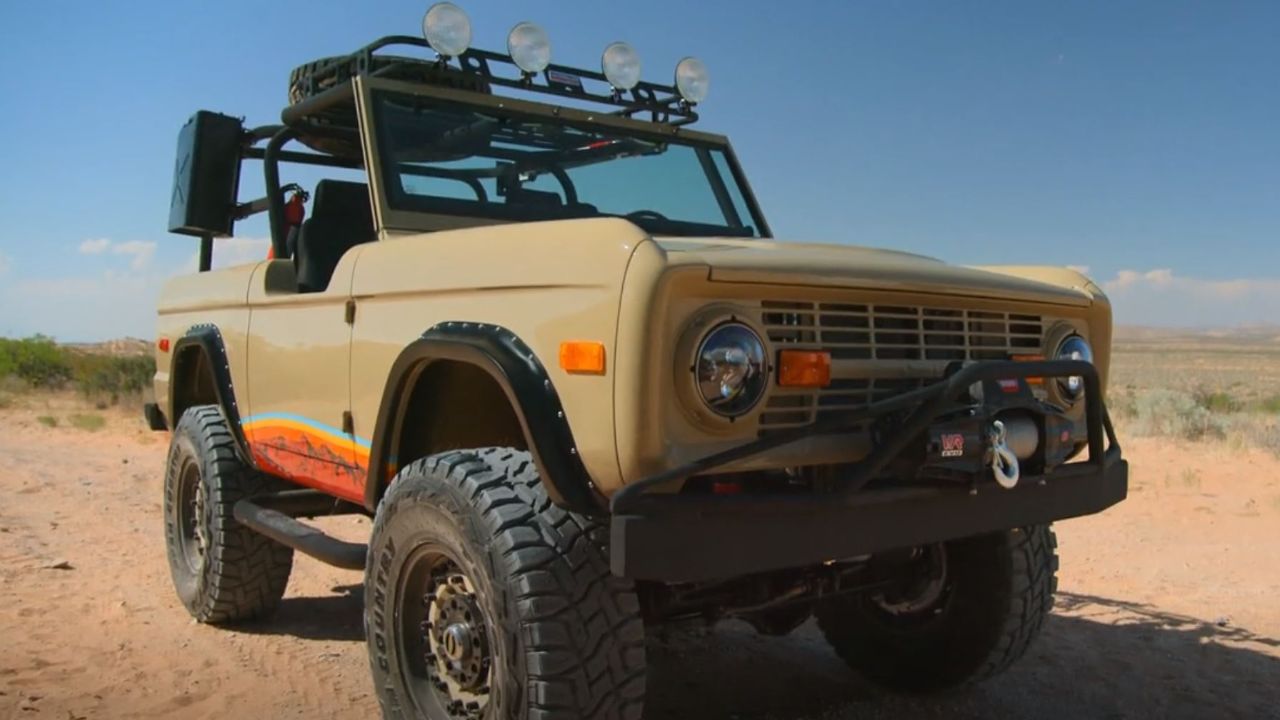 The restored Bronco in Tex Mex Motors.
Image Source: Blurred REALITY
The 1971 Ford Bronco was initially intended to compete with the Jeep CJ-5 and International Harvester Scout as a small off-road vehicle. They were produced from 1966 to 1977. The highly regarded classic SUV soon became popular among off-road enthusiasts and outdoor explorers.
Talking about its features, the 1971 Bronco had three different engine options under the hood: a 2.8L inline-six, a 3.9L inline-six, and a potent 5.0L V8. Both on- and off-road driving required little power from these engines, which had plenty of torque. The Bronco was a capable 4x4 vehicle that handled challenging terrain with ease thanks to its two-speed transfer case and strong axles.
The original 1971 green Bronco.
Image Source: Bring a Trailer
The rest of the Tex Mex Motors crew get excited as soon as Scoter and Rabbit inform that they had gotten the Broco at a good price and could make a huge profit. The team immediately start to repair the car. They change a lot of things, from doors to suspension items to the interior. They even paint it in a new color. The crew was in joy as they hoped they could make a profit of up to $50k.
A person named Dr. Mike to see the Bronco as he tells them that he has been wanting Bronco for a long time now. However, they could not make a deal and the Tex Mex Motors crew worry if they could sell the Bronco like they'd expected. Visit Netflix to know what happens further with the classic Bronco.
Season 2 of Tex Mex Motors: Renewed or Canceled?
Tex Mex Motors Season 2 has not yet received an official confirmation from Netflix as of the time of writing. The show premiered on June 9th, 2023, therefore, the streaming service won't have gathered enough data as of the time of writing to know whether or not it has been successful enough to deserve another run.
If we take a deeper look at the show, we find that several of the cast members also appeared to be dealing with a different problem. Six talented people are required to contribute to the show, but many of them have taken time away from their regular jobs to concentrate on it. Some members of the crew are now concerned about how much time will be spent creating and working on the series as a result.
It does seem difficult for some of the staff to commit to another run, even if the program has hinted that a Season 2 is possible. Of course, Netflix has the option to replace some of the current team, but if their preferred team member isn't included in season two, some passionate supporters may be turned off by the decision. The present cast of the program should all return, although logistically speaking, this might not be possible.