Following her performance at the 2023 BET Awards, rapper Trina has been suspected of being pregnant as her weight gain is visible.  
The 2023 BET Awards, often known as "Culture's Biggest Night," continued to promote the artistic variety among the Black community and the larger African community. Over the course of her career, Trina has received 10 BET Award nominations, nine of which were for "Best Female Hip-Hop Artist." And on Sunday, June 25, she made a big impression at this year's award.
Often labeled as "the most consistent female rapper of all time," Trina has been in the spotlight for over 2 decades, ever since she got her breakthrough after appearing on the Trick Daddy single, Nann N*gga.
Her performance at the 2023 BET Awards was an absolute treat for her fans. However, many people have been wondering if she is pregnant as they noticed her significant weight gain. Well, let's find out what the truth is.
Have a look at the weight gain stories of Aishwarya Rai and Jayda Wayda.
BET Awards 2023: Rapper Trina Has Been Suspected of Being Pregnant Because of Her Recent Weight Gain!
As soon as fans noticed Trina's weight gain while performing at the 2023 BET Awards, many of them immediately speculated that she is pregnant. Well, the 44-year-old rapper has yet not announced if she is expecting a child. Thus, it would be safe to assume she is not pregnant at the moment.
Rapper Trina does not appear to be pregnant.
Image Source: Instagram
It would be unwise to start pregnancy rumors just because a person has gained a little weight. There are many other reasons a woman gains weight rather apart from being pregnant. And it is not the first or second time Trina has been a victim of pregnancy rumors because of her body size.
In 2021, many people believe she was expecting a child after her performance at the BET Awards. More than a decade ago as well, 2011 to be precise, Trina was suspected of being pregnant. The rapper even had something to say to all the speculators. She reportedly tweeted,
I will NOT ever be 100 pounds.. So if that's what y'all want #killyoself I have and will always be a woman with curves! And I LOVE them…I DO not take diet pills or any other crash diets to lose weight! I work out like normal people so if I gain a few pounds so F****N what!!!
Trina and her fiancé, Raymond Taylor, have been dating since 2017. The couple even got engaged in 2021. Even though she prefers to keep her personal life private, she previously opened up about having 3 miscarriages. She said,
Well, after three miscarriages, I would've had three kids. That was a lot for me. The first one was — I don't think I really understood it too much. I was younger, younger. Then once I got older, then there was the next one I was like 'okay, what does that mean? What does the miscarriage mean?Then, it just became a point like, third miscarriage. Okay.
Tired of all the baseless rumors, some of Trina's fans took to Twitter to express their furiousness. One wrote, "Y'all so used to seeing all the fake bodies prancing around that when a real one show up y'all wondering if a person is thick or pregnant naw that's grown women weight! Trina forever the baddest."
Another wrote, "I really hate y'all posted this without knowing- like sis could be bloated or hell just weight gain…. She has been thicker than a snicker all her life, let Trina live!!"
Possible Reasons Behind Trina's Weight Gain!
Addressing her weight gain, Trina (@trinarockstarr) previously said that she isn't really concerned about her body shape. While she does a regular workout, she is not into consuming weight loss pills or following any other crash diets.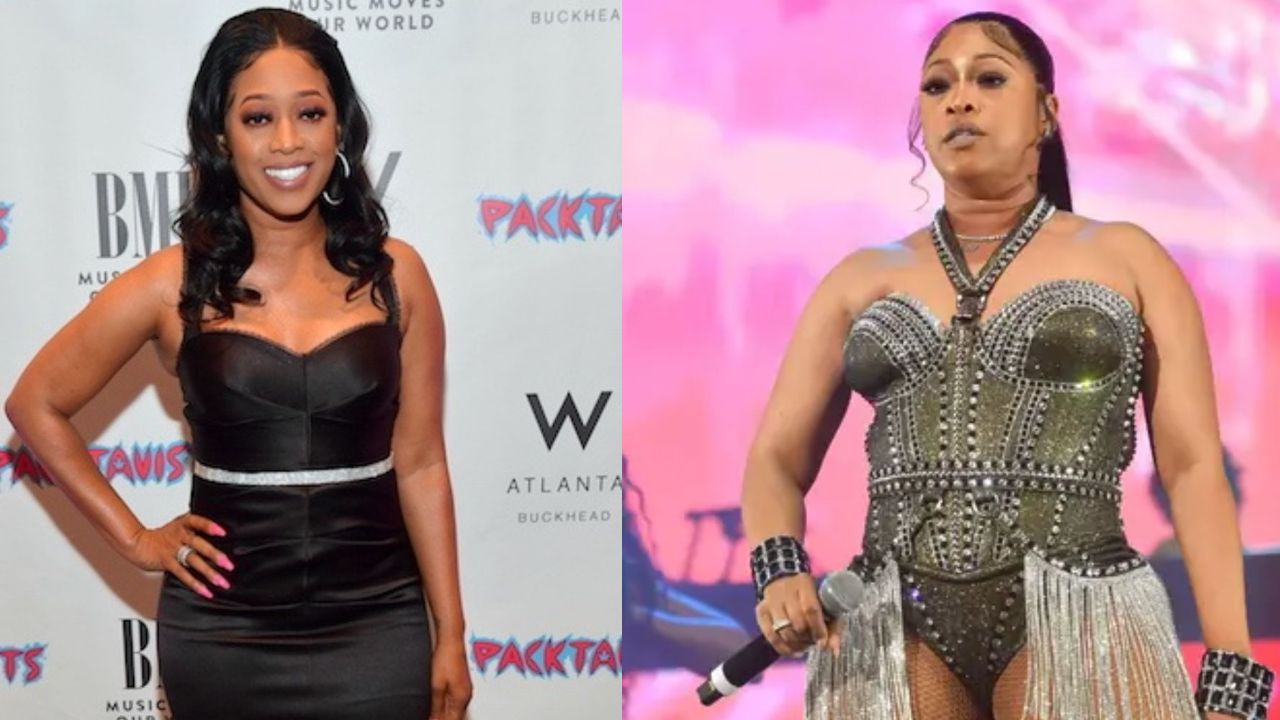 Rapper Trina before and after weight gain.
Image Source: HOUSE & WHIPS
Considering the rapper is already in her mid-40s, there are a lot of factors that might have affected her body shape such as hormonal changes, lifestyle changes, and metabolism slowing down. In their 40s and 50s, women experience perimenopause and menopause, which can result in hormonal changes. Their metabolism slows down as well.
There's no denying that Trina looks absolutely stunning, even in her weight gain. And it would be unwise to speculate about somebody's body shape, especially when they have been targeted time and again. However, we will get back to you as soon as we get any updates.