Miriam Amah is a scientist but she confuses Uche when talking about her job in Love Is Blind. Additionally, she also owns a skincare brand, Zuck and Lucy. Here's what Reddit users felt about her interaction.
The fifth season of the social experiment-meets-reality dating show, Love Is Blind, has finally arrived on Netflix. It features a brand-new cast of singles who spend time getting to know one another in "pods" without knowing what the other person looks like. Each couple must determine whether their invisible chemistry is strong enough to progress to an engagement.
Miriam Amah, one of the cast members of the new season, didn't have a good time in the show as she was unable to find her soulmate. However, she was able to get attention from many viewers, especially women, because of her job. Similarly, many Reddit users found her profession confusing. Well, let's discuss it in detail.
Previously, we touched on Lydia, the game characters, Milton Johnson, and Izzy Zapata.
Details on Miriam Amah's Job: Love Is Blind Update!
Talking about her job, Miriam Amah (@mimah_) claims to be a scientist. As she told in Love Is Blind, she was born and raised in Nigeria but came to the United States for her education in medicine.
However, she is very secretive when asked about her work as a scientist or even where she lives. We're all baffled by the confusing conversation she has with Uche as he tries to understand what she does.
Miriam has a job as a scientist.
Image Source: Instagram
Miriam just replies that she has experience working in various industries in response to Uche's very basic query about what kind of scientist she is. She tells him she's currently working in academia abroad, but when he asks where, she just says, "The Middle East," not even mentioning a specific nation. She also says to return to Houston "full time" soon. Then, when Uche inquires as to when she will be moved back, she replies that she has already done so.
Of course, it makes sense to inquire about the nature of the business, to which she responds, "skincare." Uche inquires as to whether it is dermatology, most likely because she is a scientist who nearly pursued a career in medicine, but Miriam responds that it is not. She also declines his query to know if she has skincare items for sale.
Miriam wouldn't say anything more about her goods than that they had "a distinct composition," which prompted viewers to believe that she was selling bleaching cream or pheromones.
Miriam Owns a Skincare Brand!
Well, Miariam Amah is the founder of Zack & Lucy, a skincare brand. She overcame a personal hardship to start the company. She had trouble finding a moisturizer that cured her dry, irritated skin. Being of Nigerian origin, she became interested in African remedies for skin problems.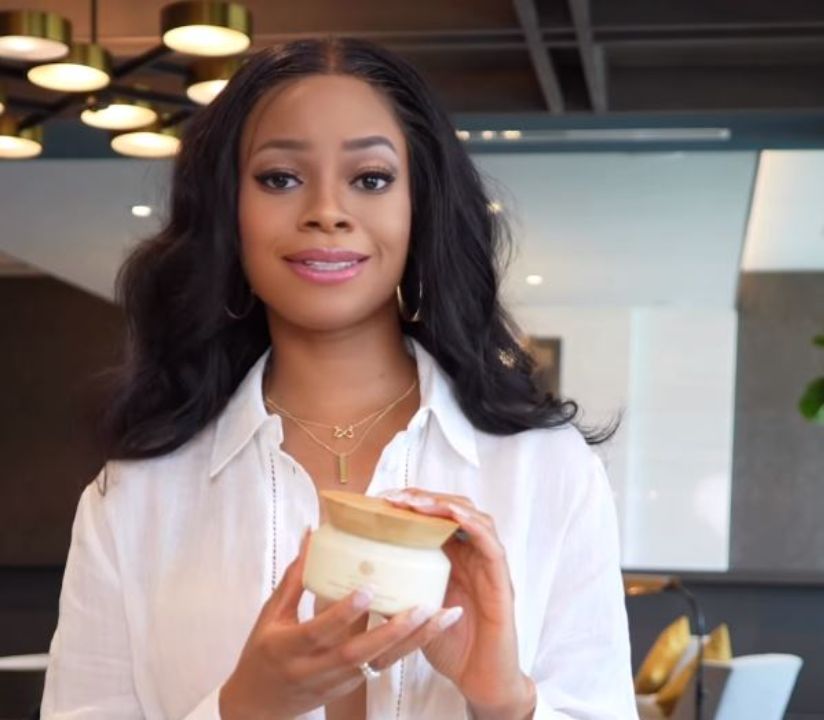 Miriam also owns a skincare brand.
Image Source: Instagram
The women in her family taught her about traditional African beauty regimes that included organic plant butter, oils, and herbs. Miriam developed a body butter that significantly improved the look of her skin by fusing her knowledge of chemistry with these African traditions.
The company was established to produce high-quality, plant-based, environmentally friendly items that also empower women in West Africa. She founded her skincare brand, Zack & Lucy, to offer safe, all-natural, and plant-based skin care products.
Reddit Users Discuss Her Interaction With Uche About Her Job!
Following an awkward conversation about Miriam's job and skincare brand with Uche, Reddit users took no time to express their POV. One person wrote,
Her story about what she's doing sounded so vague and made up. I'm teaching in the Middle East but I'm moving back. Oh I already moved. Of course I live in River Oaks. Oh I'm doing skincare… I'm only on EP 1 so maybe there's more to her story but she sounded so dodgy. I couldn't find her on instagram to investigate. Lol
Similarly, another wrote,
It was really weird. I'm on episode four and she hasn't been in it since so I don't know why they even put it in.
Before leaving, find out about Milton's passion for Pokemon.