Along with other plastic surgery rumors, Megan Fox has recently been accused of receiving a BBL after she posted some explicit pictures on her Instagram. However, the 37-year-old actress hot yet to respond to the allegation.
Megan Fox has currently been making headlines as she has been posting a lot of explicit images on her Instagram. While many people have been criticizing her for posting such content on a public platform, some have been defending her saying it's her right to do whatever she likes with her body.
On the other hand, we've also discovered that rumor about her receiving a BBL (Brazilian Butt Lift) has been circulating on the Internet. As a result, a lot of her fans are curious to know what the truth is. Well, here's everything you need to know.
Previously, we touched on the plastic surgery efforts of Judge Judy and Ella Thomas.
Megan Fox Has Yet to Clarify if She Has Received BBL!
Megan Fox's appearance has changed a lot since she initially gained the spotlight. While she has been linked to getting numerous plastic surgery procedures in the past, the 37-year-old star has never accepted to receiving any of the procedures. Similarly, she has recently been accused of receiving a BBL as well.
While Megan continues to remain silent about the accusation, many people believe her butt looks comparatively bigger and unnatural. If you compare her before and after pictures, you can clearly see the difference. Additionally, her recent pictures, flashing her butt, have added fuel to the fire.
It's unclear whether Megan Fox has received a BBL or not.
Image Source: Instagram
BBL aka Brazilian Butt Lift is a cosmetic surgical operation used to improve the form and size of the buttocks. Excess fat is taken from certain parts of the body via liposuction and precisely injected into the buttocks to create a more elevated and voluminous look. The fat transfer procedure produces a natural and long-lasting outcome.
However, there are hazards associated with BBLs, like problems from surgery and fat grafting. As with any surgical treatment, it is essential to seek the advice of an experienced plastic surgeon to establish whether a BBL is appropriate for an individual's unique needs and health concerns.
Megan Fox (@meganfox) has been criticized a lot for her unnatural appearance in the past few years. The rumor about getting a BBL has added spice to her wound. Regardless, we cannot deny the fact that she looks absolutely stunning. And we promise we'll surely get back to you as soon as we get updates about her getting a BBL.
Megan Fox Posts Almost Naked Pictures on Her Return to Instagram!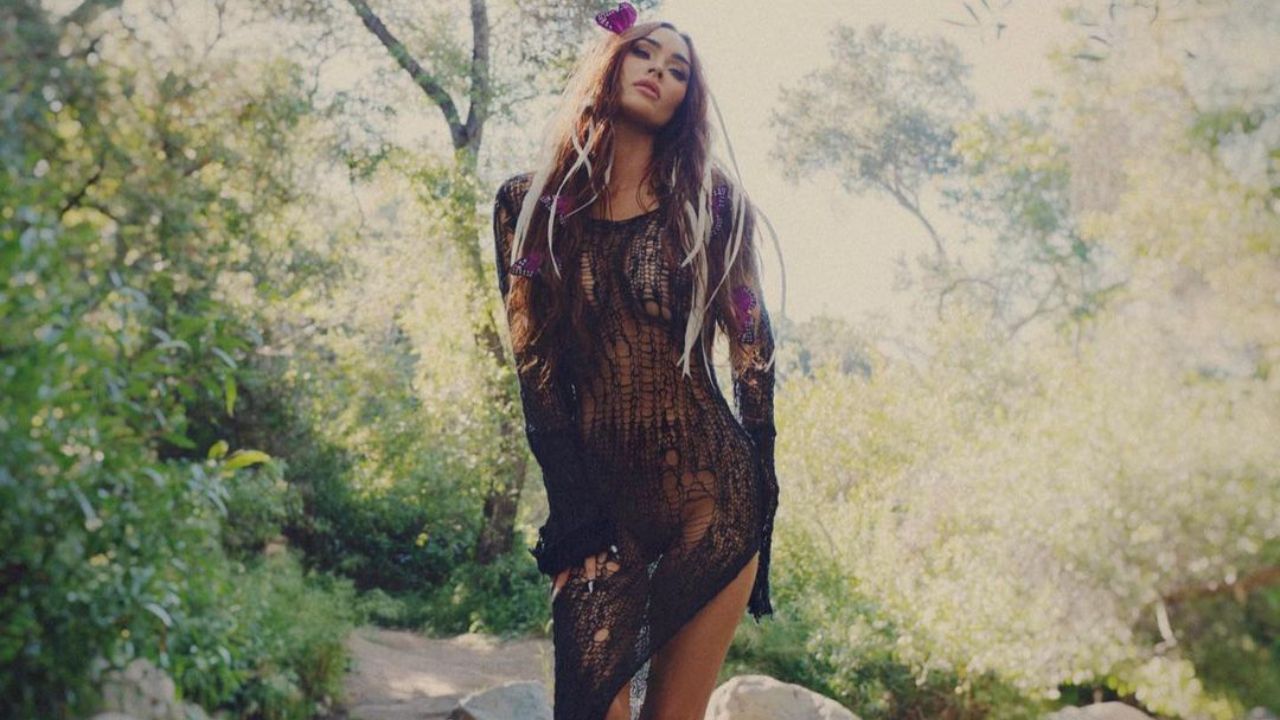 Megan Fox's recent Instagram pictures have shocked the Internet.
Image Source: Instagram
Megan Fox revealed all in her most recent Instagram post. Recently, she revealed photos from a recent photo session in which she embraced Mother Nature by posing nearly naked by a brook. Fox donned a white corset maxi dress with frilly lace trim and lace-up detailing on the bodice for the photo.
The cottage-core ensemble was entirely saturated in water and wore unzipped in the back, displaying the actor's body underneath. The photos appear to be from the same picture shoot that Fox released on social media earlier this week, in which she posed in a stringy green bikini while climbing a tree. Fox's hair is dressed in both sets of images with long white extensions and violet butterfly clips.
Megan Fox also invoked Mother Nature in the captions of her swimsuit photos. Machine Gun Kelly, Fox's fiancé, praised her in the comments section of the initial swimsuit Instagram photo writing, "If this is what a wild animal looks like, i'd let it maul me."
Fox returned to Instagram in June after a months-long break due to breakup rumors about her and Kelly, uploading another (since-deleted) swimsuit shot. Fox and Kelly have apparently mended, with the pair attending public events together once more.