Ella Thomas' before and after pictures started circulating on the Internet as soon as she stepped into Love Island 10 (2023). People believe she has received plastic surgery, cheek filler to be precise, to enhance her beauty. However, she has yet to respond to the allegation. 
Ella Thomas is, without a question, one of the most interesting casts from Season 10 of Love Island. The award-winning model has become a TV star since stepping in the show.
According to reports, she has collaborated with several businesses and fashion designers. She has appeared in various print commercials, demonstrating her modeling abilities. She has not only excelled in the modeling world, but she has also been in music videos and even met Brad Pitt while working as an extra in World War Z.
On the other hand, before and after pictures of Ella Thomas have been circulating on the Internet and people believe she has had plastic surgery to enhance her beauty. It's true she has had a wild transformation. However, has she gone under the knife? Let's find it out.
Previously, we touched on the plastic surgery efforts of Padma Lakshmi and Claudia Conway.
Before and After Pictures: Ella From Love Island Has Been Accused of Receiving Plastic Surgery!
Ella Thomas before and after plastic surgery.
Image Source: HOUSE & WHIPS
Before and after pictures of Ella Thomas (@ellathomas_)  have been trending on many social platforms, especially TikTok. No doubt, the Love Island star looked completely different in her then and now pictures. If you've seen one of them, you probably have been wondering if she received plastic surgery.
In one TikTok video, the Scottish beauty wore a dramatic red lip and huge hoop earrings as her hair was arranged into a casual ponytail. Social media users even commented on how different Ella looked. Someone said, "That does not look like Ella at all." Similarly, another said, "Maybe that's why Tyrique didn't recognise Ella."
She stated on the first episode of Love Island this year (2023) that she previously knew Tyrique, with whom she coupled with. He said he didn't remember her since she was blonde at the time, so naturally, many turned to Instagram to see how different she actually looked.
Many people have been trolling her for receiving plastic surgery, a cheek filler to be precise. One person wrote, "Ella needs to relax with the cheek filler #LoveIsland" However, the 23-year-old model has neither accepted nor denied the allegation yet.
Has Ella Thomas Really Received a Cheek Filler?
It would be unwise to make a statement regarding the rumor about Ella Thomas receiving a cheek filler without any strong evidence. When we compared her before and after pictures, we found that she has always had prominent cheekbones. It would be better if we wait for Ella's response.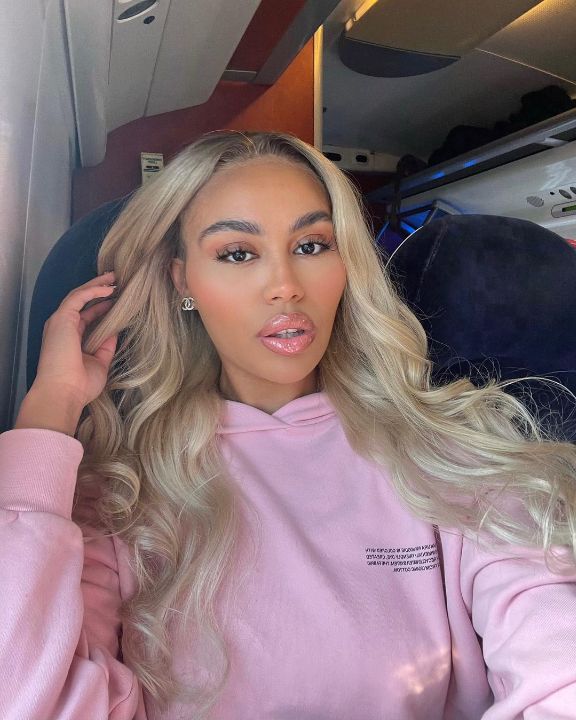 Ella Thomas has yet to respond to the rumor about receiving a cheek filler.
Image Source: Instagram
Regardless of what the truth is, we cannot deny the fact that Ella looks absolutely flawless and the boys in Love Island have been going crazy for that. Additionally, many viewers have also praised her beauty.
Ella Thomas Isn't the Only Love Island Contestant Accused of Receiving Plastic Surgery!
As mentioned earlier, Ella Thomas has not admitted to having work done - nor should she have to - but she is one of several Love Island ladies who have been the subject of significant conjecture regarding alleged cosmetic enhancements.
Tanyel Revan earlier this year, Ekin-Su Cülcülolu the year before, and Sharon Gaffka and Faye Winter in 2021 both spoke out against the misogynistic remarks surrounding their plastic surgery. It usually occurs the same way: a gorgeous woman appears on Love Island, and within days, 'before and after' photos of her are splashed all over the internet or in tabloids, along with an appropriate dramatic title about how 'unrecognizable' they were before.
We've certainly learned from the numerous women who have left the show and spoken out about the incredible strain or stress such comments generate - after all, it's been four years since the #BeKind movement began. And, tragically, it appears that we are no closer to being kinder to one another.