Many people wonder if McKenna Grace and Kiernan Shipka are sisters as they look the same. Well, they're not. The two actresses are just look-alikes of each other and are not related in any way.
Directed by Nahnatchka Khan, Totally Killer on Amazon Prime is a horror comedy about time travel that tells the narrative of an ordinary teen on Halloween who travels back in time to 1987 to stop a serial killer.
Jamie, played by Kiernan Shipka, is sent back in time to the day all of her mother's friends were murdered by the same killer a few decades ago after the "Sweet Sixteen Killer" tried to assault her. The slasher movie explored time travel and a masked predator on the prowl for teen females with a lighthearted tone and various humorous elements.
With the release of the movie, a lot of queries about actress Kiernan Shipka have been surfacing on the Internet. Among them, the most popular one has been people wanting to know if she and McKenna Grace, another actress, are sisters. Well, here is the truth.
McKenna Grace and Kiernan Shipka Are Not Sisters!
One cannot hold oneself to labeling McKenna Grace and Kiernan Shipka as sisters if their pictures are compared side by side. The two actresses resemble each other so much that many people even wonder if they're twins.
The truth is that they're not. They are not related to each other. The actresses just happen to be look-alikes of each other. This does not change the fact that their facial structure looks almost the same. The only major difference between them is that while McKenna is only 17 years old, Kiernan is 23.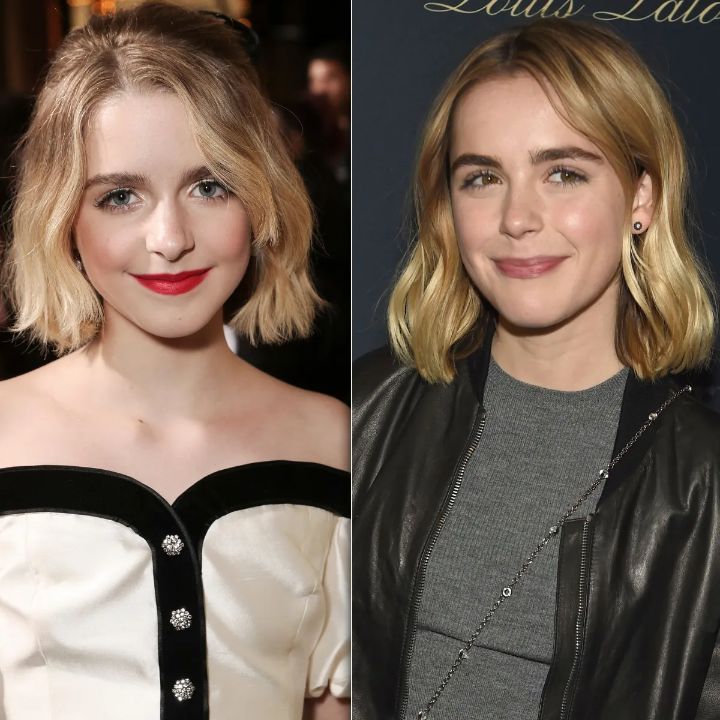 McKenna Grace and Kiernan Shipka are not related. They're not sisters.
Image Source: Shutterstock
When McKenna Grace made her debut in Disney XD's Crash & Bernstein in 2012, it took no time for people to wonder if she was Kiernan Shipka's sister. Fans and followers were desperate to know if they were related in any way. Later, it was confirmed that the two didn't have any family connections.
Numerous study suggests that a single person might have multiple look-alikes, depending on the diversity of human appearances. While certain people may have many multiple doppelgängers, others might have none. It depends on chance and the enormous diversity of human DNA and physical traits.
In conclusion, we can say McKenna Grace and Kiernan Shipka are just look-alikes of each other. Additionally, many people also believe another actress, Emma Watson, looks like them. Well, we just want to conclude that they're not related in any way.
Know More About McKenna Grace and Kiernan Shipka!
While McKenna Grace is 17 years old, Kiernan Shipka is 23.
Image Source: J-14
McKenna Grace (@mckennagraceful), born on June 25, 2006, in Grapevine, Texas, embarked on her acting journey at a remarkably young age. She gained notoriety very quickly thanks to her extraordinary talent and adaptability.
She played Mary Adler in Gifted (2017), a young Carol Danvers in Captain Marvel (2019), and a young Theo Crain in the Netflix series, The Haunting of Hill House (2018), among other notable roles in her career. She further established her status as a rising star with her roles in Troop Zero (2019) and Ghostbusters: Afterlife (2021). Her IMDb profile suggests she has already signed up for 7 new projects.
Meanwhile, Kiernan Shipka (@kiernanshipka), born on November 10, 1999, in Chicago, Illinois, rose to fame for playing the role of Sally Draper in the popular television series, Mad Men (2007–2015), demonstrating her acting talent at a young age.
She further established her name as a top young star with her depiction of the classic teenage witch in Chilling Adventures of Sabrina (2018-2020). Kiernan has also dabbled in voice acting and made appearances in a number of movies. Additionally, her IMDb profile suggests that she has already signed up for 3 new projects.