Logan Sandoval from BBQ Showdown Season 2 is the owner of ZEF BBQ located in Los Angeles. The runner-up of the show can be found on Instagram at (@zef.daddy).
The second season of Barbecue Showdown arrived on Netflix on May 26. Eight barbecuers from all around the US compete against one another in the season for a chance to become the next American pit Master and win a $50,000 cash prize.
The American Barbecue Showdown was the previous name for this season; this time around, it's just called Barbecue Showdown. However, renowned barbecue judges Kevin Bludso and Melissa Cookston are back to crown the next pitmaster, and comedian Michelle Buteau is returning to host.
Logan Sandoval, the runner-up of the latest season, has caught the attention of many viewers. As a result, many people are interested to know more about him, including his Instagram handle. Well, we've got you covered.
Previously, we touched on Cindy Hayter.
Logan Sandoval, the Runner-up of BBQ Showdown Season 2, Is the Proud Owner of ZEF BBQ, a Popular Eatery in Los Angeles!
Logan Sandoval from BBQ Showdown Season 2 is a personal chef who also owns ZEF BBQ, one of the popular restaurants in Los Angeles. While he has around 1500 followers on his personal Instagram profile (@zef.daddy), his restaurant has more than 19k followers on the platform. Clearly, his restaurant (@zef.bbq) is one of the finest in the business.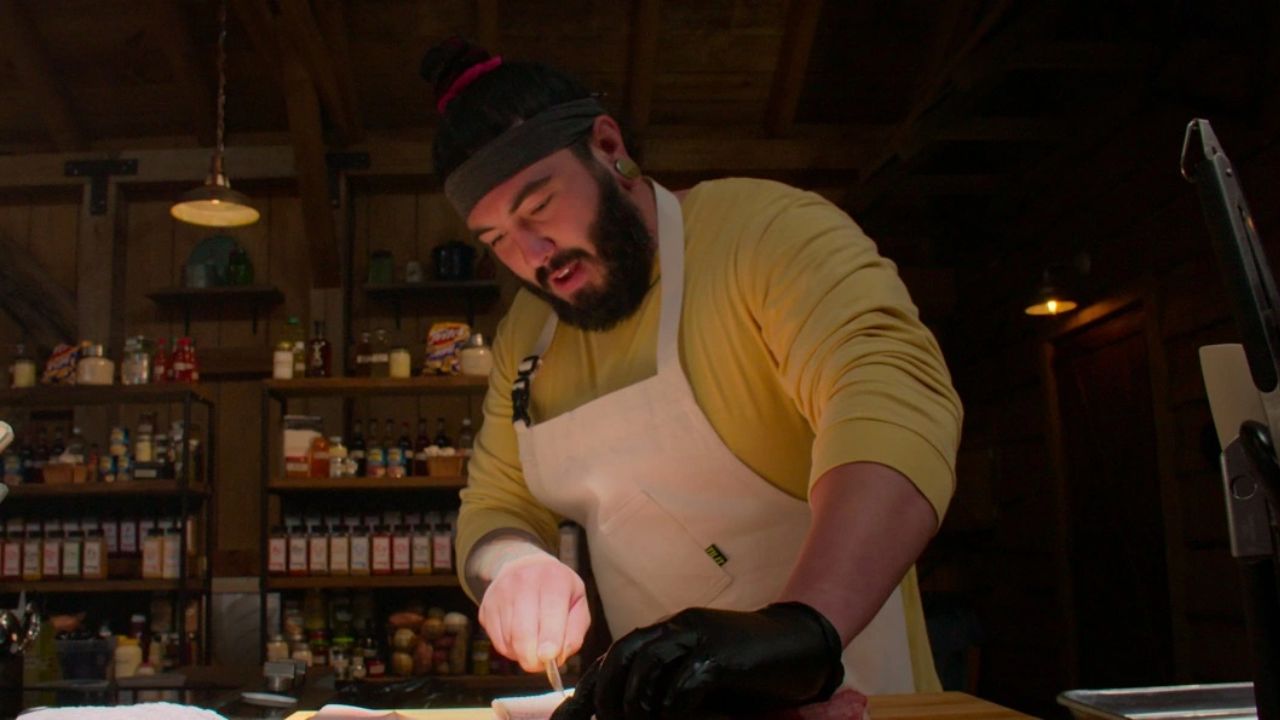 Logan Sandoval is the runner-up of BBQ Showdown Season 2.
Image Source: The Cinemaholic
Logan, who had formal training in culinary arts before competing on the show, was eager to demonstrate his abilities and promote his Southern and Asian heritage. Eduardo Gonzalez was named the day's best cook, and he got off to a solid start by taking second place in the first challenge. The same scenario transpired during the second episode's participants' task to prepare a spicily tasty dish. Thyron "Big T" Mathews defeated Logan in this particular challenge.
Logan, however, ran into trouble in the third round when his dish for the Surf and Turf challenge failed to achieve the mark, placing him with Joey Victorian in the bottom two. The two still had a BBQ cook-off to make a morning feast; things were far from done for them. He not only defeated his opponent but also won the top place in the following challenge because of his innovative thinking and abilities.
Logan continued his good performance and made sure he wasn't among the bottom two for the fifth round when there were just four competitors left. He was partnered with Thyron for the sixth task, and the two of them prevailed that day as a result of their diligence and camaraderie. He teamed up with Michelle Lundstorm for his final dinner on the show and soon found himself competing against his former comrade in the season finale. Unfortunately, despite the fact that his roasted pig was surely excellent, he was unable to defeat Thyron. However, he did mention he was glad he finished the show as a runner-up.
And Logan appears to be succeeding in his work as a cook. The proud owner of ZEF BBQ, a barbecue restaurant in Simi Valley, California, is the culinary guru. He founded the restaurant together with two other people, including his wife Anna Lindsey. Every Tuesday, a new weekly menu is posted by the restaurant, however, it only provides pick-up services. Many people have praised the food that Logan has cooked, and Eater even gave it a positive review in January 2021.
Logan Sandoval and his 2 children.
Image Source: Instagram
Talking about his personal life, Logan is happily married to Anna Lindsey and the couple has two children together. They adore their son Kai and their daughter Nalani, who is their oldest child. Logan clearly adores people close to him, and the joyful family of four clearly enjoys their time together. Additionally, the Netflix star enjoys traveling and is well-versed in Asia. We wish him the best and want him to have a bright future with his loved ones.