Kwame Appiah played professional soccer for a few teams from 2016 to 2018 as soon as he finished his college. Follow to know more about his career, stats, salary, and Europe journey.
For romance enthusiasts, Love is Blind on Netflix is a fun experience since the reality series makes the most of its unique format and fascinating cast to provide viewers with a unique viewing experience. Thanks to the global popularity of the show, many couples enjoy some fame.
The After the Altar version of Season 4 recently arrived on the streaming platform and we get to have a glance at the couple's current situation. Kwame Appiah and Chelsea Griffin, who got married at the end of the show, have been living life to the fullest and are happy to be together.
On the other hand, many people have been interested to know about Kwame Appiah's soccer career even though he does not play the sport anymore. Well, here's everything you need to know.
Kwame Appiah Had a Brief Career in Soccer Before He Faced a Career-Ending Injury in 2018!
Kwame Appiah (@ayokwam) from Love is Blind, who has forever been passionate about soccer, has been part of the sport. However, not as a player. As per his Instagram, he was recently appointed as a vice president of a soccer team named Frederick Skyline Pro.
Kwame Appiah currently serves as a VP at a soccer team named Frederick Skyline Pro.
Image Source: Instagram
Talking about his career, Kwame was a forward for his school's men's soccer team and an NCAA student-athlete, according to the Goldey-Beacom College Athletics website. He returned to school in 2011 and earned enough credits to keep his portion of his soccer scholarship while working four days a week at Apple and working two days as a waiter.
When Kwame's NCAA eligibility and soccer scholarship expired in 2012, he returned to "part-time schooling and part-time Apple." In 2015, when Apple began providing part-time tuition reimbursement, Kwame was able to return to school full-time.
He agreed to sign a contract to play weekend soccer. In addition to earning his M.B.A. in Business Administration and Management from the same university in 2017, Kwame graduated with his bachelor's degree in 2015. He moved to Europe (Sweden) the following year to play soccer, and in 2018 he sustained his career-ending injury.
Kwame played professional soccer for the Delaware Stars from February 2016 until December 2016 and the Philadelphia Fury for eight months between June 2013 and January 2014. For more than two years, Kwame coached the varsity girls' soccer team at The Tatnall School in Wilmington, Delaware.
From March 2017 to May 2018, he worked as a part-time guest trainer and coach at the White Clay Soccer Club, where he assisted teams with training sessions in order to align club philosophy. From March 2017 until May 2018, Kwame worked with U.S. Youth Soccer in Delaware as an Olympic Development Coach for just over a year.
However, we have yet to receive information regarding his stats and salary. We will get back to you as soon as we get any updates from our sources.
Kwame Appiah and Chelsea Griffin's Current Status!
Since the fourth season of Love Is Blind aired, Kwame Appiah has acknowledged his affection for his wife, Chelsea Griffin (@the.chelseagriffin). The pair had to deal with suspicions that Kwame still had feelings for Micah or that Chelsea was controlling and coerced him into getting married.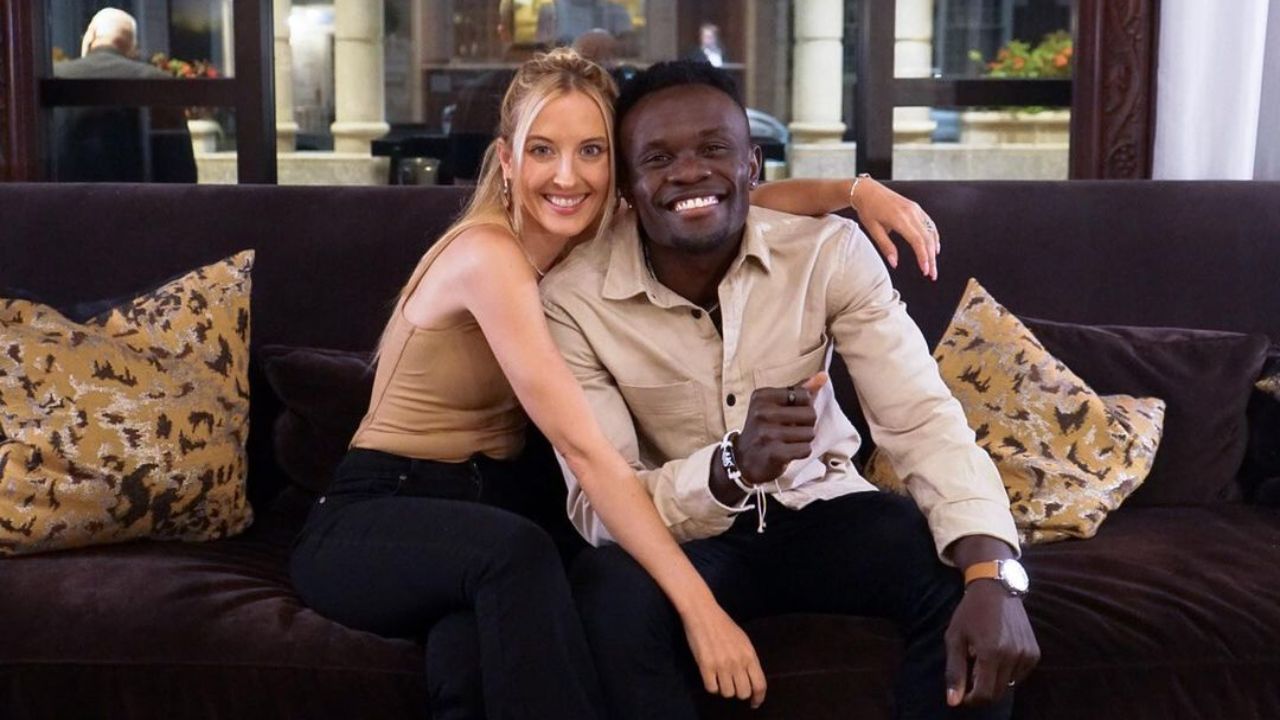 Kwame Appiah and Chelsea are living a happy life since getting married.
Image Source: Instagram
hey did, however, admit that only a small part of their journey was featured on Netflix and that they are truly content with one another. In an Instagram post, Kwame responded to their detractors and defended his love. He described his relationship with his wife Chelsea, which seems incredible off-screen, as "but actually, we had the MOST fun together falling in love!"
The pair have moved in together and attend many sporting events, including Seattle Mariners and Seahawks games. Kwame has fully taken on the role of dog dad to Chelsea's precious pup, and their new place is dominated by Chelsea's favorite color: pink. Chelsea and Kwame recently returned from a cruise together, having picked up the amount of traveling they've done since tying the knot.