Katherine Ryan recently revealed that she underwent weight loss of 2 stone in the last two months. She probably gained extra pounds after the birth of her third child in December 2022. Even though she didn't add further information, here's our take on her weight loss journey.
Katherine Ryan (full name: Katherine Louisa Ryan)is a Canadian-born comedian, actress, singer, and writer who initially rose to fame in the comedy scene in the United Kindom. Born on June 30, 1983, in Sarnia, Ontario, Canada, she moved to the United Kingdom in her early 20s.
In the UK, Ryan has made appearances on a variety of comic panels and talk programs, including Mock the Week, 8 Out of 10 Cats, QI, and The Big Fat Quiz of the Year. Additionally, she has showcased her stand-up humor on a number of television specials and programs. She has also performed in TV shows, including her own Netflix sitcom, The Duchess, which she created and starred in.
Katherine Ryan is currently making headlines as she recently mentioned her weight loss while roasting Russell Brand during an on-stage appearance at the RTS Cambridge. As a result, many people have been interested to know more about her weight loss. Well, we've got you covered.
Previously, we touched on the weight loss stories of Randy Jackson and Selena Gomez.
Katherine Ryan Claims She Underwent Weight Loss of 2 Stone in the Last 2 Months!
While appearing at the RTS Cambridge on Wednesday evening, Katherine Ryan joked about the 'elephant in the room' after it was reported she accused Russel Brand of being a sexual predator. However, she later clarified that the "elephant" she was referring to was actually her recent weight loss of two stone.
Katherine Ryan claims to have recently undergone weight loss of 2 stone.
Image Source: Instagram
Even though she didn't reveal any further information about her weight loss, we do have something to give to you guys. Well, you might be aware that the 40-year-old comedian was pretty busy with her personal life in 2021 and 2022.
She gave birth to her second child, a son, in June 2021, and her third child, a daughter, in December 2022. With this, it is pretty clear that she gained a few pounds after giving birth to 2 children back to back. 
Scientific study says that Weight gain following childbirth is normal. Every woman's body reacts differently to pregnancy and childbirth, so there isn't a one-size-fits-all strategy for postpartum weight management. Realistic expectations are essential, with a focus on slow weight loss. Although breastfeeding can help in calorie burning, a balanced diet is crucial for the health of both you and your child.
In conclusion, we can assume Katherine Ryan (@kathbum) shed 2 stone after giving birth to her third child. It appears she is done with birth and is now focused on maintaining her body shape, she's a popular name in the United Kingdom after all.
Katherine Ryan Reportedly Confronted Russell Brand While They Were Working On Roast Battle!
This week, Katherine Ryan came under the limelight after it was reported that she had criticized Russell Brand's behavior during their time together on Comedy Central's Roast Battle.
Brand reportedly left the show after being accused repeatedly of being a "sexual predator," just after one season. The report was released when several women came forward to accuse Brand of inappropriate behavior while he was the subject of a Channel 4 documentary where he was charged with rape and sexual assault. Brand has denied the accusations and stated that all of his partnerships have been mutually beneficial.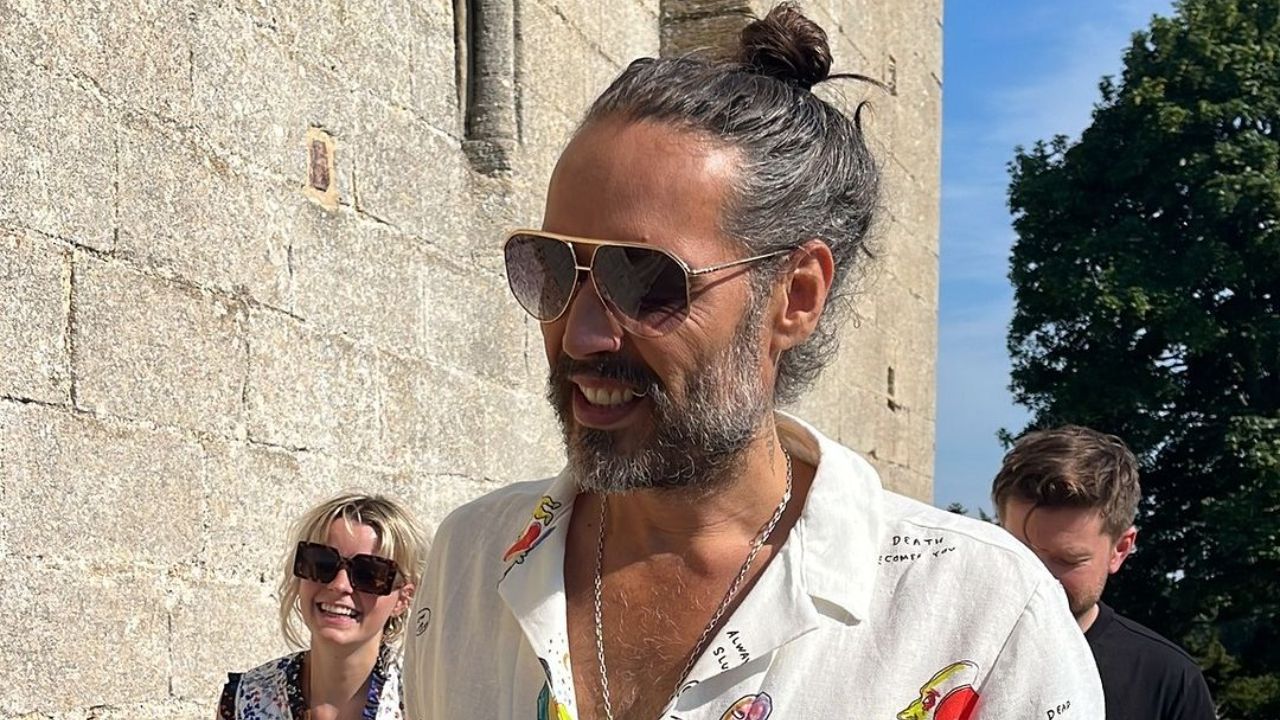 Russell Brand recently denied all of the allegations.
Image Source: Instagram
Following the headlines, Ryan performed a set in front of an audience on Wednesday (21 September) at the Royal Television Society event in Cambridge. She spoke about her children, genealogy, and s*x life while joking to the audience about the "elephant in the room."
Katherine Ryan chose not to mention Brand at all, instead telling the audience that her weight loss was the "elephant in the room" and that she had shed two stone in the previous two months.
The comic previously talked to Louis Theroux about her interactions with people in the business and how she once addressed someone in front of them. Ryan did not name Brand or the show she was working on at the time, but she did say:
I – in front of loads of people, in the format of the show – said to this person's face that they are a predator.