Katherine Heigl has a scar on her neck and many people wonder if it's because she underwent surgery or if it's a tattoo. Well, the Firefly Lane cast previously stated that she underwent the operation which involved implanting two titanium discs in her neck.
According to the streaming service's public rating method, Firefly Lane is presently the most popular show on Netflix. The drama series, based on Kristin Hannah's best-selling 2008 novel, follows the ups and downs of two best friends who have known each other since they were kids in the 1970s. After announcing in October that Season 2 would be the series' final season, Netflix released the first half on December 2 and the second on April 27, 2023.
And with the release of the new season, viewers have been interested in learning more about the show cast, especially Katherine Heigl, who plays the role of Tully Hart. According to some fans, the American actress and former fashion model have a tattoo-like scar on her neck. As a result, people are now curious to learn about the cause behind the scar and wonder if she has had a neck operation. Well, let's find it out.
Previously, we discussed Yael Yurman, Roan Curtis' Wikipedia, and how Lisa Karen died.
Katherine Heigl Has a Scar on Her Neck From Major Neck Surgery (Operation):  While It Is Not a Tattoo, the Firefly Lane Cast Previously Stated Had Two Titanium Plates Implanted in Her Neck!
Katherine Heigl (@katherineheigl) has previously disclosed in her Instagram post that she had a neck operation (surgery) for health reasons. Because she has a scar right on her neck, some people even believed it was a tattoo. Well, it's not. Although she didn't go into much detail about why she had the surgery, she did say that it involved implanting two titanium discs in her neck.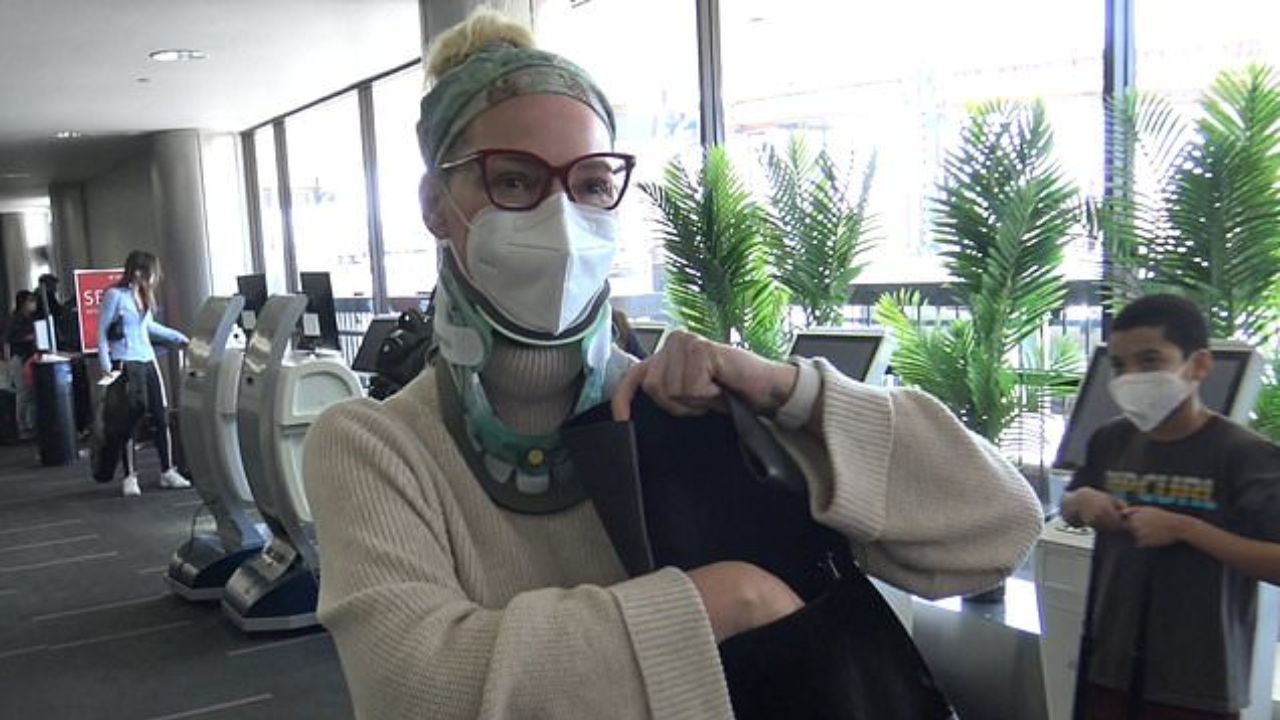 Katherine Heigl spotted after undergoing a neck operation.
Image Source: Daily Mail
At that time, Katherine Heigl shared a picture of herself wearing a neck brace while recuperating from neck surgery on social media in March 2021. The Knocked Up actress captioned the image, "Well…I am now bionic!! Two titanium disks now inhabit my neck and I can probably stand on my head for like hours…I'm not gonna try it just yet but give me a few months and I'll blow your mind!! I am so deeply deeply grateful to the incredible Dr's and care team that saved me from the most excruciating pain I have ever experienced and blessed me with a new pain free lease on life!."
In the same post, Katherine Heigl also shared her x-rays from both before and after the surgery to demonstrate where the titanium disks were positioned in the neck. she then thanked the medical professionals for assisting her in receiving care and understanding what the surgery would entail. "Thank you for your tremendous talent and expertise, as well as for saving my neck!" she exclaimed. "It's always a little scary going into surgery and hospital stays, and you guys couldn't have made me feel more comfortable or taken care of!"
Katherine Heigl plays the role of Tully Hart in the series.
Image Source: E! Online
While we don't know why Katherine Heigl had the discs implanted, SELF previously explained that artificial discs like these can be used as replacements for worn-out or injured discs in the spine. These discs, which have a jellylike interior surrounded by a tougher outside, generally serve as padding between the vertebrae.
However, the discs can rupture or rip, allowing some of the inner jelly to escape. A herniated disc is a painful condition that can occur as a consequence of an injury or from normal wear and tear over time.
According to the Mayo Clinic, the majority of people with neck pain caused by disc abnormalities do not require surgery. Pain medicines and physical therapy are frequently sufficient to alleviate pain. However, in extreme cases, surgery may be the only option for providing relief.
Katherine Heigl's Net Worth!
Katherine Heigl is an Emmy-winning American actress and producer who has an estimated net worth of $30 million. She is best known for her portrayal of Dr. Izzie Stevens on the ABC medical drama Grey's Anatomy, which she appeared in from 2005 to 2010.
The American actress began her professional career as a child model before transitioning to acting in her late teens. After starring and co-starring in films and television movies such as That Night, Under Siege 2: Dark Territory, Prince Valiant, and Wish Upon a Star, she became a household name worldwide.
Later, she appeared in the sci-fi romance "Roswell" on the fledging WB network. She stayed with the show for all three seasons before switching between film and television during the early 2000s. Now, she has become the go-to girl for romantic comedies over the last few years, appearing in films such as Knocked Up, 27 Dresses, The Ugly Truth, Life as We Know It, New Year's Eve, and One for the Money.