While Ryan Seacrest is not married, he is in a relationship with his girlfriend, Aubrey Paige. The couple has reportedly been dating since 2021.
Ryan Seacrest (full name: Ryan John Seacrest) is an American television and radio personality, producer, and entrepreneur who is mostly known for hosting American Idol, American Top 40, and On Air with Ryan Seacrest. Additionally, he also served as co-host and executive producer of Live with Kelly and Ryan.
He initially gained popularity as the charming host of American Idol, where he won over audiences with his amiable manner and quick wit for the duration of the show's original run from 2002 to 2016, and its subsequent revival in 2018. Additionally, he was nominated for an Emmy Award every year from 2004 to 2013, as well as in 2016 for his work on the show.
Since Ryan Seacrest is no less than a celebrity, he has gained a notable fan base of his own. Of course, many people want to know more about him, including his personal life. Most recently, we've found that people are curious to know if he is married or has a girlfriend. Well, let's get started.
Previously, we touched on the relationship status of Trevor Zegras and Brawadis.
Ryan Seacrest Has a Girlfriend but Is Yet to Get Married!
Ryan Seacrest (@ryanseacrest) has never been engaged or married. However, he does have a girlfriend. According to reports, he has been dating Aubrey Paige (@aubreypaige_) since 2021. Even though they've been together for over 2 years and Ryan is already 48 years old, there are no signs of them getting married.
Ryan Seacrest has yet to get married to his girlfriend, Aubrey Paige.
Image Source: Instagram
The couple was first rumored to be dating in May 2021 spending Memorial Day in the Hamptons. Since then, Seacrest and Paige have maintained a rather low-key relationship. They rarely go to public events together and have only ever walked the red carpet once since they started dating. However, fans have seen some glimpses of their romance through Aubrey's Instagram.
In case you're unaware, Aubrey Paige is a model. She is signed to Genetics Model Management. She frequently uploads pictures of herself from different photo shoots to Instagram.
In early 2023, Ryan Seacrest was spotted wearing a ring on his finger while hosting the chat show, Live with Kelly and Ryan, and it took no time for fans to begin to speculate that he was engaged to his girlfriend. He immediately clarified the rumor, stating that he was not engaged, while Kelly Ripa noted that the ring was on his middle finger.
Ryan and Aubrey clearly appear to be madly in love with each other and it wouldn't be surprising if they announce their engagement soon, especially considering Ryan is approaching his 50s. We wish the couple all the best for their future and hope to see them getting married and starting a family soon.
Will There Be Any Changes in Wheel of Fortune After Ryan Seacrest Takes Over Pat Sajak?
Pat Sajak will not return the following year for Wheel of Fortune. Ryan Seacrest will take over the renowned game show from longtime presenter Sajak in September 2024. And you might anticipate certain changes once Seacrest takes over given the change in control. Well, you'd be mistaken. In an interview with People, Seacrest said,
With this game show, it's such a success and has been for generations. You don't mess with it, just don't mess with it. Just get out of the way, say 'good evening,' and let's play.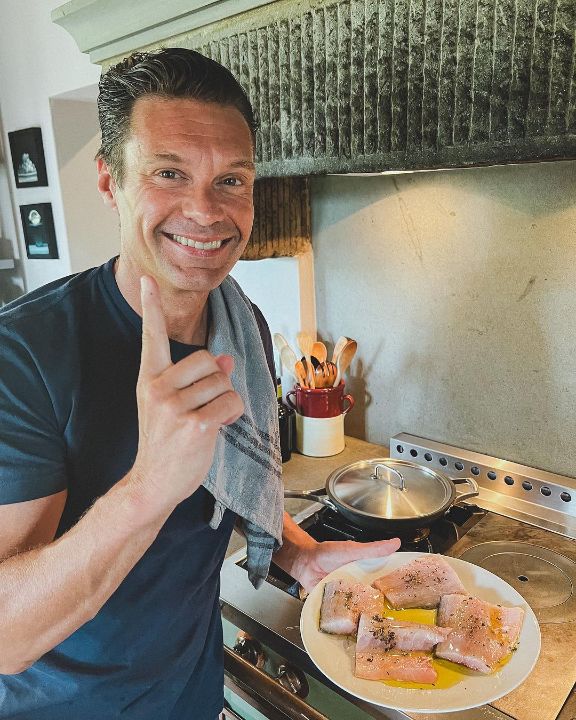 Ryan Seacrest will start hosting Wheel of Fortune in September 2024. 
Image Source: Instagram
When Seacrest takes over at Wheel of Fortune, veteran Vanna White will continue to spin the letters and show him the ropes. White's new contract is valid through the 2024–2025 season. Meanwhile, Ryan Seacrest didn't hesitate to address Vanna's presence in the show. Talking to Sunday Sitdown, he remarked,
This is such great news. Vanna has been such a staple on that show and in our living rooms for so many years. I have been very excited to work with her, but now that it's official I can say, 'Congratulations Vanna! I can't wait.'