Yes, Flyysoulja from Island Boys is gay. The 22-year-old star recently came out in his recent TikTok live stream, weeks after their kissing videos went viral.
Two twin boys known as Island Boys are perhaps the most contentious individuals to emerge from TikTok. Franky and Alex Venegas, 20-year-olds with multiple tattoos, different haircuts, diamond teeth, and songs about being an "Island Boy," rapidly became popular as Kodiyakredd and Flyysoulja respectively.
They now have millions of TikTok followers and have feuded with social media's original contentious twins, Jake and Logan Paul, TikTok star Bryce Hall, and even Kevin Hart and Snoop Dogg, who insulted them on their comedy special, 2021 and Done.
Following a viral tongue kiss they performed with each other, Island Boys have been questioned about their sexuality ever since. And recently, Flyysouljah addressed the rumor about him being gay. Well, what do you think? Is he gay? Let's find it out.
Previously, we discussed the sexual orientation of Angus Cloud and Mary Earps.
Island Boys' Flyysoulja Is Gay: He Recently Came Out in His TikTok Live Stream!
Yes, Flyysoulja (@flyysoulja) from Island Boys is gay. As we all were expecting, he is indeed interested in men. During his recent TikTok live stream, he revealed his sexuality saying he liked men. He said,
I'm a top, I'm never a bottom, I'm a top you understand what I'm saying? I'm like that, for real. You gotta support me because you feel me: I like men and it is what it is. I'm a top, but I'm a top at the end of the day that's just what's going on.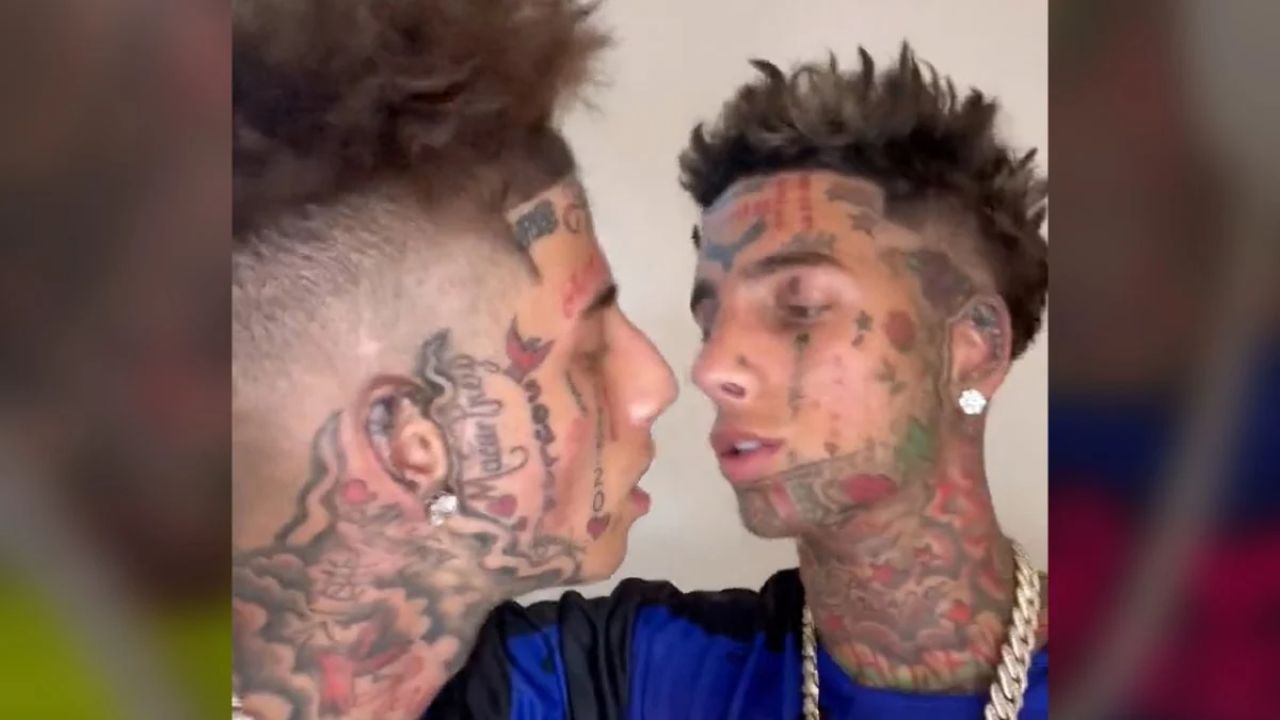 Flyysoulja recently revealed that he is gay.
Image Source: HipHopDX
Earlier this month, the twin brothers took the Internet by storm after Kodiyakredd (real name Franky Venegas) and Flyysoulja (real name Alex Venegas), were spotted tongue-kissing each other on camera. And it didn't take for the brothers to create an OnlyFans account together and upload photos and videos of themselves kissing.
Internet went crazy after the videos went crazy and many people were quick to comment and question their relationship. One person wrote,
Somebody need to blow the island boys up for what I just saw.
Similarly, another asked,
Did I just see the island boys making out with each other? Ain't they brothers?
However, Flyysouljah denied the claims to TMZ at the time saying,
We're both straight males and kissing is not counted as a sexual act.
And weeks later, Flyysoulja finally announced that he is gay. Meanwhile, Kodiyakredd has yet to talk about his sexuality. However, please do note that both brothers do anything to get attention. They do not take things seriously. Don't get surprised if he says he was just bluffing about being gay in the coming days.
Adin Ross and Flyysoulja Get Into a Back-And-Forth Fight During a Stream on Kick!
Adin Ross is one of Kick's top streamers, but one of his recent shows turned into pure chaos when he got on the phone with an Island Boys member. Ross called Flyysoulja during an August 1 broadcast, and the two almost immediately got into an altercation.
Adin Ross and Flyysoulja get into a conflict during a latest Kick stream.
Image Source: FirstSports
The conflict began when Flyysoulja used a racist slur at the start of their talk, which Ross called out. The rapper appeared to take issue with this and began posturing and making hypothetical claims about a future battle with Ross for daring him to use the term.
Kodiyakredd promptly joined the stream, which quickly turned into a series of back-and-forth fights. Flyysoulja contacted Ross again after hanging up and threatened to sexually abuse the streamer.
Not only that, but the rapper also flashed himself to Ross, who was live-streaming their talk to his audience of thousands of admirers. Ross abruptly ended the call.  saying, "Alright, that was insane, dude. I can't believe he just did that. On my life, that was disgusting. On my f*cking life. Wow, bro. That is insane. That is beyond crazy."