No, all of the actors (cast) in Surviving Summer do not actually surf. However, Kai Lewins, Lilliana Bowrey, and Joao Gabriel Marinho perform a lot of their scenes by themselves.
Season 2 of Surviving Summer is now available on Netflix! The teen drama's much-awaited second season picks up a year after the previous season's events. Sunita has finally returned to Shorehaven, and things aren't quite the same. She will, however, stop at nothing to get her new goals.
The Netflix series' main focus is surfing, in contrast to typical teen dramas where the plot serves as a backdrop for the drama occurring in the area around it. The surfing is just as crucial as her friendships with the brilliant group of surfers she meets as Summer Torres (Sky Katz) moves from being a rough-and-tumble skateboarder from New York City to a surfing protégé in the imaginary Australian town.
On the other hand, we have found that many people have been interested to know if the actors (cast) actually surf in the series. Well, we've got you covered.
Previously, we touched on the Sky Katz having a baby rumor.
Surviving Summer: Most of the Actors (Cast) Do Not Actually Surf!
The primary characters in the majority of surfing movies and television shows will stand on the beach and observe the waves before the scene switches to a pro surfer surfing in the distance. Likewise, the Surviving Summer actors (cast) appear to be performing all of their own water stunts in the Netflix series due to the way it is edited.
However, all of the cast do not actually surf. At the professional level, pros take over for the trickier surfing, where actors can potentially risk injury and not be able to continue the season. However, the changes are made as smoothly as possible.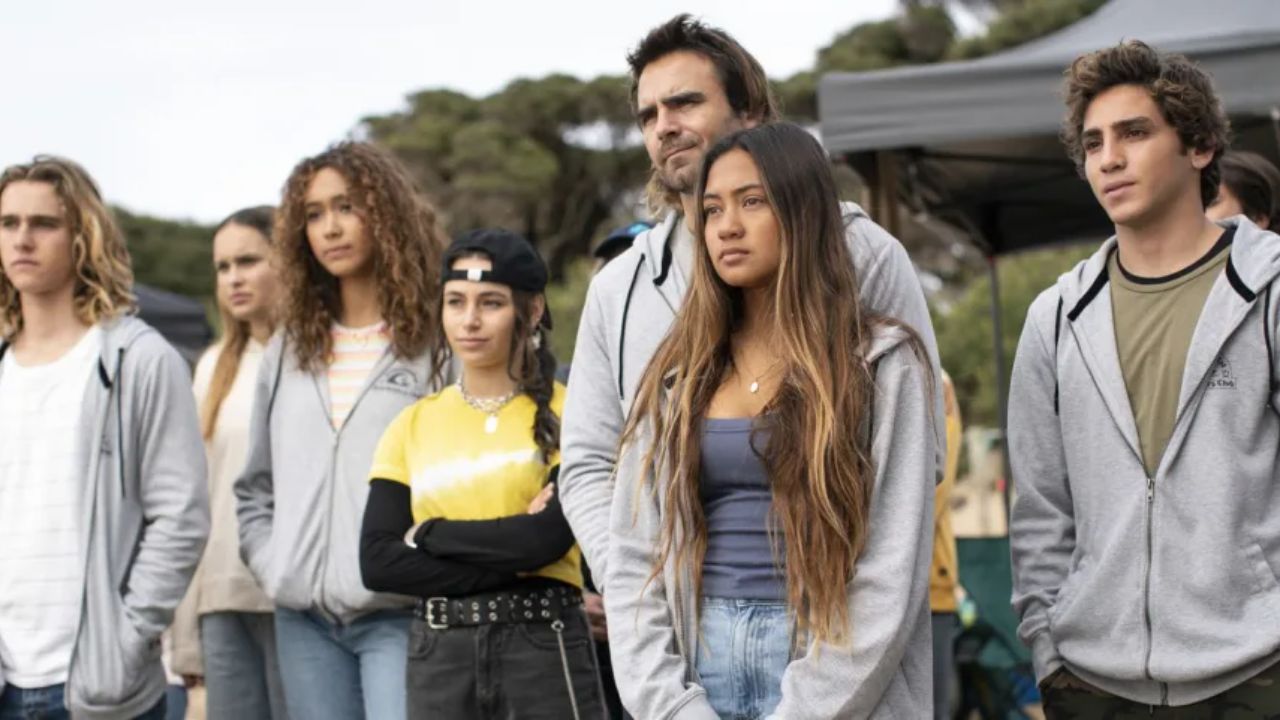 The Surviving Summer actors do not actually surf every time.
Image Source: Netflix
The Sydney Morning Harold reports that Kai Lewins performs the majority of his own surfing, Lilliana Bowrey performs all of her own board work, and Joao Gabriel Marinho is a representative of the talented South American surfers who have recently made their mark on the sport.
The series is more successful than other shows that don't try to get their premise right since it accurately depicts surfing and the lifestyle on location in Fairhaven, Torquay, Anglesea, Bell's Beach, and Airey's Inlet. As a result, Surviving Summer appears to be far less gimmicky.
Summer's Faith in Surviving Summer Season 2: Does She and Ari Get Together?
Team Victoria experiences a complete meltdown in the season 2 finale of Surviving Summer, but tensions between Elo, Summer, Baxter, Wren, Ari, and the rest of the team have been building all season.
After Elo criticizes Ari after his anxious-inducing heat at Nationals, Summer learns Elo's big secret about why they actually left Queensland. Elo becomes agitated when Ari doesn't catch a wave during his heat. The squad then turns against Elo and prevents her from being the coach after Summer defends Ari and shares Elo and Wren's secret with them.
After that, Ari experiences a panic attack, although it's unrelated to the surfing. He immediately breaks up with Wren when his lack of affection for Wren and his feelings for Summer come to a head. Ari tells Margot, Summer's mother, and his family about his feelings.
Ari and Wren finally break up in season 2.
Image Source: Netflix
With more heats left, Ari seeks to reunite the squad after splitting up with Wren. And it works. With some questionable dance skills, Ari and Summer reunite the group. Summer and Ari do end up together at the end of Surviving Summer season 2. The buildup from the previous two seasons finally receives its due.