Bob Hope reportedly had multiple mistresses even though he was married to Dolores DeFina for 69 years. Some of the names include Doris Day, Barbara Payton, Marilyn Maxwell, Ursula Halloran, Rosemarie Frankland, and Sandy Vinger.
Bob Hope (born name: Leslie Townes Hope) was a versatile comedic genius who had a lasting impact on the entertainment industry, as an actor and comedian. He was born in England in 1903 and eventually rose to fame in the United States, enthralling audiences on radio, television, and in movies.
His collaboration in the "Road to..." movies with Bing Crosby and Dorothy Lamour sealed his stardom. He was well-known for his quick wit and in-the-moment comedy, and he moved fluidly between stand-up, acting, and hosting. Beyond the spotlight, his passion shined through in his unwavering support for American soldiers. His renowned USO tours during the war offered laughter and entertainment to the servicemen and women, demonstrating his commitment to their morale.
Even though it has been over 2 decades since his death, people do not appear to stop seeking more information about him. Most recently, we've discovered that many people have been curious to know if he had a mistress. Well, we've got you covered.
Previously, we touched on the stories of Jesse L. Martin and Yvonne Orji.
Have a Look at List of All Bob Hope's Mistresses!
Bob Hope had multiple mistresses over the years.
Image Source: Movieguide
Rumors and controversy surrounded Bob Hope's personal life, including claims of extramarital affairs. While he was married to Dolores DeFina for almost 7 decades, he had multiple mistresses. Hope: Entertainer of the Century, a biography written by Richard Zoglin, reveals the long list of all of his extramarital affairs. Well, here's a timeline:
Doris Day
According to Zoglin, Bob Hope claimed that he and actress Doris Day had a short affair while they were touring together in 1949 to raise funds for the March of DimesDay immediately abandoned the connection because she saw the action as a wife symbolically defining her own territory. However, neither of them ever addressed their possible romance publicly.
Barbara Payton
According to the book, actress Barbara Payton had a connection with Bob Hope that started in the spring of 1949 and lasted for a while. She accompanied Hope throughout the country, moved into a furnished apartment in Hollywood that he rented for her, and when the relationship ended in August, Hope paid her to keep quiet about it, according to Zoglin.
If so, it apparently had no effect on Payton, who in 1956 broke the wall of secrecy revealing she was one of Hope's mistresses and selling the story to Confidential magazine. Payton turned to drugs and prostitution and eventually drank herself to death, passing away in 1967 at the age of 39.
Marilyn Maxwell
Zoglin claims Hope dated the curvy actress-singer Marilyn Maxwell from around 1950 to 1954 while they toured with his vaudeville act and USO shows and co-starred in the films, The Lemon Drop Kid and Off Limits. Most of the people Hope worked with were aware of their close friendship. Zoglin writes,
On the road for a military-camp show, publicist Frank Liberman once saw Hope and Maxwell check in for the night at a cheap motel . . . The two were together so often that people on the Paramount lot began referring to Maxwell as Mrs. Hope.
Marilyn died of a heart attack in 1972 at the age of 50.
Ursula Halloran
Bob Hope also had a "fairly open affair" with Ursula Halloran, a member of his press team who traveled to Russia with him in 1958. In 1963, she was discovered dead after a heroin overdose.
Rosemarie Frankland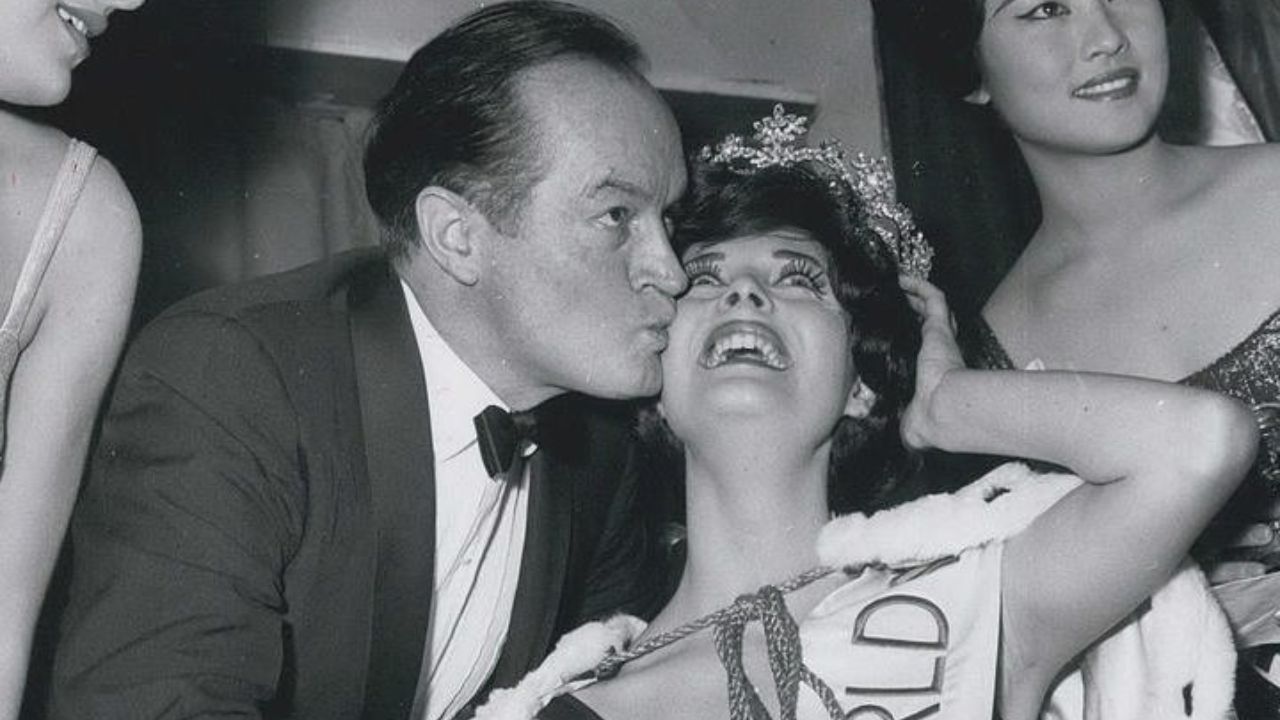 Bob Hope and Rosemarie Frankland were reportedly together for almost 30 years.
Image Source: Getty Images
Rosemarie Frankland became Hope's mistress after he crowned her the beauty Miss World of 1961. Zoglin reports Hope took her on his trip to the Arctic in 1961, supported her when she relocated to Los Angeles to seek a career in film, and offered her a small role in his 1965 film, I'll Take Sweden. According to publicist Liberman, the affair lasted "nearly 30 years," and the comedian referred to her as "the great love of his life." She also passed away in 2000 from a drug overdose.
Sandy Vinger
According to Zoglin, Hope's last mistress a writer for his California Federal Savings advertisements, who "was his frequent companion in the 1980s." Sandy Vinger sued Hope, who was 91 at the time, for breach of contract on the grounds that he had promised to assist her throughout her lifetime. A private settlement was reached.