Darren Barnet has two siblings; Emily Breidy and Jennifer Barnet. He grew up with his two sisters in Orlando, Florida. His elder sister, Jennifer, 39, is a former makeup artist. She now owns an indoor cycling studio named XCYCLEV in Las Vegas. And Emily is his younger half-sister. She works as an account executive for a company named LTIMindtrree. However, he doesn't have a brother.
American actor Darren Charles Barnet is known for portraying Paxton Hall-Yoshida in the Netflix series Never Have I Ever. He has also been in movies like American Pie Presents: Girls' Rules, Untitled Horror Movie, and Love Hard. Barnet also provided the voice of Samurai Rabbit: The Usagi Chronicles in the animated series. In total, he has appeared in 4 movies and 7 television series including voiceovers.
The accomplished American actor's knowledge of the Japanese language has come in handy because his character in Never Have I Ever is half-Japanese. His role in the series has given him a chance to embrace his diverse heritage which has received positive reviews. And fans are curious to know about Darren Barnet his siblings. Well, here is everything you need to know.
Previously, we touched on Lee Rodriguez's Sexuality, if Richa Moorjani pregnant, Jaren Lewison's wife & sexuality, and Michael Cimino's sexuality.
Darren Barnet Has Two Siblings Named Emily Breidy and Jennifer Barnet!
Darren Barnet (@darrenbarnet) has two siblings; Emily Breidy and Jennifer Barnet. He grew up with his sisters in Orlando, Florida. His elder sister Jennifer (b. June 12, 1984) is 39 years old. She is a former makeup artist. She now owns an indoor cycling studio named XCYCLEV in Las Vegas. Her Instagram handle (@jenbarnetmovement) has over 12k followers. Regardless, she has set her account to private.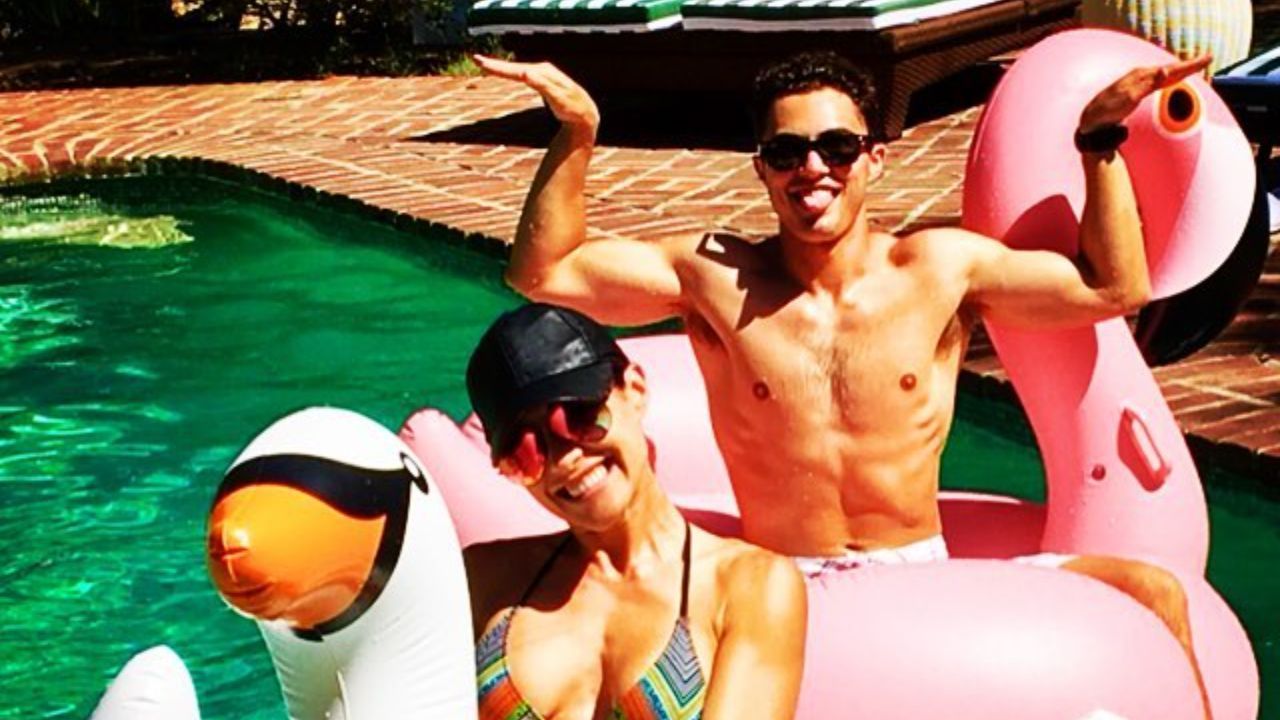 Darren Barnet and her elder sibling, Jennifer Barnet.
Image Source: Instagram
Jennifer has also worked for pop singer Britney Spears. That was when she met her husband, Larry Rudolph. She was 24 years old when she met Larry for the first time in 2008. Jennifer then worked as Larry's assistant before they started a romantic relationship. The two finally got married in 2017 and have a son named Grey.
Emily Breidy (@emilyxbreanna) is the younger half-sister of Darren Barnet. She works as an account executive for a company named LTIMindtrree. She is based in Los Angeles, California. Emily graduated from the University of San Francisco in 2018 with a bachelor's degree in Business Administration and Management. She previously attended West Ranch High Scholl in Stevenson Ranch, California from 2011 to 2014.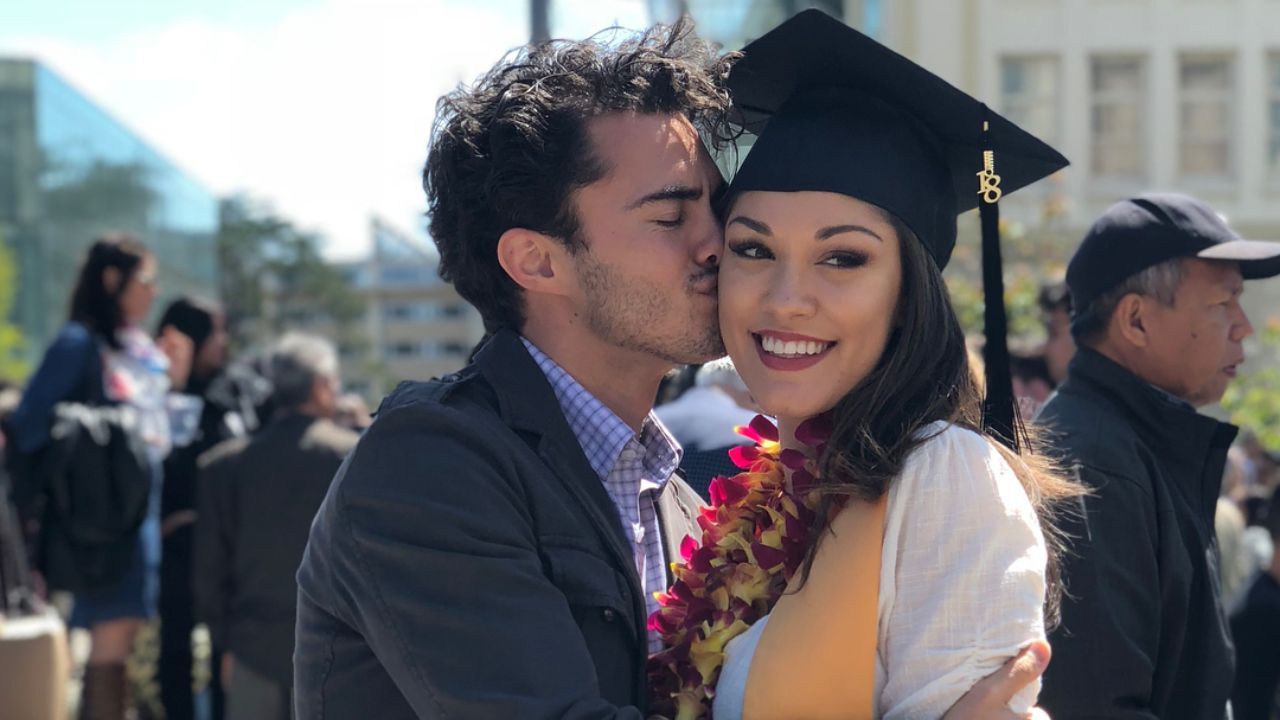 Darren Barnet and her younger half-sister, Emily Breidy.
Image Source: Instagram
Briedy ultimately moved to San Francisco, California in 2014 to receive her university education. Moreover, she is an avid traveler and has already visited many European countries including, Italy, Portugal, Greece, and France. Being the sibling of famous actor, Darren Barnet, Emily enjoys a significant following on social media. Although her Instagram handle is private, she nearly has 7k followers.
While Darren has achieved fame and recognition for his acting career, it is worth noting that his siblings have also achieved success. Jennifer's successful business venture and Emily's professional career demonstrate their abilities and goals. Despite their disparate paths, the Barnet siblings have a close bond and mutual support in their respective careers. With Darren's rising stardom and his sisters' accomplishments, it's clear that talent and success run in their family.
Darren Barnet's Brother!
While Darren Barnet was fortunate to grow up with his 2 sisters, he never had a brother. He is the only son on his family. And it would be unwise to expect his parents to have a new child again.
Meet Darren Barnet's Parents, Charles Barnet Jr. & Deborah Barnet!
Darren Barnet was born to Charles Barnet JR. and Deborah Barnet. He comes from a diverse and culturally rich family. Deborah, her mother, is a second-generation American citizen. She was born in Tokyo, Japan, to a Japanese mother and a Swedish father. His father is of German and Cherokee ancestry. He was the only son of the late Charles Barnet, a legendary American saxophonist. He was the son of one of Charles' eleven wives.
Darren's mother, grew up with a strong connection to her Japanese roots, even traveling to Japan as a teenager. Her multicultural background has had a profound impact on Darren, who faced challenges as a child as a result of his mixed ethnicity. Darren's father worked alongside television personality Dick Clark and shared a love of the entertainment industry. Darren's dream of becoming an actor is influenced by his father, who died a few years ago.
The actor's parents Charles and Deborah created a welcoming environment for Darren and his siblings. Their encouragement and support have been instrumental in his journey to becoming a successful actor. His parents have had a big influence on his life and career. Their diverse heritage, as well as their love for their children, have undoubtedly shaped Darren's identity and contributed to his personal and professional development.