As he lifted the 2023 Wimbledon trophy, Carlos Alcaraz was wearing a yellow-gold Rolex Daytona with an Oysterflex bracelet. He mostly wears Rolex since the luxury brand has been sponsoring him since he was 18.
Novak Djokovic's 10-year winning streak on Centre Court and four consecutive men's singles titles at the All England Club has been ended by the superb 20-year-old Spaniard's 1-6 7-6 6-1 3-6 6-4 victory.
World No. 1 Carlos Alcaraz brightens tennis in the same way that his compatriot Seve Ballesteros once illuminated golf courses, with his flamboyant flair and dazzling shot-making. There is no denying Alcaraz possesses the bravery, cleverness, and raw force to become an all-time great in this sport.
As soon as he lifted the 2023 Wimbledon trophy, a lot of viewers drew their attention to his watch. The gold-colored watch looked luxurious in the 20-year-old's hand. As a result, people have been curious to know what watch he is wearing as well as what watch he wears the other time. Well, we've got you covered.
Previously, we touched on the stories of Jennifer McDermed and Dewey Cox.
Carlos Alcaraz Is Wearing a Yellow-Gold Rolex Daytona With an Oysterflex Bracelet!
If you have just a little interest in watches, you might have observed Carlos Alcaraz's watch while he lifted the 2023 Wimbledon trophy at the All-England Club. Well, the 20-year-old is wearing a yellow-gold Rolex Daytona with an Oysterflex bracelet.
Carlos Alcaraz wore yellow-gold Rolex Daytona watch after defeating Novak Djokovic.
Image Source: Instagram
According to the official website of Rolex, this 18-karat yellow gold Oyster Perpetual Cosmograph Daytona with a golden and dazzling black dial, and an Oysterflex bracelet has a black Cerachrom bezel with tachymetric scale.
Rolex invented and patented this bracelet, which blends the strength of a metal bracelet with the comfort of an elastomer bracelet. Rolex has the unrivaled capacity to cast the best grade 18 kt gold alloys by having its own proprietary foundry. Different varieties of 18 kt gold are obtained depending on the quantity of silver, copper, platinum, or palladium added: yellow, pink, or white.
They are created with only the finest metals and are painstakingly tested in an in-house laboratory using cutting-edge technology before the gold is molded and fashioned with the same care. Rolex's dedication to quality starts at the top. While Rolex hasn't given a price tag for the watch, other e-commerce websites suggest the watch costs around $70,000. However, this is completely a speculative date.
As Carlos Alcaraz (@carlitosalcarazz) has now officially become the king of the court now, the Rolex Daytona appears to be the perfect watch for his journey to become one of the greats. The particular watch he wore during the premonition reflects his future and the accomplishments he is going to achieve in the coming days.
What Watch Does Carlos Alcaraz Often Wear?
Carlos Alcaraz is a 2023 Wimbledon winner, a current no. 1 ranked player, and the owner of a nicer watch than you or I. After defeating Novak Djokovic in five sets, Alcaraz donned a gleaming Rolex Daytona, precisely the yellow-gold Rolex Daytona with an Oysterflex bracelet. What timepiece were you wearing when you were 20 years old?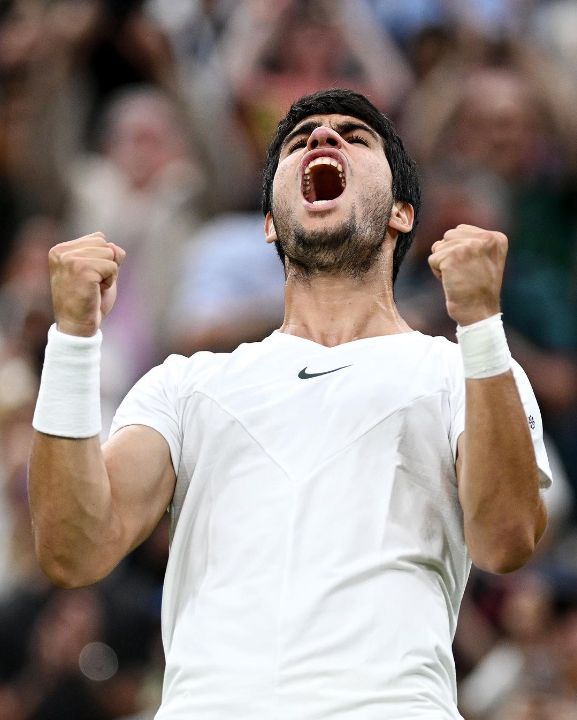 Carlos Alcaraz signed the sponsorshp with Rolex while he was just 18 years old.
Image Source: Instagram
Alcaraz, like other of the men's tennis greats before him, Roger Federer, Juan-Martn Del Potro, and Dominic Thiem, has signed on with Rolex as a brand ambassador, despite the fact that he was only 18 when he signed on. After sponsoring the next generation of tennis greats, it's evident that Rolex's scouting staff is on to something.
Alcaraz mostly wears the Daytonas these days, His style of playing the game is nicely captured by the Daytona's graceful movements and streamlined form. It's refreshing to watch a generational talent remain grounded and humble in success, based on interactions with fans, media, and other players. Carlos Alcaraz is only getting started if the game on his wrist matches the game on the court.
Before leaving, find out about Carlos Alcaraz's sexuality.