Trayce Jackson-Davis is in a relationship with his girlfriend, Hope Robinson. They both graduated from Indiana University and their romance is pretty visible on Instagram. However, the couple has yet to get married.
The NBA 2023 draft is finally over and now we know where the young talents are headed to. Victor Wembanyama, one of the greatest prospects in the league, was selected as the No. 1 pick by The San Antonio Spurs as we all expected. However, we have to note that every drafted athlete, even if they were drafted at No. 60, is to be watched as they made it to the league because of their hard work and talent.
One of the talents to watch that was drafted almost at the end, at No. 57 to be precise, is Trayce Jackson-Davis. The IU star was picked by The Golden State Warriors. While he was happy for the team he was about to represent in the upcoming NBA season, it seemed he wasn't happy as he was drafted near the end.
On the other hand, many people have drawn their attention to his girlfriend, who was right beside him during the draft night. People want to know what her name is, where she studies, and many details about her. Well, here is everything you need to know about Trayce Jackson-Davis' girlfriend.
Previously, we touched on the relationship status of Bowen Yang and Wyndham Clark.
Trayce Jackson-Davis Is in a Relationship With His Girlfriend, Hope Robinson!
Trayce Jackson-Davis' (@trayce.jackson) girlfriend was right beside him when he was drafted by The Golden State Warriors as the No. 57 pick. He also posted a picture of him and his girlfriend 6 weeks ago from his graduation ceremony. However, Trayce has neither revealed her name nor mentioned her Instagram handle.
Trayce Jackson-Davis and his girlfriend, Hope Robinson.
Image Source: Instagram
Despite wanting to keep the identity of his girlfriend private, we were able to know her name as she frequently comments on Trayce's Instagram posts. Well, her name is Hope Robinson. She can be found on Instagram at (@hope_rob). Of course, the account is private.
Hope commented, "Love my boy" when Trayce posted pictures from his graduation. And confirmed that she is indeed Trayce Jackson-Davis' girlfriend as we checked her DP and yes, she is the same girl from Trayce's Instagram post.
Looking at her LinkedIn profile, Hope was also a student at Indiana University. She graduated in Psychology in May 2023, which indicates that she and Trayce possibly were from the same class. Unfortunately, no additional information is available about her right now.
There's no doubt Trayce Jackson-Davis and his girlfriend look really perfect together. Since there's still a long way to go, we wish the couple nothing but the best for their future endeavors. We pray they remain together and eventually start a family one day.
Is Trayce Jackson-Davis Married?
Of course, Trayce Jackson-Davis and his girlfriend, Hope Robinson, are yet not married. It would be unwise to expect them to tie the knot this soon as both of them are too young and have just started their career.
Trayce has to work really hard to prove to people that he deserved to be drafted in a better position. However, we wouldn't be surprised if the couple decides to get married sooner. After all, they do look like they're made for each other.
Trayce Jackson-Davis Right After He Was Drafted: 'Y'all Will Regret It'
Trayce Jackson-Davis was not particularly happy to be the second-to-last player to be taken off the board, despite hearing his name shouted. Aiming at all the teams that passed on him, he tweeted, "Y'all will regret it. I promise you."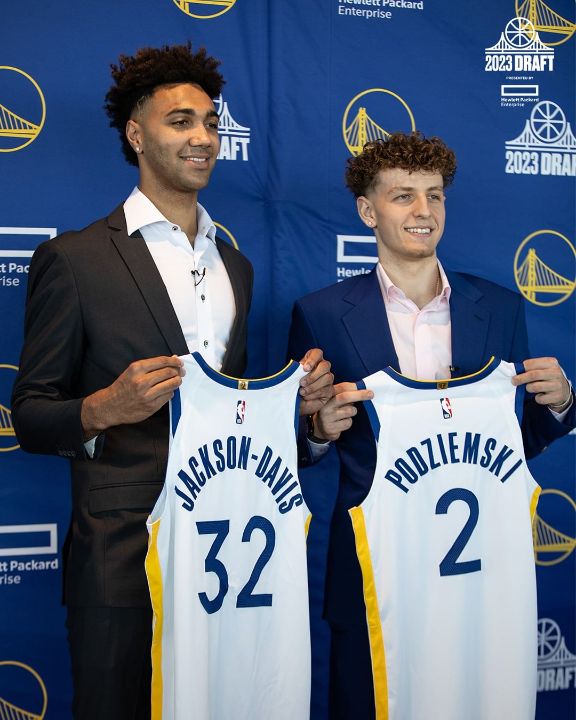 The Golden State Warriors drafts Trayce Jackson-Davis as the No. 57 pick.
Image Source: Instagram
Jackson-Davis concluded his four years of collegiate basketball with the Hoosiers as the school's all-time leader in rebounds, blocks, and scoring—behind only Calbert Cheaney and Steve Alford. He expressed his desire to perform at a high level in an interview with the Indianapolis Star late on Thursday night. He said,
I play with a chip on my shoulder and that's what I've always done. I don't think of this situation as anything different. And so I'm gonna put a chip on my shoulder. I'm going to play to the best of my ability and I think my athleticism and my IQ on the basketball court is going to make me a valuable piece.