We're unsure if Megan Eugenio a.k.a Overtime Megan and her boyfriend (BF), Cole Schwindt, are still dating. Both Megan and the NHL/hockey star have been silent about their relationship. However, we do know that she is not dating Josh Giddey.
Megan Eugenio a.k.a Overtime Megan, a popular social media star, has recently been making headlines as her phone was hacked and her private contents were leaked on the internet. Well, it was just not her images. Her s*x tapes were also leaked and people have been gossiping a lot about her personal life.
For those who are unaware, she became a social media influencer in 2019 and has amassed millions of followers on TikTok and Instagram. She loves sports and watches the NBA, NHL, and NFL regularly.
Coming back to the headlines, many people have been curious to learn about her boyfriend ever since the explicit content was leaked online. Well, we've got you covered.
Previously, we touched on the relationship status of Haven Madison and IShowSpeed.
Megan Eugenio's Boyfriend: It's Unclear if Overtime Megan and Cole Schwindt Are Still Dating!
Before her private images and videos were leaked, Megan Eugenio a.k.a Overtime Megan (@overtimemegan) was in a relationship with her boyfriend (BF), Cole Schwindt (@cole_schwindt). However, both of them have deleted each other's pictures from their Instagram ever since her phone got hacked.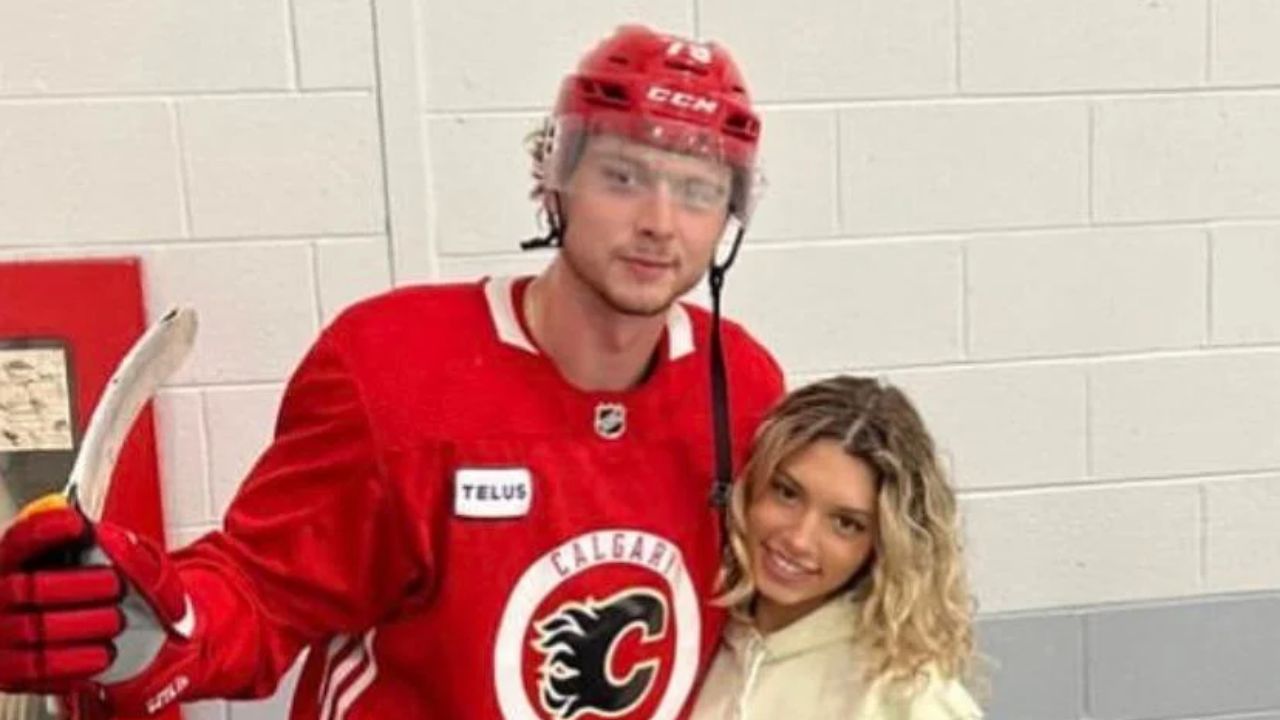 We're unsure if Megan Eugenio a.k.a Overtime Megan and her boyfriend, Cole, are still dating.
Image Source: Reddit
Previously, Megan was rumored to be dating NBA star, Josh Giddey. As she posted a picture of him on her Twitter, people began speculating that they might be dating. However, it was untrue. The two never had any romantic feelings for each other.
Megan and her boyfriend, Cole, frequently posted about each other before the controversy. For those who are unaware, Cole Schwindt is a professional ice hockey forward who plays for the Calgary Wranglers in the American Hockey League as a prospect to the Calgary Flames of the National Hockey League (NHL). The Florida Panthers selected him with the 81st overall pick in the 2019 NHL Entry Draft.
While the man in the s*xtape has yet to be verified, many people believe it's not Cole. As a result, some people even accuse Megan of cheating on Cole while they were still in a relationship. Meanwhile, some people believe the boy in the video is indeed Cole. Only Megan, Cole, or the guy in the videos know what the truth is.
Thus, we're unsure if Megan and her boyfriend, Cole, are still dating. We will, however, get back to you as soon as we get any further information about her dating life. Additionally, we would like to remind our readers that hacking or sharing other private content is absolutely a crime and report if you find anyone involved in it.
Here's How Overtime Megan Got Famous!
Megan Eugenio (age 23) was born in Peabody, Massachusetts, in the United States, on October 17, 1999. She did not enjoy her hometown growing up and desired to leave after high school. She didn't communicate with many of her peers and was constantly considering career options. She used to occasionally dine at the library away from the kids. She left Peabody after finishing high school and relocated to New York to pursue further education.
She has over 500k followers on Instagram.
Image Source: Instagram
She enrolled at Pace University in New York and began socializing. She was unsure of what she wanted to do but was quite unsure of her options. She once connected with a worker for the apparel company Overtime via Instagram.
Megan said she would do everything, including make coffee, to get a job at Overtime and asked them to help her. She mailed her CV after that particular individual instructed her to do so. After giving an interview and receiving her appointment letter, she got a call a few weeks later. Eugenio's fame multiplied over time, and she developed into a well-known model for the clothesline. Additionally, her following on social networking sites grew rapidly.