Milan Lucic was recently arrested after his girlfriend-turned-wife called 911 after he attacked and choked her. The couple have been married for over a decade and are parents to their 3 children. Follow to know her name and see photos. 
Milan Lucic is a professional ice hockey player from Canada who currently plays for the Boston Bruins of the National Hockey League (NHL). Known for his physical style of play, he is mostly renowned for his toughness, scoring ability, and knack for being a physical presence on the ice.
Currently, he is making headlines as he recently announced a temporary break from the NHL following his arrest after an alleged domestic incident. Ever since the news came out, we have found that many people are curious to know who his girlfriend is, what her name is, and what really happened. Well, let's find it out together.
Previously, we discussed the relationship status of Jordan Travis and Carson Beck.
Milan Lucic's Girlfriend-Turned-Wife Claims That He Attacked and Choked Her!
Milan Lucic (@milan.lucic.17) was arrested on Saturday morning after his partner, Brittany Carnegie Lucic, called 911 and reported that he had attacked her. Before going into the details, know that Brittany is not Milan's girlfriend but his wife. They have been married since 2012.
According to reports, Brittany called 911 after Milan attacked and choked her. When the police arrived, they found him drunk and detained him. However, no other details were revealed to the public. Following the incident, the Boston Bruins made a statement announcing Milan's temporary leave from the team.
The Boston Bruins are aware of the situation involving Milan Lucic Friday evening. Milan is taking an indefinite leave of absence from the team. The organization takes these matters very seriously, and we will work with the Lucic family to provide any support and assistance they may need...
The team made no more statements, but Bruins captain Brad Marchand addressed the situation. Marchand told Fox News that he is "very concerned" about Lucic and his family.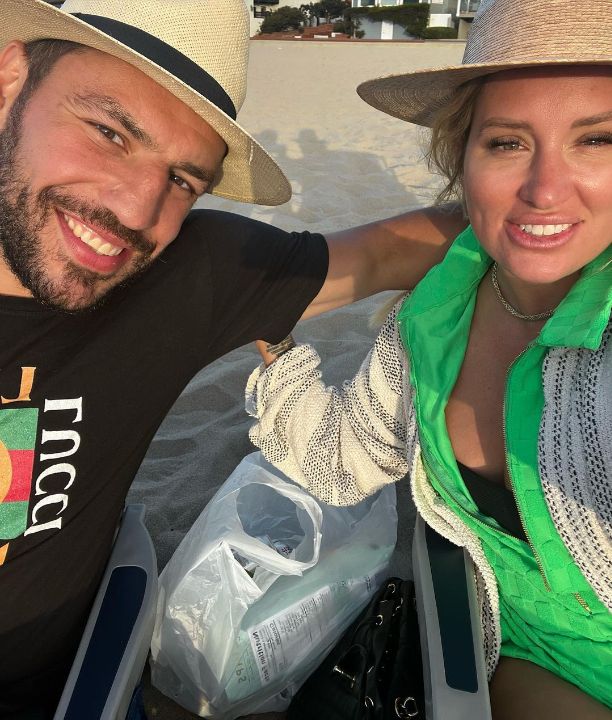 Milan Lucic was arrested on Saturday for assaulting his girlfriend-turned- wife, Brittany Carnegie.
Image Source: Instagram
Brittany is not only Milan Lucic's girlfriend-turned-wife but the mother of their 3 children. The couple officially tied the knot on July 19, 2012, and has been married for over a decade. They celebrated their tenth wedding anniversary in July 2022.
The two frequently post photos of themselves on each other's Instagram profiles. Lucic posted a throwback photo of the couple on their wedding day on July 19, 2022, with the caption: "Happy Ten Year Anniversary!!" Nikolina Lucic and Valentina Lucic are the names of the couple's two daughters. While Nikolina was born in 2013, Valentina was born in 2015.
Meanwhile, their son Milan Lucic Jr. was born in 2018. Lucic frequently uploads photos of his children on Instagram. Following Lucic's arrest, Brittany's current Instagram account (@brittanycarnegie) turned private on Saturday, November 16, 2023.
Know More About Milan Lucic's Wife!
Milan Lucic and his wife, Brittany Carnegie, have been married since 2012.
Image Source: Instagram
Brittany Carnegie Lucic was born on the 28th of August, 1987. Her hometown is Richmond, British Columbia. She used to play college soccer.
She is an animal enthusiast who regularly raises funds for the Massachusetts Society for the Prevention of Cruelty to Animals. While little is known about her relationship with Lucic, the two allegedly met and began dating in 2008.
The recent incident is not the first time authorities have looked into Milan Lucic for domestic violence. In 2011, while playing for the Bruins, Lucic was detained by police after witnesses claimed seeing him yelling at a woman [Brittany] sobbing on the ground. Witnesses claimed he also threw her purse and a shoe at her. After the officer arrived, Milan reportedly said,
We had an argument. We're fine. Why are you here at my house?
According to the report, when the police proceeded to question him about the event, he allegedly slammed his phone on the ground and asked, "Do you know who I am?" Britanny (girlfriend at the time) also denied the occurrence to police, stating it was merely an argument and that she was not physically harmed. Thus, Lucic was not arrested at the time.