Michael van Gerwen previously stated that he needed to wear braces on his teeth and have another dental surgery/operation work done in the near future. Compared to his before and after pictures, he definitely looks different. However, he will soon recover and have better teeth.
Michael van Gerwen is a professional darts player from the Netherlands who is now rated second in the world after holding the top spot from 2014 to 2021. He has also won the PDC World Championship three times, in 2014, 2017 and 2019. In addition, he has been regarded as one of the greatest players of all time.
Likely, Van Gerwen dominated darts in the years that followed, winning 18 events in 2015 and 25 in 2016. He is the PDC's second most successful player, trailing only Phil Taylor. He has won the most PDC Pro Tour events, 84 in July 2022, and 152 PDC titles globally on July 8th, 2023.
According to reports, Michael van Gerwen has been suffering a lot of pain in his mouth and teeth after undergoing several surgery procedures. Sin the news, people have been wondering what really happened to him. Well, here is everything about his dental issues.
Previously, we discussed the stories of Adin Ross and Jason Mraz.
Michael Van Gerwen's Teeth: He Underwent Dental and Jaw Surgery in June of This Year!
As we know, Michael van Gerwen (@mvg180) previously gave an update on his crooked teeth after undergoing dental and jaw surgery in June of this year. According to him, he might not look or sound the same as before for a little while as a result of surgical work/operation.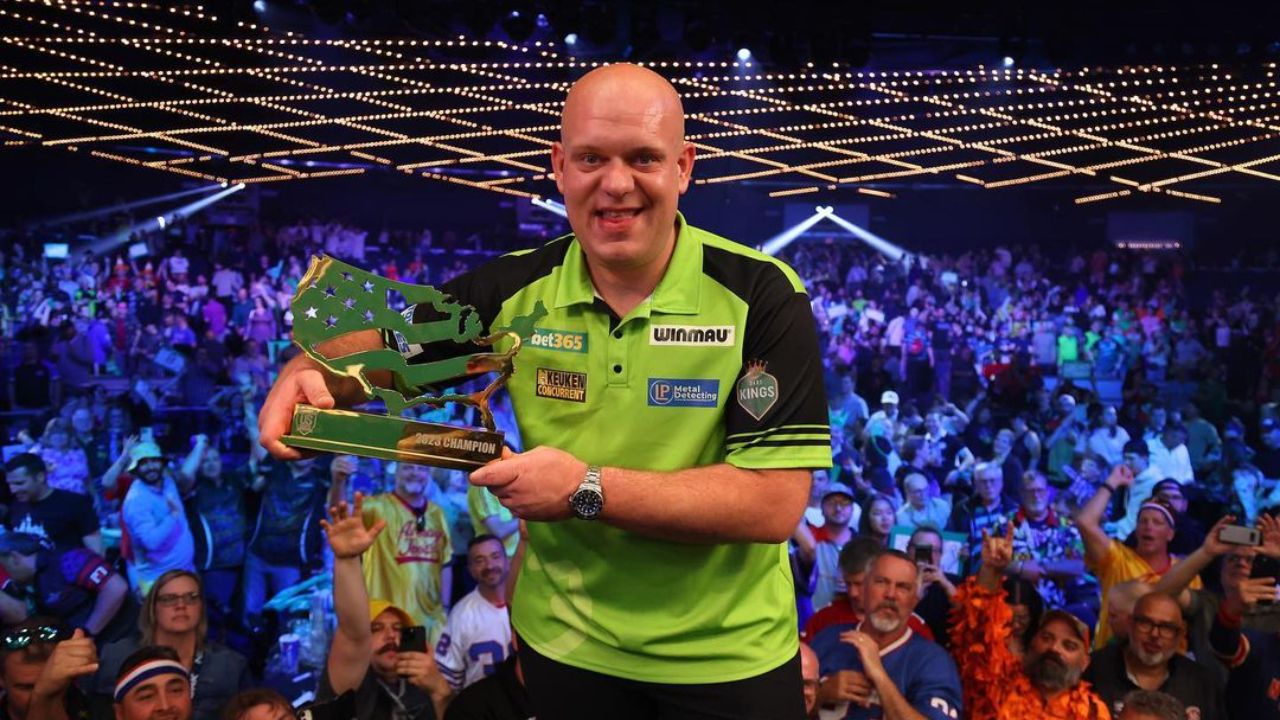 Michael van Gerwen previously underwent teeth and jaw surgery.
Image Source: Instagram
In a statement, the three-time world champion stated that he will need to wear braces and have another surgery in the near future. The recovery process is taking a long time, and he is still in a lot of verbal pain. However, he hopes that his performance will not weaken. The message read,
I don't want this to affect my performance at the Poland Darts Masters and World Matchplay coming up and I will do my best to win both events. However, I am still recovering at the moment and I hope everyone can understand this.
Further details regarding Michael van Gerwen's medical condition were disclosed by his close friend, Vincent van der Voort, in an interview with 433 Darts. According to him,
He underestimated the after effects and is in a lot of pain. They are pretty intense procedures. Michael now also has a lot of stitches in his mouth. On top of that now comes braces, today he is back in the hospital. Those braces are tightened every few days. That too is anything but fun.
Later, when Michael van Gerwen returned to the circuit at the European Darts Matchplay, the world number three was defeated by Raymond van Barneveld in his first encounter. At the time, his close friend explained,
You could tell from everything that he was not himself. In the practice room you normally always hear him talking. Now he was very quiet. You know, in his teeth it's all crooked. There are eight millimeters between his front teeth. That looks really weird. He's ashamed of that, too.
Likely, Van der Voort added,
He doesn't feel comfortable with the situation. During the match, he kept his mouth shut continuously. We all hope he will be back to his old self soon. But this is not solved within a few days.
However, comparing Michael van Gerwen's before and after appearances, he seems to be better. We hope he will soon be fully recovered as well as improve his game. Furthermore, we wish him good luck in the coming days.
Michael Van Gerwen Survives Madars Razma Scare at the European Championship!
Michael van Gerwen has advanced to the second round of the European Championship after a scare against Madars Razma. In a nail-biting encounter in which Madars Razma averaged 104.92, the Latvian led 5-4 and missed a dart for an 80 checkout before he forced a deciding.
Michael van Gerwen has advanced to the second round of the 2023 European Championship.
Image Source: Darts News
Razma missed another dart at double top, this time for a 142 finish before Van Gerwen stepped in and recorded a 68 checkout for a 12-dart leg against the toss. Likely, there were a few surprises that night, as Joe Cullen, Josh Rock, and Jonny Clayton all dropped out of the competition at the first hurdle.
Furthermore, Gian van Veen of the Netherlands had a performance that added to his burgeoning reputation as they thrashed Damon Heta by the same scoreline, averaging 107.34. James Wade won 6-3 against a below-par Dirk van Duijvenbode, while in the evening's final match, young German star, Ricardo Pietreczko made his debut by defeating defending champion, Ross Smith 6-3, setting up a confrontation with Michael Van Gerwen.