As of 2023, Matthew Fitzpatrick is in a relationship with his new girlfriend, Katherine Gaal. The current U.S. Open champion frequently posts pictures with her on his social media. Prior to his new relationship, he was dating a girl named Lydia Cassada. However, the reason behind their split is yet to be discovered. Additionally, he reportedly dated Deniz Khazaniuk as well in the past.
Matthew Fitzpatrick started his professional gold career in 2014, after a successful amateur career that saw him win the U.S. Amateur championship in 2013. Fitzpatrick has had a successful professional career so far, with multiple wins on both the European Tour and the PGA Tour.
Known for his accuracy and consistency on the course, as well as his strong short game, he won his first major championship and his first PGA Tour event at the 2022 U.S. Open. His other notable wins include the 2015 British Masters, the 2016 DP World Tour Championship, and the 2020 WGC-FedEx St.
Currently ranked 15th in PGA Tour, Matthew Fitzpatrick has been in the spotlight as he has been flaunting his new girlfriend on Instagram. Many fans have been curious to know who she is and what happened to his relationship with his former partner, Lydia Cassada. Well, we've got you covered.
Previously, we touched on the relationship status of Darron Lee and Lauren Elizabeth.
Matthew Fitzpatrick Is in a Relationship With His New Girlfriend, Katherine Gaal, in 2023!
As of 2023, Matthew Fitzpatrick (@mattfitz94) is in a relationship with his new girlfriend named Katherine Gaal. She initially emerged on Fitzpatrick's social media during the Sentry Tournament of Champions in Hawaii at the beginning of 2023. She then made another appearance in the Par-3 Tournament during Masters Week.
Matthew Fitzpatrick and his girlfriend, Katherine Gaal.
Source: Instagram
Meanwhile, we are unaware of who really Katherine (@katherinegaal) is and what she does for a living. Her Instagram is also private. On her LinkedIn page, however, she is described as an "extremely hardworking and ambitious individual who is able to work exceptionally well in a fast-paced, demanding environment."
Prior to his new relationship, Matthew Fitzpatrick was dating a girl named Lydia Cassada. The couple often posted pictures of their tours and simply spend time together on their social media handles. However, they reportedly broke up in 2022. Unfortunately, we are unable to find out the reason behind their separation.
Similarly, Matthew was also dating Deniz Khazaniuk (sometimes Khazan) before his relationship with Lydia. Just like him, Khaan is also a tennis player who achieved a career-high ranking on the WTA of 200 (Singles). She last appeared in public supporting the golfer at the 2020 DP World Tour Championships.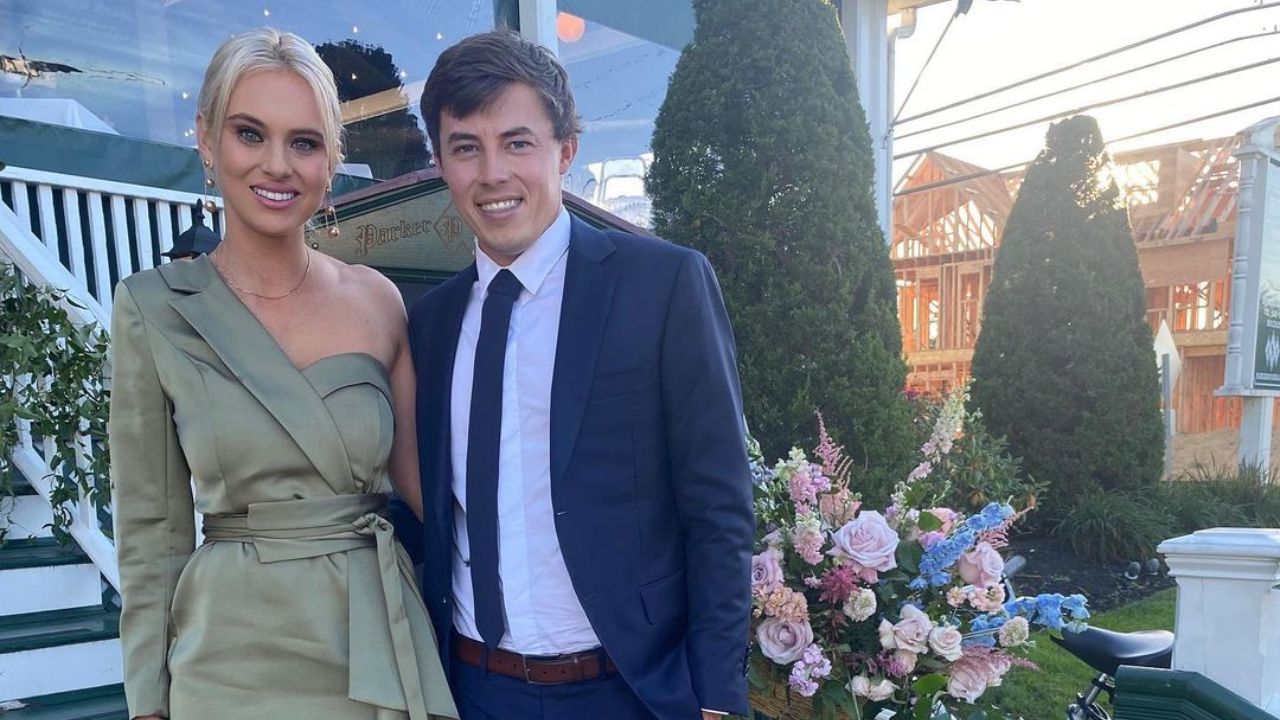 Matthew Fitzpatrick referred to Katherine Gaal as his favorite person on Valentine's Day.
Source: Instagram
Unlike golf, it seems Matthew Fitzpatrick is not so good at handling his relationships. His girlfriend has changed multiple times in a few years. We wish him all the best and hope he keeps he eventually gets married to his new partner. After all, you can't be changing your partner forever.
Matthew Fitzpatrick's Early Life!
Matthew Fitzpatrick was born on September 1, 1994, in Sheffield, South Yorkshire. He grew up in Sheffield and began playing golf at a young age, initially starting out at Hallamshire Golf Club. He was a successful amateur golfer, winning the Silver Medal as the leading amateur at The Open Championship in 2013.
Fitzpatrick attended Tapton School in Sheffield before moving to the United States to attend Northwestern University in Illinois. He played on the Northwestern golf team and helped the team win the Big Ten Championship in 2014.
Fitzpatrick turned professional later in 2014 after his success at The Open Championship and began his career on the European Tour. He quickly made a name for himself, winning the 2015 British Masters and the 2016 Nordea Masters. He defeated Scott Hend in a playoff to win the Omega European Masters in Crans-Montana, Switzerland in September 2017 and he successfully defended his title against Lucas Bjerregaard in September 2018.
Matthew Fitzpatrick won the U.S. Open in June 2022 by a single stroke at The Country Club in Brookline, Massachusetts, the same place where he won the U.S. Amateur in 2013. He became the second man golfer, after Jack Nicklaus, to win the U.S. Open and U.S. Amateur championships at the same location.