Mark Cavendish and his first wife, Peta Todd, are still together. Technically, he does not have an ex-wife as Peta is the cyclist's only wife. 
Born on May 21, 1985, on the Isle of Man, Mark Cavendish is a British road cyclist known for his extraordinary sprinting prowess. Nicknamed 'The Manx Missile,' he currently rides for UCI WorldTeam Astana Qazaqstan Team. Netflix recently released a documentary based on his life titled Mark Cavendish: Never Enough.
Mark has gained a reputation as one of cycling's top sprinters due to his outstanding ability to burst ahead in the last minutes. He is often considered one of the greatest road sprinters of all time. His tenacity, along with a ferocious competitive spirit, has established his position in sports history. With his incredible cycling skills, he has won multiple stage victories in the Tour de France and other notable events.
Apart from Mark Cavendish's cycling journey, the Netflix documentary also explores his personal life, including his relationship with his wife. His partner, Peta Todd, reveals that they struggled a lot to sustain their relationship. Assuming they split up, many people have been seeking more information about his first wife. Well, we've got you covered.
Mark Cavendish Technically Does Not Have a First Wife as He Has Only Been Married to Peta Todd and Is Still Together With Her!
Even though Mark Cavendish (@markcavendish) and his wife, Peta Todd (@petatoddlar), went through a tough time to keep their relationship alive, the couple never gave up on each other. Thus, Mark technically does not have a first wife or an ex-wife. He is still married to his only wife, Peta.
Mark Cavendish is still together with his first wife (only wife), Peta Todd.
Image Source: Instagram 
Mark apparently met Peta for the first time in November 2010 while she was working as a model for The Sun's Page 3 in California, and they quickly fell head over heels. The fact is that he'd been racing on the West Coast before being dragged into a shoot, completely ignorant that he'd unwittingly met the love of his life in a fellow English woman 5,000 miles away.
"The photographer we were with was like, 'Oh, do you know he's a really good cyclist?'," the latter revealed openly in a clip, recalling their somewhat uncomfortable first meeting. Mark Cavendish's wife continued,
I was like, 'Well brilliant' — I'd never watched a bike race in my life. Cycling's really quite a confusing sport. But I realized what a huge part of Mark's life this was. So if I wanted to understand Mark, I had to understand cycling. You have to have tunnel vision. You have to be able to block out all the noise, all the distractions, and focus 100% on what you need.
In other words, she eventually realized the level of his devotion, training, traveling, and sacrifices in order to achieve success, indicating that she/family would rarely be his priority.
Nonetheless, Peta and Mark opted to keep their relationship going, showing that they were in love for the right reasons rather than as part of their image as a glamor model or an athlete, respectively. It came as no surprise, then, when they married in a lovely ceremony in early October 2013, by which time they were well on their way to creating a comfortable, happy family.
They previously looked after Peta's son Finnbar from a previous relationship and they had Delilah Grace in 2012, Frey David in 2015, Casper Charles in 2018, and Astrid Elizabeth in 2022.
Mark Cavendish and His Wife, Peta Todd, Had Their Share of Struggle to Keep Their Relationship Alive!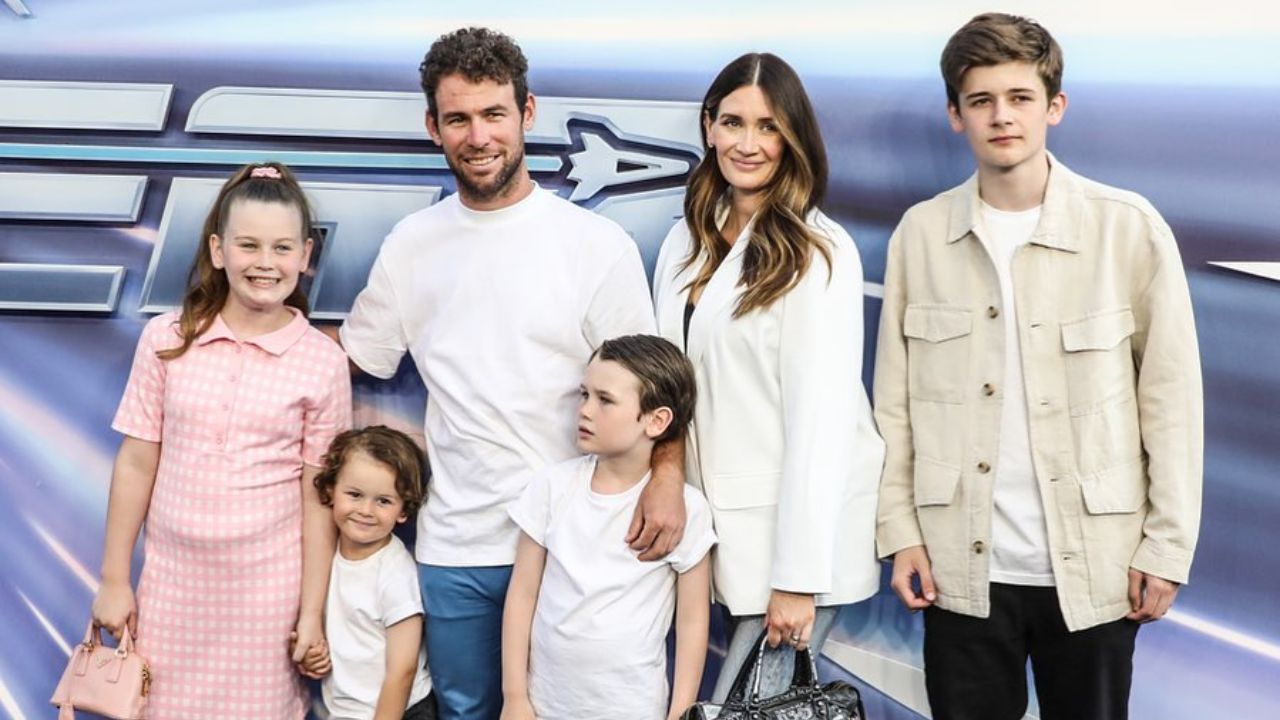 Mark Cavendish, his wife Peta Todd, and their children.
Image Source: Instagram 
Not everything has always been peaches and cream for Mark Cavendish and his wife, Peta Todd, especially when Mark was suffering from depression and losing his anger over trivial matters. In the documentary, Pets explained,
He was quite short with me because I didn't understand…We argued about nothing. We were so lost in the middle of everything going on [in terms of his dwindling career]. He was not really him at that particular moment.
So, despite the fact that Peta still liked him to the point where she kept in touch with his rehabilitation physicians, there were apparently times when she considered leaving for good.
But then came Mark's choice to work with psychologists and a new coach to create a balance between his athleticism, the Epstein-Barr virus, and his mental health, which worked wonderfully. That's when the pandemic arrived, unknowingly improving things even further. Peta further added,
We were at home all together, and we had the longest period of time we'd ever spent in one block together, which was ten weeks… It felt like we could breathe again a little bit… Maybe I could have held on for another two years. Maybe I'd have held on for ten years. Maybe I'd have held on for a month. I don't know. [Yet this ease/comfort] is what we were waiting for.
The couple has since living a happy life. Both are often spotted on each other's Instagram. Not to forget, they both love to spend time with their 5 children.