In the recent episode of RHOBH, Erika Jayne attributed her weight loss to some other 'good hormones' saying she wasn't on Ozempic or Wegovy. Previously, she also said that she went on to get hormonal therapy while she was on menopause which helped her to lose weight.
Bravo's The Real Housewives of Beverly Hills, or RHOBH, which began airing in 2010, is one of the most exciting reality TV franchises of Real Housewives and is largely responsible for delivering endless drama and entertainment into our homes.
These housewives, whose numerous eccentricities, catfights, and talks about how they prefer to spend money keep us attached to our TVs. In addition to the frequent arguments over minor issues, there are accusations of extramarital affairs, betrayals, and a great deal of worry about potential legal problems that certain members may be involved in.
In the premiere episode of Season 13, longtime cast member Erika Jayne addressed that she was on some "good hormones" rather than Ozempic that helped her to lose weight. Well, let's discuss her weight loss in detail.
Previously, we discussed the weight loss efforts of Lavell Crawford and Sharon Watts.
Erika Jayne Attributes Her Weight Loss to Other Hormones and Denies Using Ozempic!
In the opening episode of RHOBH season 13 titled The Eaglewoman Has Landed, everyone remarked that Erika Jayne (@theprettymess) looked skinny as soon as she arrived on the set. A producer quickly asked her if she used Ozempic or Wegovy for weight loss. However, she denied it saying she was on some other good hormones. She said,
You think I'm on Ozempic? Uh, no I'm not. But I'm on some really good hormones and they should be too.
This is not the first time Erika, 52, denied using Ozempic. In an August interview with Extra, she said that she did not use Ozempic for weight loss adding,
My answer stands then and it stands now. I've always been tiny. I got bigger during all of my depression and through everything else.
Erika Jayne said that she was on other good hormones instead of Ozempic or Wegovy.
Image Source: Bravo
In case you're unaware, Erika's divorce from her husband Tom Girardi, and their significant financial scandal were the causes of her depression. Tom was sentenced to 20 years in prison for fraud charges.
Previously, Erika Jayne also revealed that menopause helped her to lose weight while appearing on the podcast, Two Ts in a Pod. She went on to describe how she lost weight by undergoing hormone replacement therapy and changing her lifestyle in a number of ways. She explained,
I was going through menopause, and I expanded, and then I went and got help...That gave me the chance to, number one, drop a whole lot of puffiness. I stopped drinking, and I totally changed my regimen. So it wasn't like, Oh, I lost weight during menopause.' No, I sought help during menopause and came down, and so should everybody else who feels that way. And I wanted my career back!
Erika Jayne Says She Is Tired of Discussing Her Split With Husband Tom Girardi!
Erika Jayne has had enough of talking about her split with Tom Girardi on The Real Housewives of Beverly Hills. In an exclusive interview with US Weekly, she explained,
I've moved past the last three years, but I don't know if others will let me move past. I still have legal things that are tying up, and they will take time because that's the legal process. But I want to move on. … Every time someone asks me about Tom Girardi or something like this, you realize you're cutting open a healing wound and you're stabbing around in it, and that hurts.
Erika continued by expressing her exhaustion by repeatedly discussing the same issues. After 20 years of marriage, the reality personality and Tom, 84, called it quits in November 2020.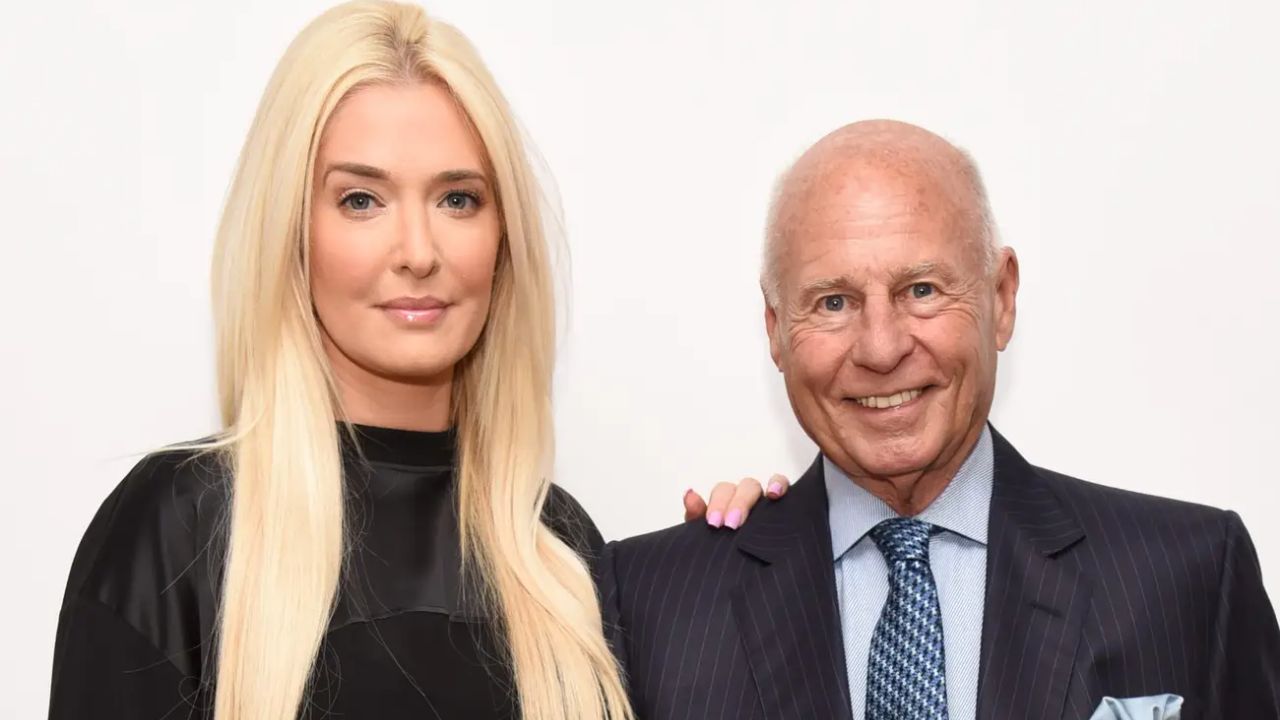 Erika Jayne and Tom Girardi called off their 20 years of marriage in November 2020.
Image Source: SIPA USA
A month later, the divorcing couple was mentioned in a class action lawsuit alleging that Girardi Keese, Tom's former legal firm, had misused money intended for the relatives of victims of airline crashes.
Erika has never been charged with a crime, but Tom was the target of additional lawsuits and was barred. After being identified as having dementia and late-onset Alzheimer's disease in 2021, he was placed under the supervision of his brother in a conservatorship. He went into a senior living community with a memory care specialty later that year.